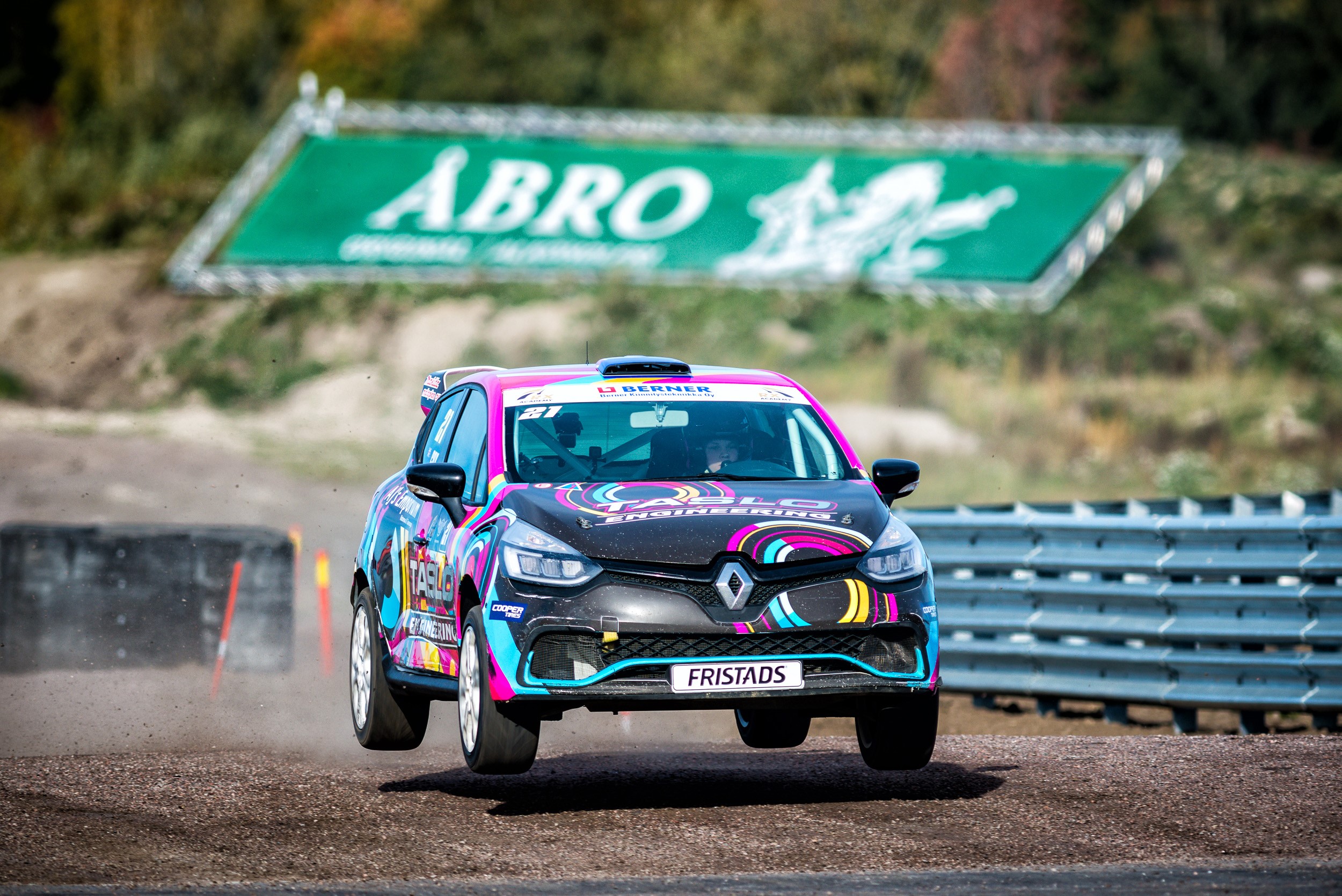 Third for Cox at RX Academy final in Sweden
New Zealand driver Sloan Cox completed the fifth and final event of his debut international rallycross season with third place in the RX Academy final at the Tierps Arena in Sweden on 7 October. Although it wasn't quite the way Cox would have liked to step up on the podium – placings from the crash-marred, red-flagged final race were decided by event organisers based on the eight Academy competitors' standings going into the five-lap final.
Cox, from Rotorua in New Zealand's North Island, demonstrated improved speed throughout the RX Academy's test day last Thursday and both days of action at the 1.4 km rallycross stadium just over 100 km north of Stockholm. He said, initially, he felt a little off the pace. "After a few runs I was probably more comfortable than I've ever been in the car before, setting the fastest time in the first test session quite easily."
The Tierps Arena was another new track for Cox who, with this event, has now competed in two events in Sweden and three in Finland. RX Academy competitors had two practices and one four-lap qualifying session on Saturday, followed by the qualifying runs, semi-finals and the final on Sunday.
"Second fastest in the first practice, I was pretty happy," says the 26-year-old. "Talking with our mentors I knew what I had to work on, and could see in the data where I could make up more time. I focused on those areas for the second session, had one lap 0.8 seconds faster than anyone else and got three really good laps which put me in a good place."
Cox went on to secure a great start to jump into the lead and win his qualifying heat but wasn't quite fastest overall as the newly-surfaced track began to cut up. He continued as a front-runner through Sunday's qualifying races before starting his semi-final outside of the front row. "It's always a bonus to be on front row – this was a really important race and felt like I was in a really good mindset. I didn't have the best first corner, managing to tuck in behind the leader to stay right on his bumper for the whole race. I couldn't quite pull off a move to pass, with the cars being so even, and finished second with the third fastest time among the finalists."
With deteriorating track conditions, the RX Academy final was delayed to allow other rallycross classes to complete their finals. Cox started the five-lap final inside on the second row, getting a good line to the first corner.
"The track really cut up with ruts and holes on the jump landings, bouncing cars everywhere. It was intense going into the first corner, I got in right behind the leader as I planned but the guy beside me clipped my wheel. It bent my steering and I locked up, going into the guy in the front of me and together we pushed the others to the outside of the corner, but we all popped out! I was in third and then fourth with hopes of a podium slipping away. It was survival mode then with some big moments hitting bumps and the car not steering right.
"Then in front of me, RX Academy winner Sami-Matti Trogen crashed after landing badly from a jump; he did three or four rolls, end over end, stopping on his roof on the edge of the track. His car was smoking so my instinct was to pull over and help him out. The marshals were right behind me and I knew our race would be red-flagged. The track got so bad that they didn't restart the race and the organisers decided to go with our best results going into the final, so that's why I ended up third for the weekend. I was really happy with that, but not the way I wanted to earn it."
Cox doesn't return to New Zealand immediately, having opted to undertake a test day for the Supercar Lites rallycross category which was run at the Tierps Arena on 8 October. His goal is to step up to this class of car which is used in several rallycross series: RX2 FIA World Rallycross, RallyX Nordic and Global Rallycross. Unlike rallycross Supercars which are derived from production models, the Supercar Lites is built on a tubular spaceframe structure combined with high performance composite plastic exterior and interior body fitted with CDS roll-cage. Powering the Supercar Lites is a mid-mounted 2400cc naturally-aspired Duratec engine, provides about 310 horsepower and 300 Nm of torque.
Cox says, at this stage, his plan for next year is to move up to Supercar Lites. "The test was a good chance to get a feel for the car before next year so we can see what series we might contest. It's possible to lease a Supercar Lites from SET Promotions who run the RX Academy, so I'm talking with them. It's quite a big step-up budget-wise so there is a lot of work to get the budget together and I'll be busy working on that when I get home.
"I really love racing in Europe and it's where I want to continue racing for now. I still love to compete in events in New Zealand but I feel like I've made a step in the right direction with Europe being the home of rallycross – they absolutely love rallycross, it's one of their main motorsports so I feel like I've got to try and make it happen there."
Cox's 2018 rallycross campaign is supported by Taslo Engineering, AJ's Emporium, Driveline Automotive, Signedge and Teng Tools. Follow the news and action on Facebook: Sloan Cox Motorsport Ltd or RX Academy.