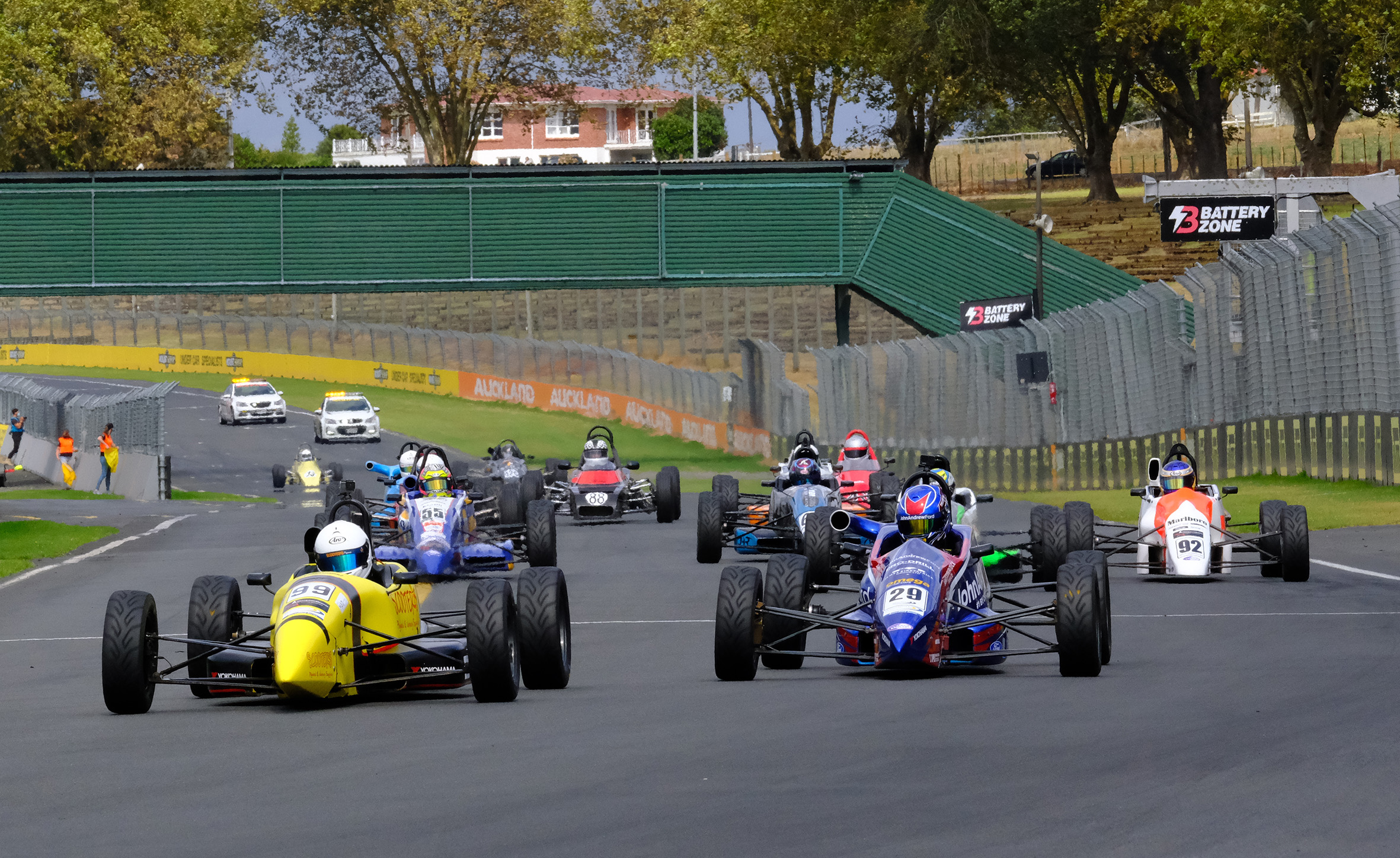 Consistent Scott wins North Island Formula Ford round at Pukekohe
Whangarei's Leo Scott has won the third round of the 2022 Giltrap Group North Island Formula Ford Series (NIFF) from Auckland's Bree Morris and Kyan Davie. Three podium finishes secured the round for Scott at the Pukekohe Park Raceway and he now sits fourth overall on the series points table.
"That was pretty good," commented Scott. "I didn't even think we would win the round after qualifying. We had electrical issues so started off the back in Race 1. I fought my way to the front and was dicing with Kyan (Davie) for the lead when we both went off." Both drivers recovered to finish third and fourth respectively.
"That was some of the best Formula Ford racing I've had," said Scott. "It was so close and so competitive."
While Liam Sceats (Van Diemen Stealth) set fastest time in qualifying, winning the $500 cash prize presented by the Hampton Downs NZ Racing Academy, his two race wins weren't enough to clinch the round after retiring from the opening race on Sunday. That win went to Bree Morris, her third in a row in the North Island series, who went on to finish third and fourth in the two remaining races.
"That was close, but not close enough," said Morris. "We had some really great battles and some really strong head-wind to contest with down the back straight. There is still plenty to improve on and learn but thrilled to get another win"
With two-rounds remaining, this season is proving highly competitive with six different winners from nine races. Hayden Bakkerus (Mygale) has proved that consistency is the key to winning the title. He is the only driver to have finished in every race and continues to hold a 93-point lead over Davie (Spectrum 015) with Morris (Ray GR17) a further 40-points back in third and Scott (Spectrum) in fourth.
The Giltrap Group North Island Formula Ford Series supported by the Hampton Downs NZ Racing Academy and Yokohama heads to its penultimate fourth round at Hampton Downs 10 April 2022.