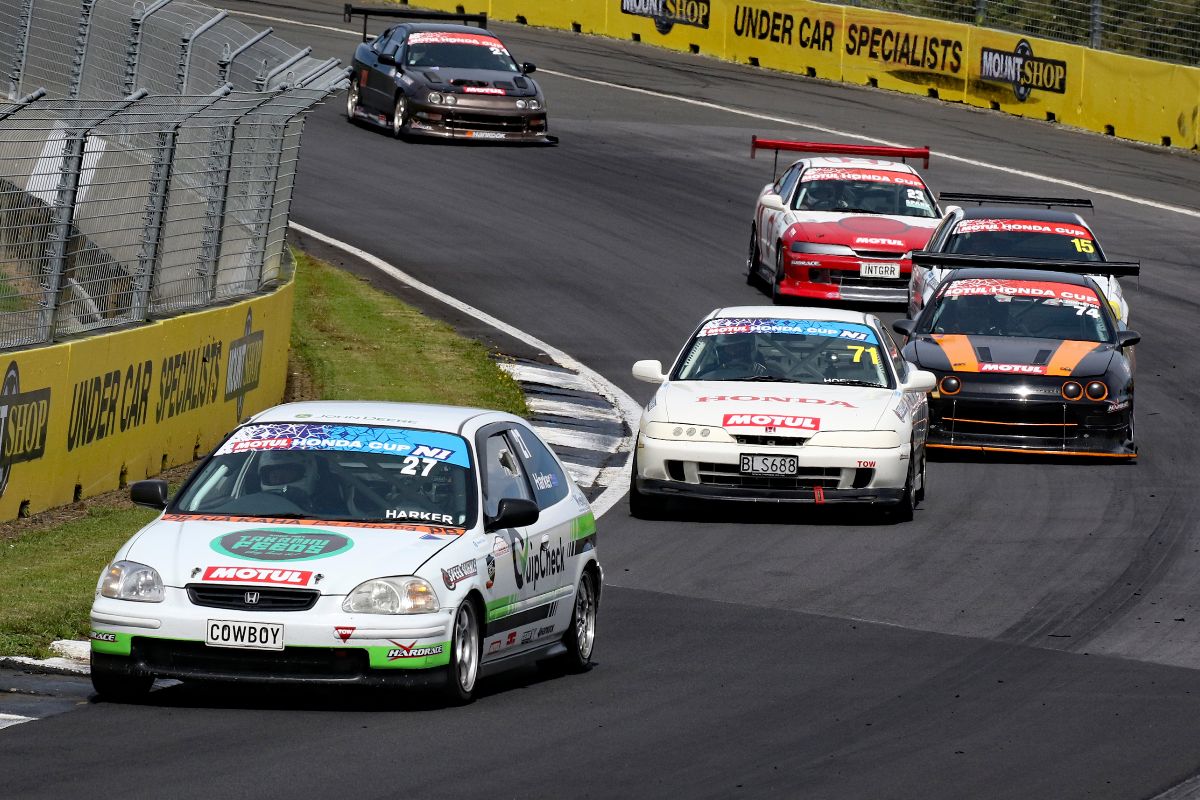 Close racing, different winners expected this weekend for Honda racers at Pukekohe
The MOTUL Honda Cup heads to Pukekohe Park this weekend, with Greg Spark holding down a slender lead in the closely fought series as it gears up for its fourth round of the 2020-2021 season.
Spark currently has a slender seven-point lead over Steve Hughes in the overall championship chase, with Mike Hoeft Jr a further nine points back with Chris Hughes and Andrew Johnson still in the title chase in fourth and fifth. Around eighteen cars are expected to race at Pukekohe this weekend.
"The overall lead has changed several times and everyone can see the races have been super close," explained Spark. "So there's absolutely nothing guaranteed for me or the others this weekend at Pukekohe as it generally throws up some dramatic races and surprise results and the lead could change again in favour of me or one of the other top five."
The Motul Honda Cup has one of the best weekend formats for its races of any racing class in New Zealand with the scratch grid, rolling start race first up, followed by a standing start reverse top ten and then a final handicap race. The variety means the category frequently produces three different winners over a race weekend.
The big story for the category this season has been the interest and growth in its entry level class – N1 – which has been around for a few seasons but which this year really seems to have captured the imagination and attention of drivers entering New Zealand racing for the first time.
Experienced Honda racer Shane Hine currently leads in his newly built entry level Integra, with Jason Weel sitting behind in second. The big news for Hine, however, is that Weel has repowered his car and will move up a class this weekend at Pukekohe, meaning its long-time Honda racer David Harker in his Civic who will be Hine's closest challenger.
Rookies Matt Dallimore and Jarrod Cruse are next up and round out the top five on points in the class. Rudi Kronstrom is another turning heads in the class. In his first season with MOTUL Honda Cup, the racer is recently arrived as a resident from South Africa and is proving to be one to watch in the races as he gets to grips with the sport and the New Zealand tracks.
Elsewhere in the field, long-time Honda racer Brent Thompson – who has always gone well at Pukekohe Park – returns to the Honda Cup for this round and the season finale.
Qualifying for the Motul and Speed Science supported series will be on Saturday morning with the scratch race on Saturday afternoon. The reverse top ten race is on Sunday morning with the handicap race concluding the weekend's proceedings on Sunday afternoon.