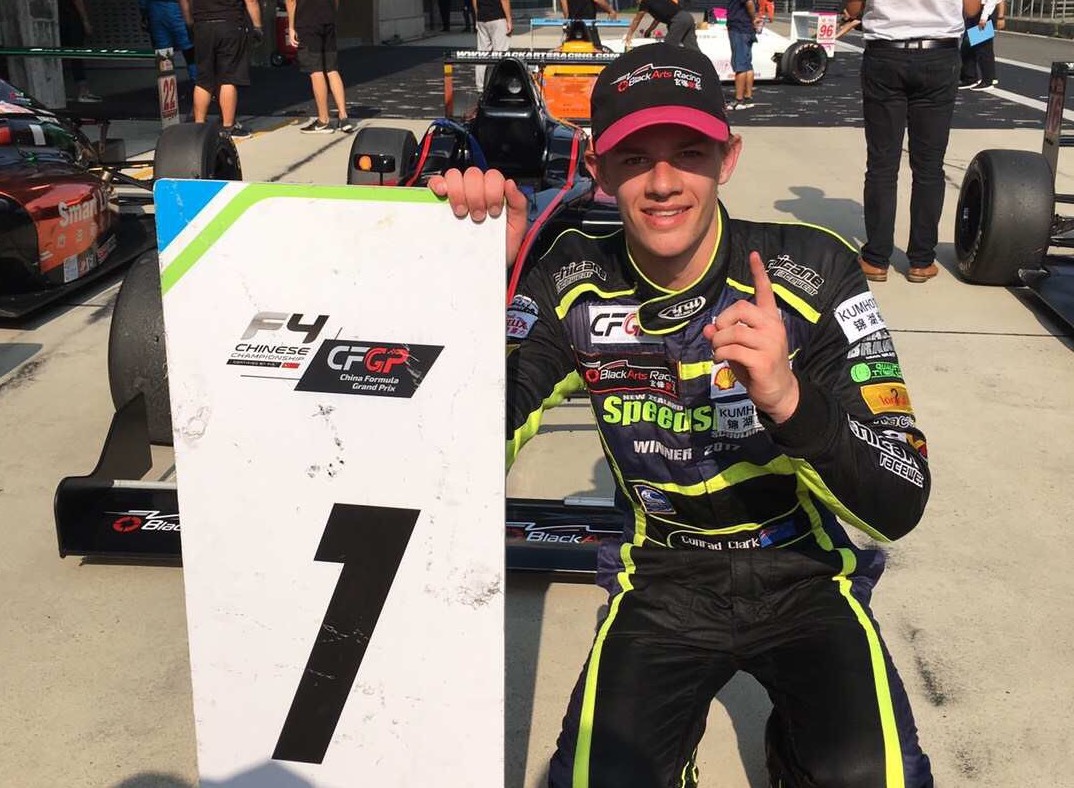 Clark wraps up Chinese Formula 4 Championship with one round to spare
Sixteen-year-old Conrad Clark of Taupō has wrapped up the 2019 Chinese Formula 4 Championship during its penultimate round at the Shanghai International Circuit.
In the series' second visit to the circuit this season, Clark knew if he continued his form from previous rounds that he had a chance to form a points lead which would effectively crown him champion, with one round still left to go.
Heavy rain which resulted in flooding damaged the track on Thursday, leaving drivers nervous of how the track repairs would hold up during the weekend. Thankfully all seemed well after the first day of practice, of which Clark was the pacesetter.
Qualifying was a tight affair, with Clark using the majority of the 30-minute session to set the fastest lap by just 0.640s, his first pole position at the circuit.
The opening race of the weekend on Saturday saw Clark come under fire from the opening lap through to the end of the race. Separated by less than two-tenths-of-a-second and the car behind having the advantage of Clark's draft, Clark was forced to defend his position fiercely.
Sunday's Race two was a stark contrast Saturday's race, with Clark holding a mammoth 18-second lead at one point to win the race and ultimately the championship.
The final race of the weekend was again the opposite of what had come before it, with Clark finishing fifth after pitting for a suspected puncture. Once rejoining the race, he went on to set the fastest lap of the race.
"What a weekend!" said Clark.
"It was a bit all over the show but we got there in the end, wrapping up the title with one round to go is incredible and a real testament to the hard work of the BlackArts Racing team! They've done an amazing job all season and I can't thank them enough.'
The 2019 Elite MotorSport Academy of New Zealand graduate takes his championship lead to 100-points with just 75-points left on offer, making the BlackArts Racing driver the 2019 Chinese Formula 4 Champion elect.
Clark's Chinese campaign is proudly supported by Hertz Car Rentals Taupo, Advance Gaming, Lakeland Glass and Windscreens, Performance Mechanical Engineering, Lakeside Wholesale Vehicles, Grass Growers Ltd Site Development and Earthmoving as well as other private individual supporters