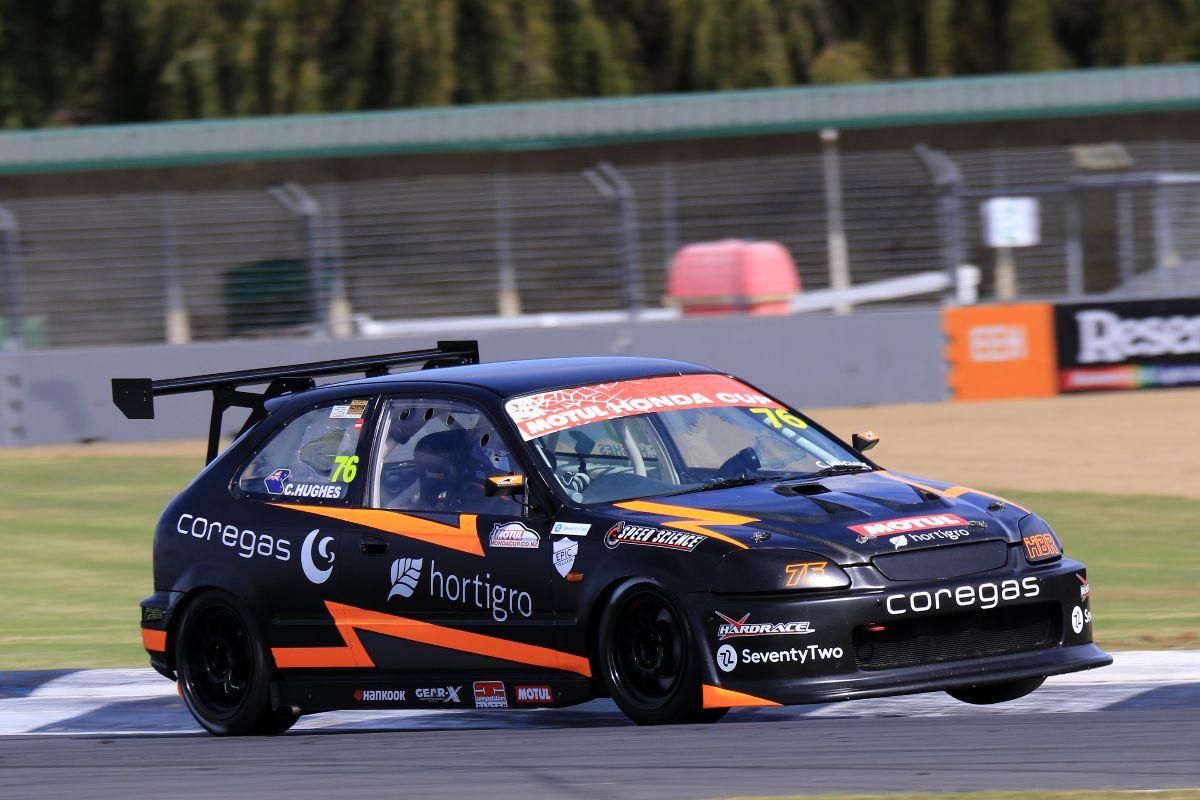 Chris Hughes wins Pukekohe round to pile pressure on Spark for Honda title
This year's MOTUL Honda Cup title will go down to the wire after a nail biter at Pukekohe over the weekend saw Chris Hughes win the round and cut Greg Spark's overall series lead to just five points.
A solid qualifying run saw Hughes secure pole position as the only driver to go under the benchmark 1 minute 13 second mark. That set him up for the weekend and in the first race he found his way past brother Steve within a couple of laps and held off an impressive Brent Thompson to take the win. Series leader Greg Spark, carrying a fair amount of success ballast, came home fifth.
It was Spark, however, who managed to find a way through in a tough reverse top ten race on Sunday morning to secure a valuable win in his championship quest. Martin Dunn made the best start and prodigious straight line speed in his new Accord saw him hold off an army of faster cars behind. Spark made the most of it and built an unassailable lead.
Hughes found a way past Dunn too, and set off after Spark, but ended the race just four hundredths off another win as the two crossed the line overlapping. Brother Steve finished third to complete the podium while Dunn held on for an impressive fourth.
The championship chase took another twist in the third and final race of the weekend – a handicap format – when Spark broke a suspension camber arm early on and was forced to retire. Mark Elley came through the field to win his first MOTUL Honda Cup race in his Civic EK, while Jarrod Cruse came home second and Martin Dunn finished a good weekend with third place.
Overall, it meant Hughes took the round win while Matt Dallimore took the N1 honours in his immaculate 1.6 Civic EK – his first class round win since starting in the growing and popular entry-level class.
With one round to go, it's game on for the MOTUL Honda Cup title in one of the most closely fought battles for several seasons.
"I've had a few DNFs so to be in a strong position heading to Taupo is a bonus," said Hughes. "I've been going 110% in the races so I guess I'll just continue with that."
The final round takes place at the Bruce McLaren Motorsport Park, Taupo next month where Hughes will be carrying reward ballast of 40kg, with Spark around 60kg lighter. Entries for the round are half price as organisers bid to also make it one of the biggest season finales in MOTUL Honda Cup history.