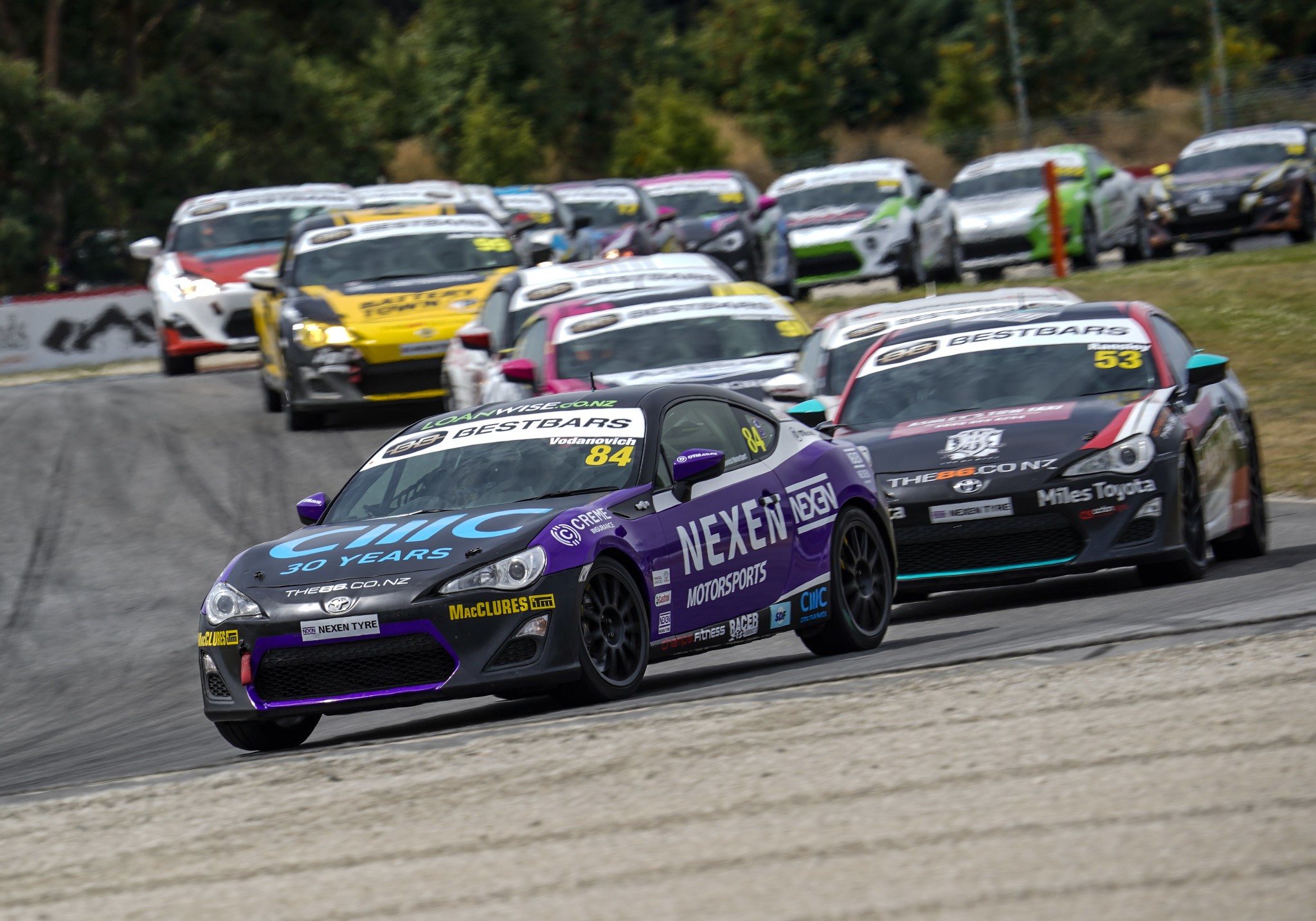 Championship contenders eager to return to track
Best Bars Toyota 86 Championship contenders Peter Vodanovich and Jaden Ransley have made the most of the Covid-19 lockdown period, keeping their skills sharp in the virtual world.
Now though, the Kiwi duo are keen to get back on track and conclude the tight championship fight with young Australian Jaylyn Robotham. Just 78 points covers the fast trio. We caught up with the two Kiwi chargers to see how they've been passing the time.
For Best Bars Toyota 86 Championship leader Vodanovich, the lockdown period has been spent sharpening his skills in and out of the car.
"Sim and physical fitness have been two big focuses for me over lockdown. I have also been kept busy with my Mechanical Engineering degree online and am making an effort to learn more about racing dynamics and setup through a variety of resources," says Vodanovich.
"I have had a great time doing some of the 2K Cup races with the Creme Insurance team. It's been awesome to race with the likes of Shane Van Gisbergen, Brendon Hartley and many more too. I don't have anything flash for a simulator and my seat is just a kitchen chair, but it gets the job done for now."
Vodanovich holds a narrow two-point lead over Jaylyn Robotham, the young Aucklander clawing his way to the lead over the last couple of rounds of the Best Bars Toyota 86 Championship.
"The racing has been super enjoyable this year. We built a lot of momentum after finishing third in the first round to now be leading the championship by two points. The last race at Manfeild felt like a finale to me where I had an intense battle with Jaylyn the entire race and grabbed the championship lead."
Should the championship get back underway for a final round, Vodanovich says he's ready and waiting.
"Both myself, the team and the car were fully-prepared for the final round in March after some positive test days. So along with the team and many other drivers, I was very disappointed when I heard that the tough call was made. Considering it has already been three months since the last round, if they had to make the call like almost every other category has, I know everyone would understand.
"Unfortunately, Trans-Tasman travel is likely to still be a few months away which would affect three overseas drivers. Regardless of whether we race or not, I am focused and ready."
Ransley too, has been clocking up the racing miles in the virtual world.
"I've been putting in lots of hours on the sim with Tom Alexander and Brendon Leitch. It's been awesome to have access to a simulator that I can jump on whenever I want," he said.
"It's also cool to be able to race with your mates and not have to worry about the damage bill!"
Ransley has also entered the ARG eSports Cup and has been popping up all over the virtual world in a variety of cars.
"The sim racing has been going really good! I've managed to take part in some pretty cool events and I've also been racing in the ARG eSports Cup and enjoying that. I haven't done a huge amount of sim racing so it's pretty cool to be doing it. It's a great tool to keep yourself sharp in-between races and also to learn new tracks."
Focussing on his real-world racing in the 2019/20 Best Bars Toyota 86 Championship, Ransley says there is still some unfinished business if and when the final round gets underway later in the year. After four rounds, he sits in third place in the points, 76 points behind Championship leader Peter Vodanovich.
"I'd be lying if I said I was satisfied with how we went this season. Being a fourth-year driver I definitely was hoping that this year was the one after two years of being so close. We had a few issues this season with engine dramas and myself making a few silly mistakes but that's racing! We'll move on and hopefully we can finish the year on a high if the final round takes place.
"It's not over till the fat lady sings! It's going to take a huge upset from Peter and Jaylyn for me to win, but I'll be giving it a red-hot crack!"