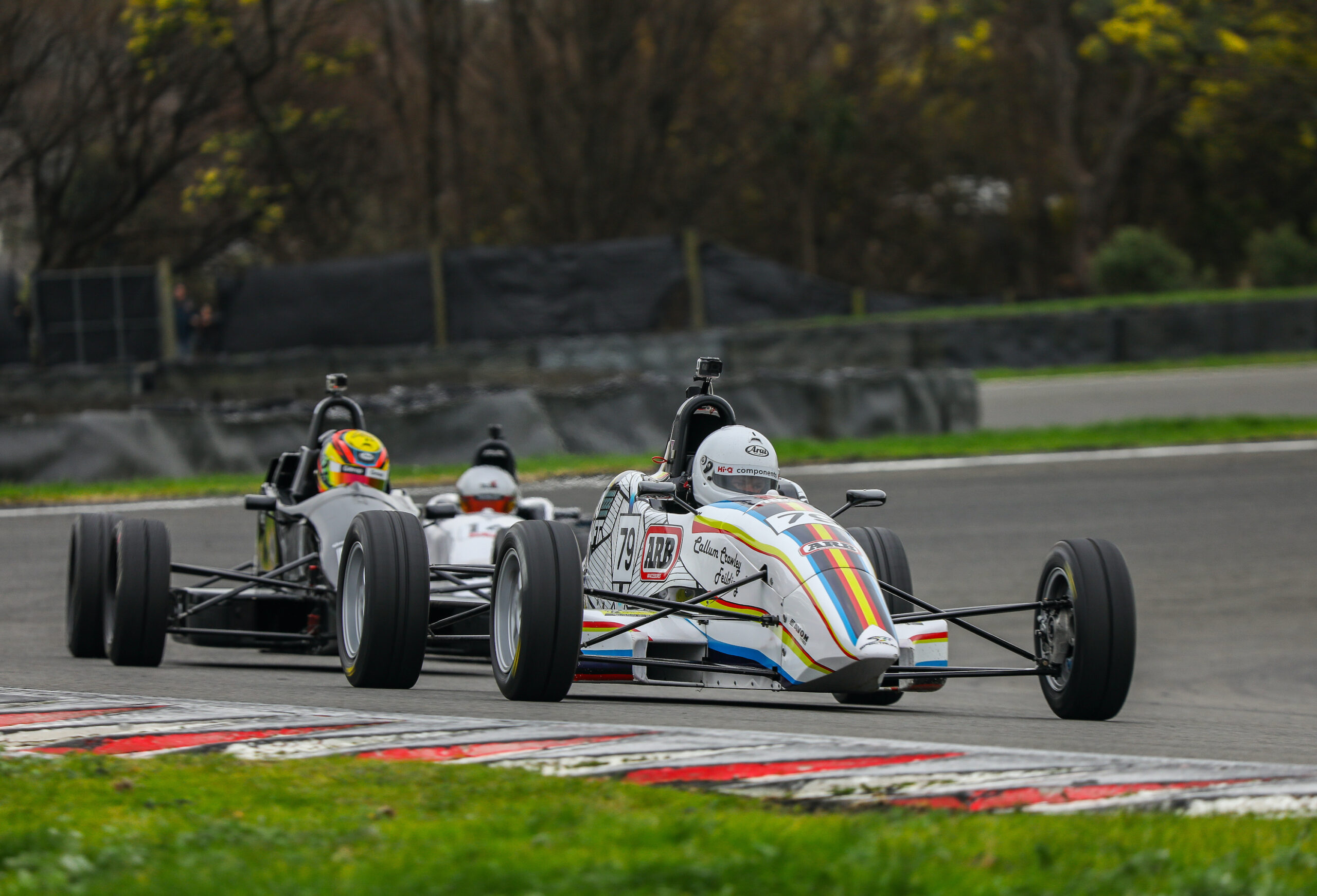 Evolution Motorsport Ltd support Formula Ford winter series dash for cash
REWARD from contesting a Manfeild Circuit Chris Amon racing series will pay out in an additional way this year – being a dash for cash.

The Formula Ford racing series that's a core element of the Manawatu Car Club's popular annual winter racing championship and a proven asset for preparing drivers for the single seater class's subsequent national competition is offering prize money.

Evolution Motorsport Ltd's backing brings $100 to each round's pole setter and the series' victor will take home $1000.

Round one kicking off this weekend (June 6-7) under Level Two Covid-19 requirements stands as the shakedown for a cash chase around the Feilding circuit that kicks off on July 4-5, continues on August 1-2 then wraps up on September 12-13, each weekend providing testing, qualifying and three races.

Any driver who is a member of Formula Ford Racing New Zealand and has a car which meets national championship technical regulations is eligible to enjoy the fund provisioned by Evolution founders Rick and Fiona Michels of Invercargill.

MCC secretary and Feilding Auto Electrical Winter Series convenor Jeff Braid and FFRNZ secretary Karyn Crawley view the package as an exciting extra enforcement of the series' high value that historically reflects in solid entries.

Braid says prize money usually doesn't come into the picture – the Feilding Auto Electrical Winter Series is known as 'chocolate fish racing' for good reason. This confectionary is traditionally all a winner receives on the day.

On top of that, it's a boost to draw competitors into a series that of course gets underway as the nation begins to re-energise after the impact of the Covid-19 pandemic.

"We're really thrilled Rick and Fiona have made this generous offer and we think it will further raise the status and competitor involvement in a category that consistently provides close and thrilling racing."

Mrs Crawley will not be surprised if the Evolution Motorsport Formula Ford Winter Series draws even more racers: The ultimate prize value alone is well above the cost of entering every round.

As well as that the winter series' value as a springboard into the national competition that can involve dozens of cars and visits most of the country is definitely well identified, she says that three of the four top place getters in the 2020 ITM-backed national championship, Covid-shortened to five of six -planned rounds – champion Billy Frazer of Pukekohe, runner-up Callum Crawley (Feilding) and fourth-placed Zac Sitchbury (Hawke's Bay) – were also consistent front-runners on Circuit Chris Amon over the 2019 off-season is testimony to its effectiveness at sharpening race skills.

"It's always been a great opportunity to shake down your vehicle in a fully competitive environment and it is really good value."

Her son attests to that. Coronavirus kyboshing a national series finale also ruined the opportunity for him to mount a last-ditch bid to wrest the title from Frazer – on the cards because the points were so close – it was disappointing, but the 19-year-old at least nabbed his second successive North Island title (from Frazer) and puts that success down to a full-out Manfeild involvement in 2019.

"It's perfect," he says. Keeping to the one track, getting a really good amount of testing then three races is fantastic."

And it's not just for the driving time. "For me it gave opportunity to form a really good relationship with my race engineer. There was time to work together on set-ups and trying different things which was hugely beneficial."

Meantime, Government Level Two requirements mean The Feilding Auto Electrical opener this weekend will operate to a unique schedule and requirements.

Instead of racing being contained to Sunday, it will also involve on the Saturday, with specific classes on each – Formula Ford being in the first day's batch – and a maximum count of 100 attendees on each day.

The Manawatu Car Club regrets that it cannot allow spectators and says for that reasons the venue will be under security.