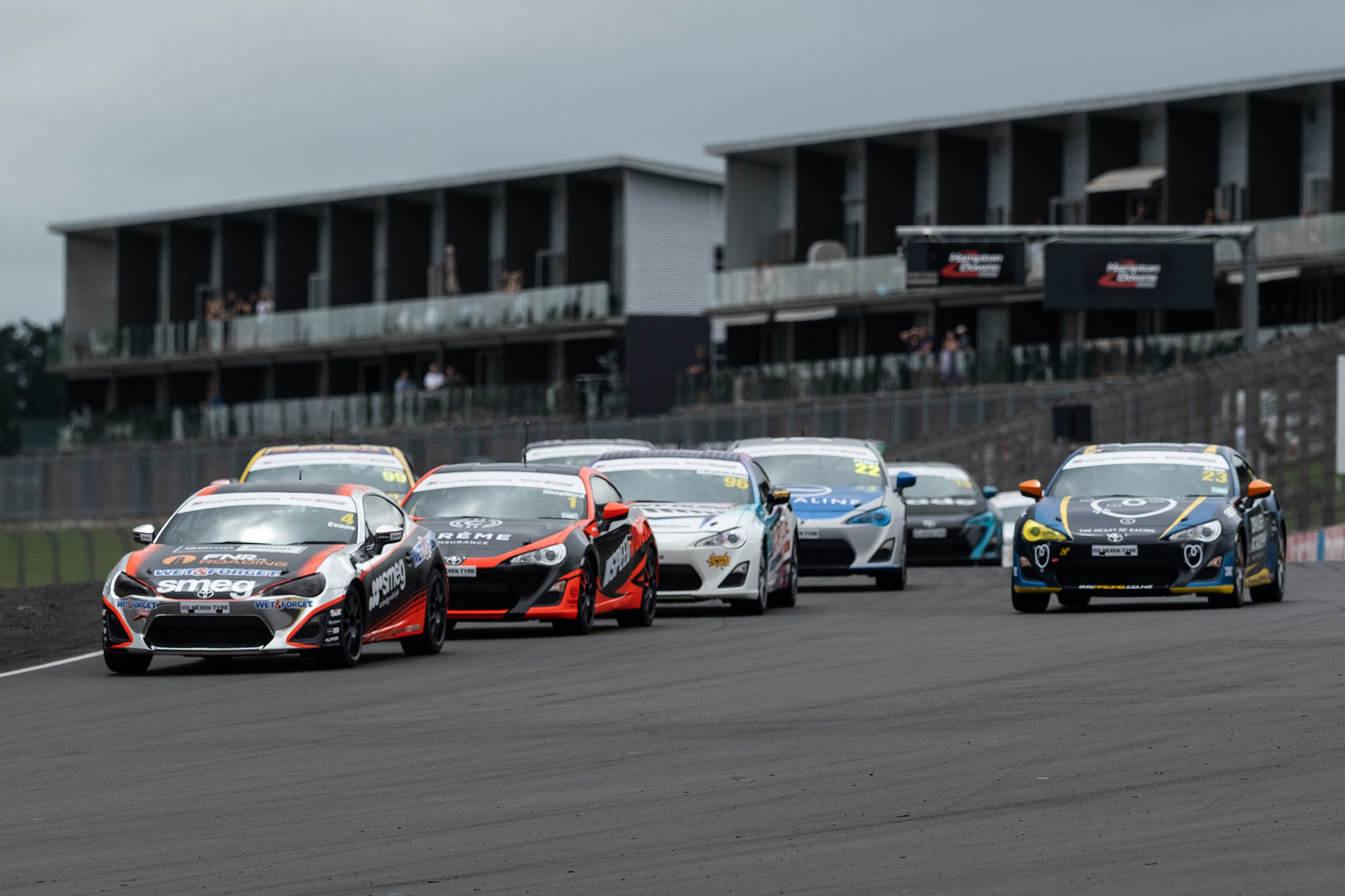 Can Shepherd maintain pressure on Evans in Toyota 86s at Pukekohe?
Rowan Shepherd put in a champion's performance at the third round of the championship a fortnight ago, claiming three wins from four races and narrowing the gap to points leader Simon Evans to just 18 points.
The two go head to head at the fourth round of the Toyota 86 Championship this weekend and it's set to be another nail biting weekend of racing for the 21 drivers.
Evans and Shepherd have completed thousands of laps in multiple types of racing machinery around Pukekohe's theatre of speed over the seasons and they both know its challenges like the backs of their hands.
Simon, of course, will be keen to make sure his race speed is as strong as his qualifying pace and the Giltrap Racing team will no doubt have spent hours pouring over data and set up in the search for the tenths that Evans needs in the races. Shepherd will be flying high after his successes at Hampton Downs and this could give him an early advantage in a tightly compacted meeting.
With the programme condensed into two days – Friday and Saturday only – there will be little time to repair cars or do significant set up changes, so Friday practice will be absolutely crucial. Activity in the pits could be vital during the afternoon too, with qualifying scheduled for Friday evening ahead of Saturday's programme of three races over 10, 14 and 12 laps respectively.
With all eyes rightly on the two title protagonists as the season heads into its second half, it's easy to forget some of the other standout performances of the season so far and it is reasonable to assume that these drivers will once again be to the fore at Pukekohe. John Penny – at 55 the championship's oldest competitor – has scored two brilliant reverse grid wins and has enough outright speed to be a threat in all of the races at Pukekohe.
Watch out too for Hugo Allan. After three rounds getting his racing eye in, the Heart of Racing rookie looked like a seasoned veteran at Hampton Downs, racing consistently well, staying out of major trouble and picking up a big points haul that moved him up the table to seventh. A race win cannot be too far away.
Others hunting for a first win of the season include a resurgent Justin Allen, rookie Dion Pitt who lost his debut win literally on the line to Penny at Hampton Downs and Marco Giltrap. Giltrap was one of the stars of the South Island leg of the championship, but was a little further back in the top ten at Hampton Downs. He is likely to be right back at the sharp end this weekend.
As for the rest, watch out for Matthew McCutcheon and Christina Orr-West. McCutcheon is on a steep improvement curve and should threaten the podium every time out in the remaining races of the championship while Orr-West in the distinctive yellow Dayle ITM car is another with countless laps around Pukekohe. She put in a very fine drive at Hampton Downs moving from the back through the field in Race 2, and that performance alone will have filled her with confidence to mix it with the youngsters. Christina is the top lady in the series currently, ahead of Chelsea Herbert and Rianna O'Meara-Hunt.