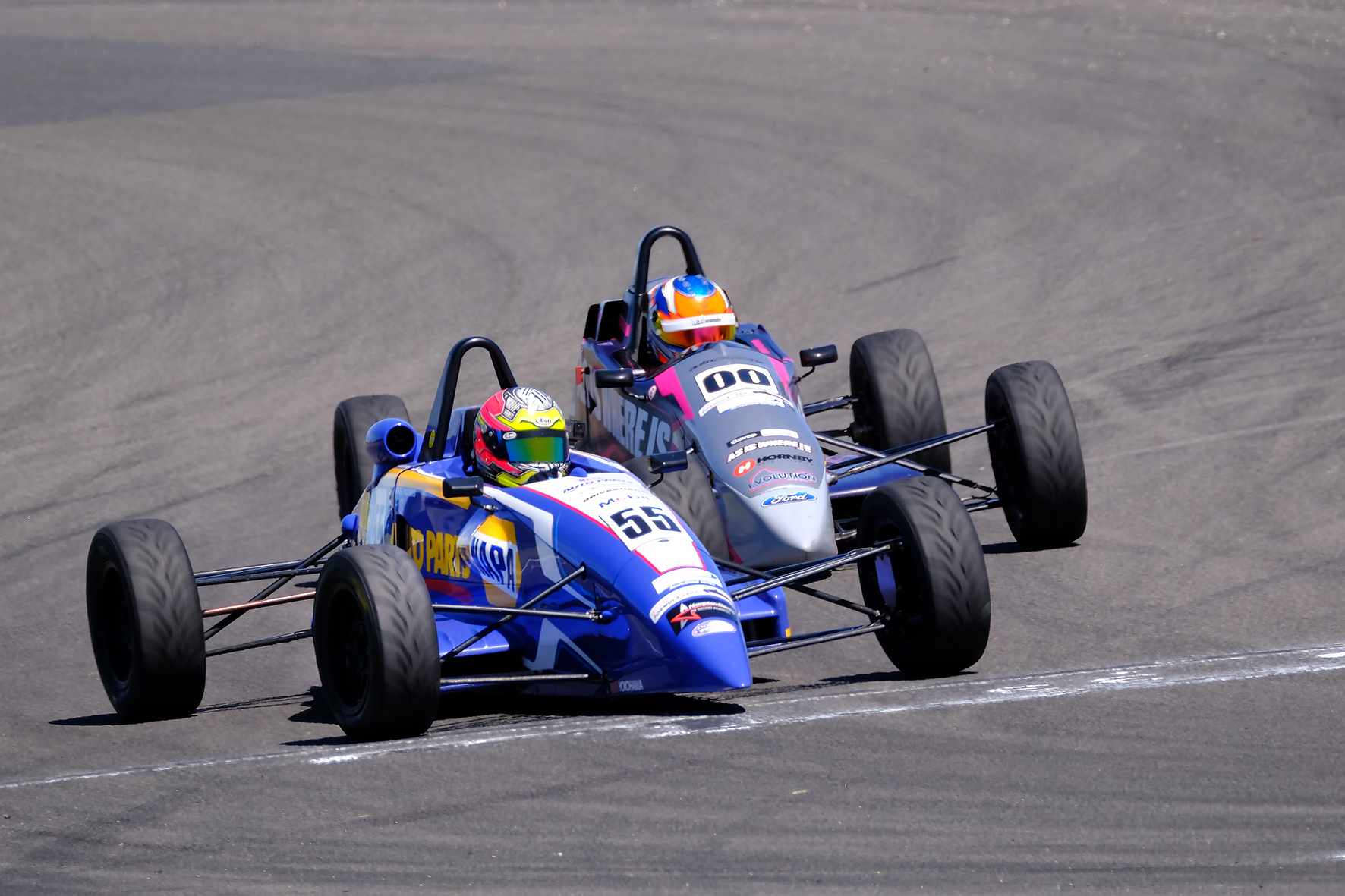 Two wins for Morris, Crocker takes the round in North Island Formula Ford Series
Bree Morris stamped her authority on the 2022 Giltrap Group North Island Formula Ford Series with two race wins at the Taupo Motorsport Park, Taupo, on Sunday. Unfortunately, her retirement while leading the first race ultimately handed the round win to Kim Crocker (Ray GR14).
"That definitely was character building," commented Morris (Ray GR17). "The race was going very well but we run out of fuel with only a few laps to go."
Seasoned campaigner Callum Crawley (Spectrum 015) initially set the pace in qualifying winning the Hampton Downs NZ Racing Academy $500 cash prize with Morris second, Sebastian Manson (Spectrum 015) third and Simon Hunter (Mygale SJ09A) fourth. All top four drivers within 0.114 seconds of each other. Unfortunately, both Kyan Davie and Leo Scott retired from the meeting after testing on Saturday.
Crawley got off the line quickest in Race 1 followed by Hunter and Morris. Morris eventually reeled in both and took the lead until her car came to a halt. Earlier contact between Sebastian Manson and Bailey Cruze (Van Diemen RF85) saw both retire and brought out a red flag. While Manson was able to rejoin the field for Race 3, Cruze's weekend was all over. Also pulling out for the rest of the day was Callum Crawley with a cracked chassis.
Hunter took the initial lead of the second race. Having been judged to have jumped the start, he was given a 10-second penalty and was able to hold on to second place after Morris caught and passed him for the lead. Crocker, who had finished fourth in the opening race came home third.
In the final race, Morris held the lead for all 12-laps. Hunter unfortunately faded and came to a halt just 15 metres from the checkered flag. Manson, having rejoined the field for the finale, initially had contact with another competitor then fought his way back from last to take second in front of Crocker.
"I knew where my pace was, so we went out to see what we could do and give it our best shot so really happy with the result," said Morris. "It is really good to know where our pace stands for the NZ Formula Ford meeting here in Taupo later in March."
Crocker took the round from Hayden Bekkerus with Judd Christiansen, on debut in his first Formula Ford meeting, third overall. Also, of note was Joshua Andrew in the NIFF scholarship Van Diemen RF01 finishing all three races.
The third Giltrap Group North Island Formula Ford Series round will be held at Pukekohe Park Raceway (using the long back straight) 20 March with the support of both Yokohama and the Hampton Downs NZ Racing Academy. Formula Ford series' in both the North and South Island's have a $60,000 prize pool from the Tony Quinn Foundation including funding for travel and testing opportunities with TOYOTA GAZOO Racing NZ.