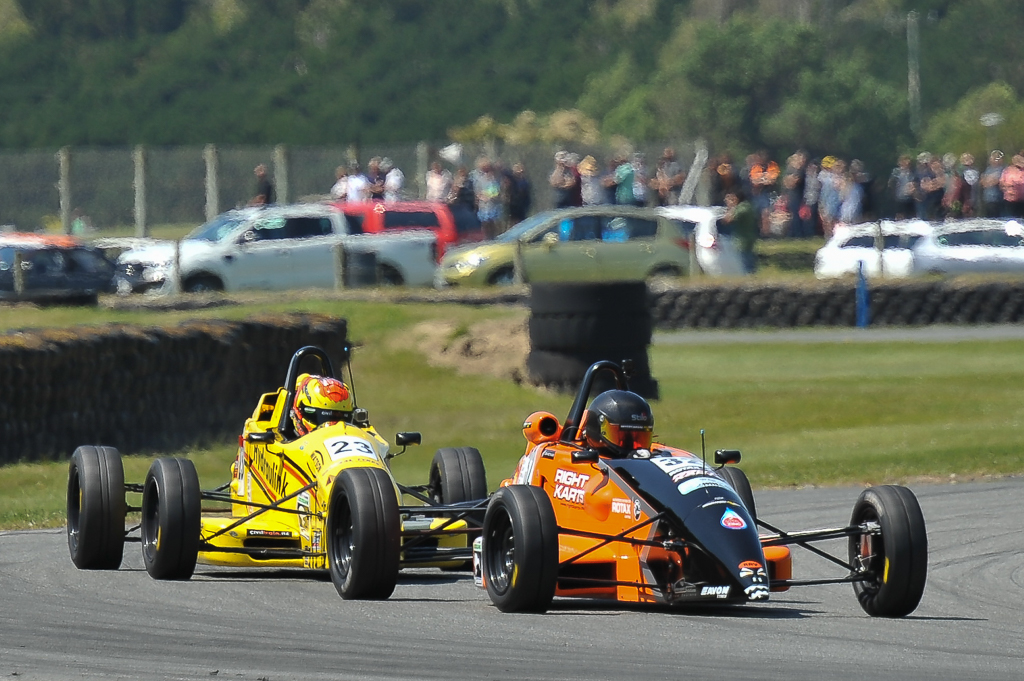 Bethune has perfect run as F1600 rivals falter
Rnd 3: December 1-2 2018, Teretonga Park Raceway, Invercargill
At the halfway mark in the 2018/19 South Island Formula 1600 Championship, Auckland Josh Bethune has taken a commanding lead after a perfect third round at Teretonga Park, Invercargill. Bethune was fastest in qualifying and won all three races giving him a 69-point lead over Southland's Jordan Michels with Canterbury rookie James Penrose third overall.
It was a weekend of racing where Bethune was both quick and reliable while his nearest rivals faltered allowing the teenager to take control of the championship.
"Quite pleased with that result," commented Bethune. "Last year we had issues so we have been targeting both reliability and speed, making sure we are at the top of our game."
Both Penrose, Michels and Christchurch's Bailey Paterson had issues in at least one race. Consistency paid for not just Bethune but for UK's Ben Stiles who finished second for the round, and Jack Noble-Adams third.
Stiles has come back to NZ with more F1600 experience and finished fourth in all three races. Christchurch's Noble-Adams claimed a podium third in the final race coupled with two fifth places for the weekend.
Michels remains second overall on the points table finishing on the podium twice but retiring out of race 2.
"Qualifying was good, just a couple of hundredths off pole," said Michels. "We were pleased with the setup in race 1 and had quite a good dice with Josh (Bethune). Unfortunately the engine over-heated in race two. The boys did an amazing job to replace it in time for the final and I was able to bring it home in second.
"All credit to Josh, he did a good job of qualifying and certainly knows where to put the car in the right places."
Rookie driver James Penrose continues to push the front runners. "The round went well and I learnt heaps," commented Penrose. "Unfortunately part of the exhaust broke in the final race. We fixed it and got back out but is is just one of those things. Better to happen now than in the two national rounds coming up."
Within the F1600 Championship competitors compete in three different classes. Bethune also leads Class 1 while Stiles has taken the lead of Class 2 from Penrose with Cameron Freeman third. Southland's Noel Atley continues to lead Class 3 from Andy Downs and Roger McKenzie.
The Championship now takes a break over Christmas before competing in Christchurch 12-13 January and then back at Teretonga a week later 18-20 January. Both rounds also double as NZ F1600 Championship rounds.
Overall Points 3/6 rounds (Top 20)
1 Josh Bethune Ray GR17 345
2 Jordan Michels Mygale SJ13 276
3 James Penrose VD Stealth 238
4 Jack Noble-Adams VD Stealth 211
5 Cameron Freeman VD RF92 186
6 Bailey Paterson VD Stealth 186
7 Ben Stiles VD Stealth 156
8 Zac Stichbury Mygale SJ08a 146
9 Steve Edwards Mygale SJ08a 134
10 Robert Toshach Spectrum 08 132
11 Noel Atley Crossle 55F 118
12 Corey Hodges VD RF92 104
13 Andy Downs Lola 642e 104
14 Dominic Robertson VD RF92 90
15 Roger McKenzie Begg FM3 90
16 Stephen Heffernan VD Stealth 87
17 Gary Love VD RF88 86
18 Simon Spencer-Bower VD Stealth 79
19 Grant Campbell VD RF03 73
20 Ethan Anderson VD Stealth 70
Results
Qualifying
1 #32 Josh Bethune 01:03.303
2 #23 Jordan Michels 01:03.326
3 #98 James Penrose 01:03.957
4 #86 Bailey Paterson 01:04.862
5 #91 Ben Stiles 01:04.891 6
6 #75 Jack Noble-Adams 01:05.150
7 #22 Robert Toshach 01:05.254
8 #19 Cameron Freeman 01:05.427
9 #55 Cory Hodges 01:06.175
10 #26 Dyson Freeman 01:06.212
11 #8 Stephen Heffernan 01:06.224
12 #77 Steve Edwards 01:06.442
13 #14 Noel Atley 01:07.204
14 #87 Dominic Paterson 01:07.528
15 #48 Simon Spencer- Bower 01:07.888
16 #80 John Stevenson 01:08.716
17 #191 Graham Dickie 01:09.767
18 #47 Gary Love 01:12.244
19 #27 Dave McKenzie 01:12.760
20 #72 Roger McKenzie 01:14.169
Race 1 (10 laps)
1 Josh Bethune Ray
2 James Penrose Van Diemen RF 93
3 Jordan Michels Mygale SJ 13
4 Ben Stiles Formula Ford Stealth
5 Jack Noble-Adams Van Dieman Stealth
6 Cameron Freeman Van Dieman RF 92
7 Stephen Heffernan Formula Ford UD Stealth
8 Dominic Robertson Van Dieman RF92
9 Steve Edwards Mygale SJ 08a
10 Noel Atley Crossle 55F
11 Corey Hodges Van Dieman RF 92
12 Andrew Downs Lola 642e
13 Simon Spencer-Bower
14 Dave McKenzie Begg FM3
15 John Stevenson
16 Roger McKenzie Begg FM3
17 Dyson Freeman
18 Bailey Paterson Van Dieman Stealth
19 Graham Dickie Begg FM3
20 Gary Love Van Dieman RF 88
Race 2 (10 laps)
1 Josh Bethune
2 Bailey Paterson
3 James Penrose
4 Ben Stiles
5 Jack Noble-Adams
6 Cameron Freeman
7 Corey Hodges
8 Dominic Robertson
9 Steve Edwards
10 Noel Atley
11 Simon Spencer-Bower
12 Andrew Downs
13 Stephen Heffernan
14 John Stevenson
15 Dave McKenzie
16 Roger McKenzie
17 Gary Love
18 Jordan Michels
19 Dyson Freeman
20 Graham Dickie
Race 3 (12 laps)
1 Josh Bethune
2 Jordan Michels
3 Jack Noble-Adams
4 Ben Stiles
5 Dyson Freeman
6 Cameron Freeman
7 Stephen Heffernan
8 Steve Edwards
9 Dominic Robertson
10 Simon Spencer-Bower
11 Corey Hodges
12 Noel Atley
13 Andrew Downs
14 Gary Love
15 Roger McKenzie
16 John Stevenson
17 Dave McKenzie
18 James Penrose
19 Bailey Paterson
2018/19 South Island Formula 1600 Championship Calendar
Rnd 1: October 27-28 2018, Mike Pero Motorsport Park, Ruapuna, Christchurch
Rnd 2: November 10 2018, Timaru International Raceway, Timaru (also Rd 1 NZ Formula 1600 Championship)
Rnd 3: December 1-2 2018, Teretonga Park Raceway, Invercargill
Rnd 4: January 12-13 2019, Mike Pero Motorsport Park, Ruapuna (also Rd 2 NZ Formula Ford Championship)
Rnd 5: January 18-20 2019, Teretonga Park Raceway, Invercargill; (also Rd 3 NZ Formula Ford Championship)
Rnd 6: April 6 2019, Timaru International Raceway, Timaru
Photo: Richard Dimmock
Prepared by SB Networks on behalf of the South Island Formula Ford Club