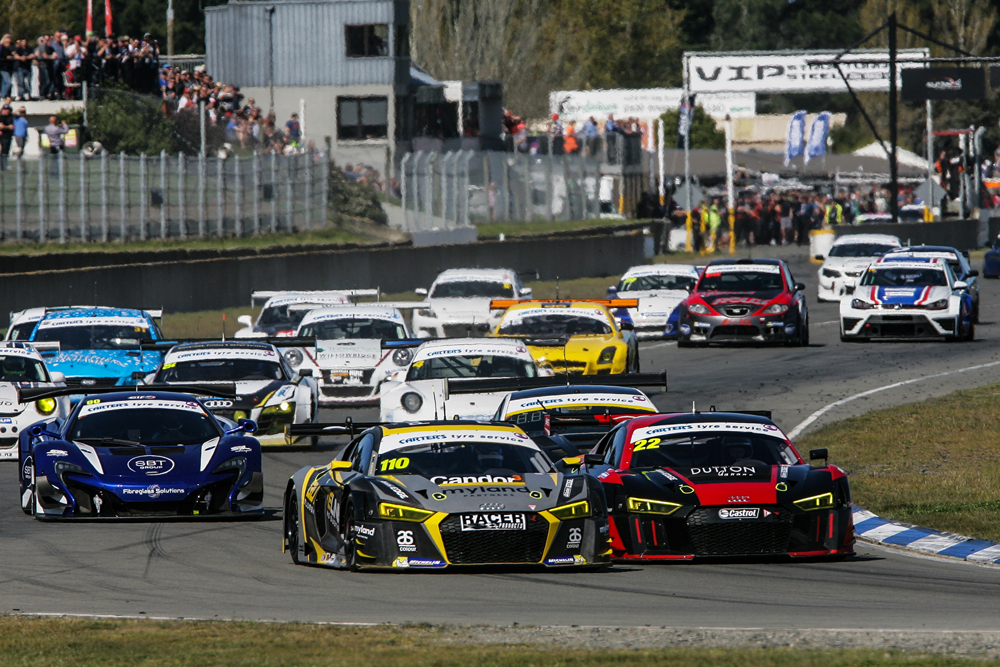 Best field ever for NZ Endurance Championships at Highlands
The stage is set for one of the biggest motorsport battles ever staged in New Zealand, as the magnificent Highlands Motorsport Park in Cromwell hosts the 2018/19 Carters Tyres New Zealand Endurance Championship event this Saturday 24 November.
The event is a joint venture between the South Island Endurance Racing Drivers Club (SIERDC) and the North Island Endurance Racing Drivers Club (NIERDC) and is a simple one off, winner takes all, race where the victors will take home the New Zealand Endurance Championship title. For the first time since its inception both the current One Hour and current Three Hour champions from each island will be attending and going head alongside both defending 1 hour and defending 3 hour NZ Championship winning teams. So fans are in for two electrifying races that will see the very best cars from the Carters Tyres South Island Endurance Series and the ENEOS North Island Endurance Series battle for the New Zealand Championship silverware.
The three hour race entry list is outstanding with the very best cars from the South Island Endurance Series and the North Island Endurance Series set to go head to head. When asked about a 3 hour race favourite, SIERDC Series coordinator Chris Dunn was very coy "Wow, ask me an easier question" he quipped "it could honestly be any of the ten top teams, and that's unheard of".  Hot favorites include defending NZ Endurance Champion Simon Evans who teams up with past NZV8 Ute champion Chris Hanley in the striking VF Commodore V8ST+. This car has just undergone a significant rebuild and upgrade and is anticipated to be even faster than when it won the opening round of the NIERDC Series back in May. Then there is the ENEOS North Island Series Champions John McIntyre & Simon Gilbertson, who swap their NIERDC championship winning Porsche for the menacing 8 litre V8 SaReNi Camaro GT3+, also fresh off a major rebuild. Also hunting silverware will be current Carters Tyres South Island Champions Neil Foster & Johnny Reid in the Audi R8 LMS GT3 run by the slick International Motorsport team. Other favorites include the beautiful McLaren 650S GT3 of Glenn Smith & John DeVeth, as well as the screaming V12 Aston Martin Vantage GT3 of Highlands owner Tony Quinn who teams up with Andrew Waite for the Highlands event and both these cars have already won endurance races in New Zealand this season. But the favorites don't stop there, others expected to be at the sharp end of the field at Highlands include the pair of Mercedes AMG SLS GT3's, One for Carters Tyres Motorsport team Dwayne Carter who partners with defending NZ One Hour champion Shane Hodgson, and the other SLS GT3 for ITM Mike Racing's Brendon Leitch and NZ's fastest mum Christina Orr-West. Then there is the 760hp ex V8 Supercar VZ Commodore of Nick Chester & Cameron Jones and also the Porsche 997 GT3R of George McFarlane & Highlands hot-laps pilot Jack Milligan and the tally reaches double figures of cars that could genuinely win the 2018/19 NZ Endurance Championship.
The NZ Endurance titles are competed for over all 5 classes that run in the NIERDC and SIERDC Series' and the racing will be as action packed right through the field as a myriad of factory built cars such as Porsche 997 and 991's, factory built TCR spec cars, BMW Cup cars and ex-World Touring cars take on the traditional home built hot-rods of all shapes and sizes that all will vie for victory in their respective classes.  New Zealand titles are awarded across all the classes including; Class A (0-2000cc), Class B (2001-3500cc) and Class C (3501cc+) as well as the glitzy GT classes (Class D and Class E), plus there is also a very sought after North v South Challenge trophy that creates some friendly rivalry between the SIERDC and NIERDC Series'.
The NZ Endurance Championship run a unique format being that it is a single race for the Championship titles. "With no series strategy in place, then is just a straight out duel for the silverware" said Dunn, "there is no next round, so these teams will leave absolutely nothing on the table as they chase the NZ Championship titles".
So mark this Saturday 24 November into your diary as this will be a breathtaking event with 2 separate races that are guaranteed to be filled with all the action, drama, heart-break and delight that endurance racing is renowned for. Highlands Motorsport Park has great viewing facilities to watch all the action, and gate entry is just $30-00 (kids under 16 free) which includes entry to Level 1 of the National Motorsport Museum. With everything on the line and plenty of silverware up for grabs this is a day that is not to be missed!!
For more information on the Carters Tyre Service NZ Endurance Championship or the South Island Endurance Series please contact Secretary Chris Dunn via e-mail at sierdc@xtra.co.nz, ph 021-107-9293 or on facebook at www.facebook.com/sierdcnz
Caption: #22 Foster/Reid and #110 Fawcett/Rollinson Audi R8 LMS GT3's lead the busy field at the start of the 2018 Carters Tyres Endurance Series (3 hour) at Ruapuna Park Christchurch, September 2018. 
Photo credits to Euan Cameron & Terry Marshall