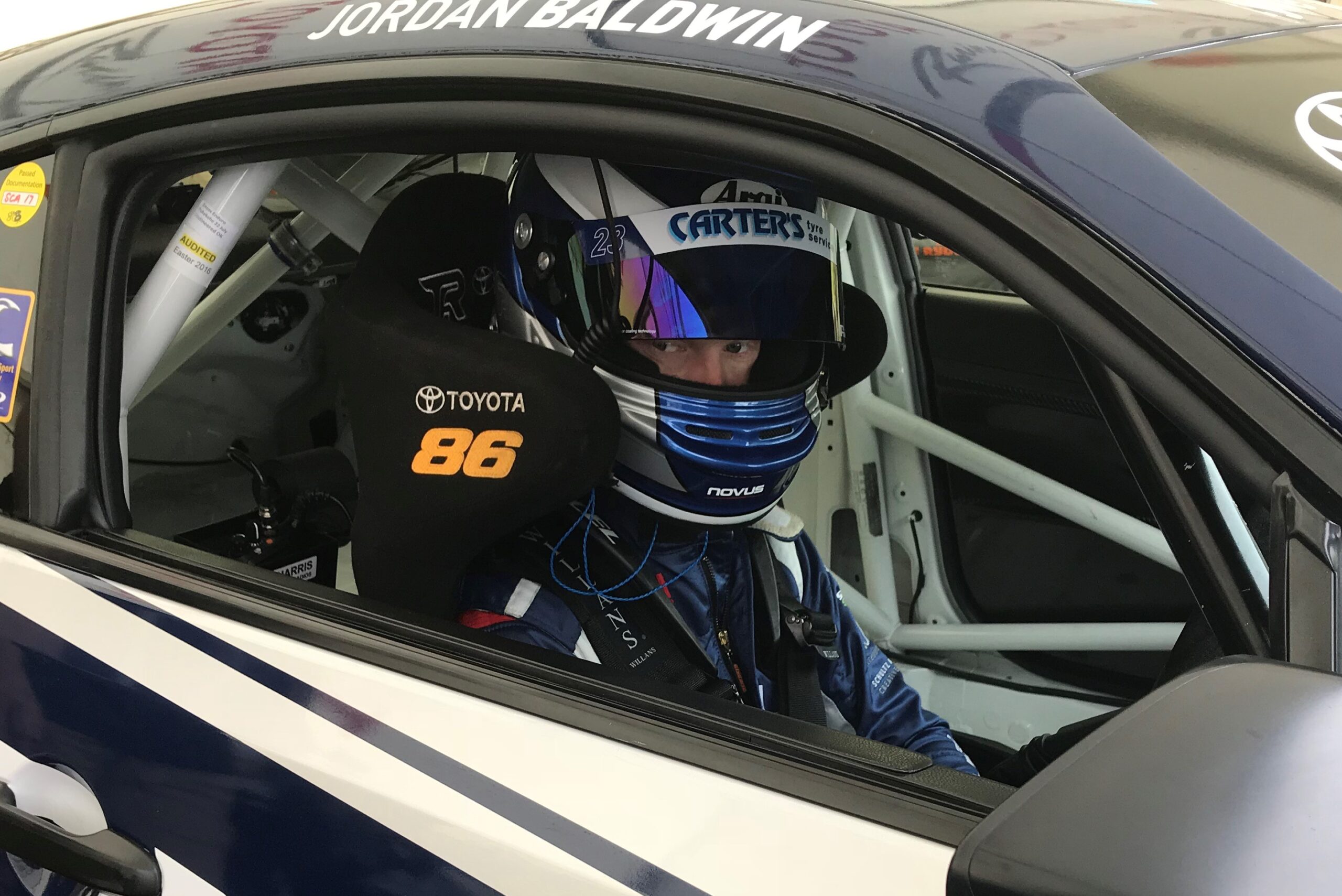 Baldwin back for championship challenge
Last season's Rookie of the Year Jordan Baldwin will be back for the 2018-2019 Toyota 86 Championship and the 20 year old has his eyes firmly on the overall title.
The former ministock, stockcar, national level kart and BMW E30 racer made the podium on his debut in the Toyota 86 Championship last season. He achieved that feet at almost every meeting on his way to fifth overall and Rookie honours.
Like all of the drivers lining up for what will be the most competitive Toyota 86 championship in the category history, Jordan has been working hard on and off the track during the winter and spring months to prepare himself for the challenge ahead.
"Last season I graduated No 1 in the NZ Motorsport Elite Academy programme, I also went on to win the prestigious Ian Snellgrove award for excellence," he explained.  "I have been working with a number of the academy mentors and trainers throughout the off-season to ensure that I will be physically and mentally prepared for this year's championship challenge.
"I am also currently competing in the South Island Endurance Series in the Carters Tyres' 750bhp V8 Supercar and this has ensured my race fitness is where I need it to be coming into this second T86 season.
"All of last season and continuing into this season, I have been working closely with Alistair Wootten from Formula Fit in Silverdale. Alistair designs my programmes based on where I am at any given time. Not only do we work on physical fitness and core strengths, but we also work on special awareness exercises, reaction time drills, nutrition and mental preparation.  Alistair has become an integral part of our team and Formula Fit is part of our partner programme for the upcoming season.
"I have also completed an intensive race engineers course during the off-season which has given me a much clearer understanding of what the car is doing and how I can effect change through giving my crew technical feedback."
A huge amount of effort has also gone into the team that will run Jordan in the coming season. Backing for the Howick racer's campaign is shaping up to the strongest in his career, with Intermach NZ Ltd, Carter's Tyre Services Ltd, P&S Autocentre Ltd, BNT Manukau, Mega Fortris Group, Formula Fit, Saucer Ketchup, OnRoad Rentals and Race Engineering Academy already on board. A further naming rights partnership is also being finalised and it will all allow the young gun to focus only on the racing ahead. Jordan however, is also quick to acknowledge the amount of work his father Marc has put in to guarantee the programme this year is a top notch effort.
"My dad is the driving force behind this team, he manages it, raises the finances for it and markets my profile and the team like a business," he added. "I wouldn't be where I am without his drive and determination. We also have an amazing crew made up of a team of talented data and mechanical technicians. It's all shaping up incredibly well for the coming season and we cannot wait for it to begin."
Baldwin will commence battle with a full field of the country's top up and coming racers at the Supercars Championship event at Pukekohe Park in November before joining the Speed Works Motorsport NZ Championship for round two on Pukekohe's original 'short course' configuration. The championship then heads south for weekends at Highlands Motorsport Park and Teretonga before heading to the New Zealand Grand Prix meeting at Manfeild Circuit Chris Amon in February. It concludes at Hampton Downs in March with a non-championship endurance racing weekend in Taupo a month later.
The full schedule for the Toyota 86 Championship is as follows:
November 2-4 – Pukekohe (with Supercars)
December 7-9 – Pukekohe short track (no back straight chicane)
January 11-13 – Highlands Motorsport Park, Cromwell (with Castrol Toyota Racing Series)
January 18-20 – Teretonga Park, Invercargill (with Castrol Toyota Racing Series)
February 8-10 – NZ Grand Prix at Manfeild, Manawatu (with Castrol Toyota Racing Series)
March 9-10 – Hampton Downs Motorsport Park, North Waikato
Media release: Toyota Racing
Caption: Jordan Baldwin is stepping up from Rookie of the Year to title challenger in the Toyota 86 Championship.