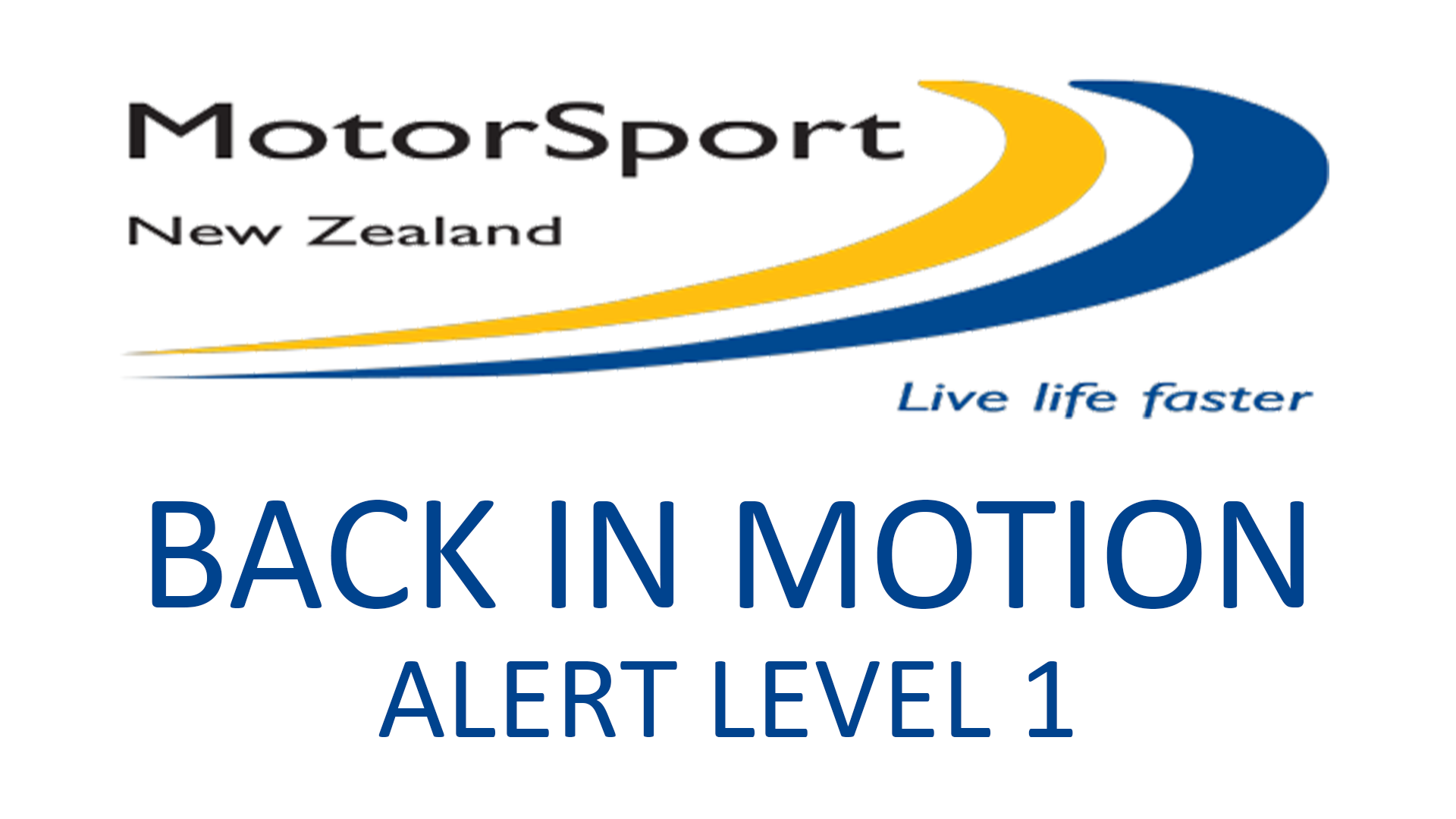 Back in Motion Alert Level 1 Update
We are excited to see motorsport return to relative normality following the Government's announcement that New Zealand has moved into Alert Level 1. As a result, the majority of the 'Back in Motion' guidelines and restrictions are no longer required at MotorSport New Zealand permitted events. 
You can find the new Alert Level 1 table from Sport NZ here, which carries the following advice specific to sport:
Under Alert Level 1 the disease is contained in New Zealand, but COVID-19 remains uncontrolled overseas.

The main controls under Alert Level 1 are border restrictions and managed isolation or quarantine for people entering the country.  

Motorsport under Alert Level 1 looks much like it did pre-COVID-19 but with border restrictions.  

There are no restrictions on businesses and services (including hospitality), no restrictions on gathering, no requirements for physical distancing, and no requirements to keep records to enable contact tracing. 

We still encourage clubs to maintain QR codes however where possible, to allow people to log where they have been.

Continue to practice good hygiene to minimise the risk of community transmission.  

In Alert Level 1 we should be prepared to quickly move into higher alert levels if we need to.

As mass gatherings limits are removed, large events such as sports games or tournaments are able to go ahead. Organisers should be aware they may be asked to postpone or cancel gatherings under the circumstance that a significant outbreak has reoccurred, or if case numbers increase.
Outside of the guidelines from Sport NZ, MotorSport New Zealand still recommends the following guidelines and practices from its "Back in Motion" plan:
Electronic event documentation:

We encourage clubs to continue to utilise electronic event documentation when possible. A number of clubs have indicated to us that they have found some new efficiencies with this process compared to their previous methods.

Hygiene stations:

Good hygiene practices are still recommended from a public health perspective. Events should have hand sanitiser readily available.

Electronic timing sheets:

Similarly to electronic documentation, encourage clubs to continue to utilise this process as there are efficiencies to be gained.

If you are sick or unwell STAY HOME:

This advice remains in place, if you are sick or feel unwell please stay at home.
Click here for an information poster we encourage you to display in a visible area at your events.
As always, the MotorSport New Zealand team are happy to help out if you have any questions regarding COVID-19 guidelines or procedures or for anything else you need assistance with.