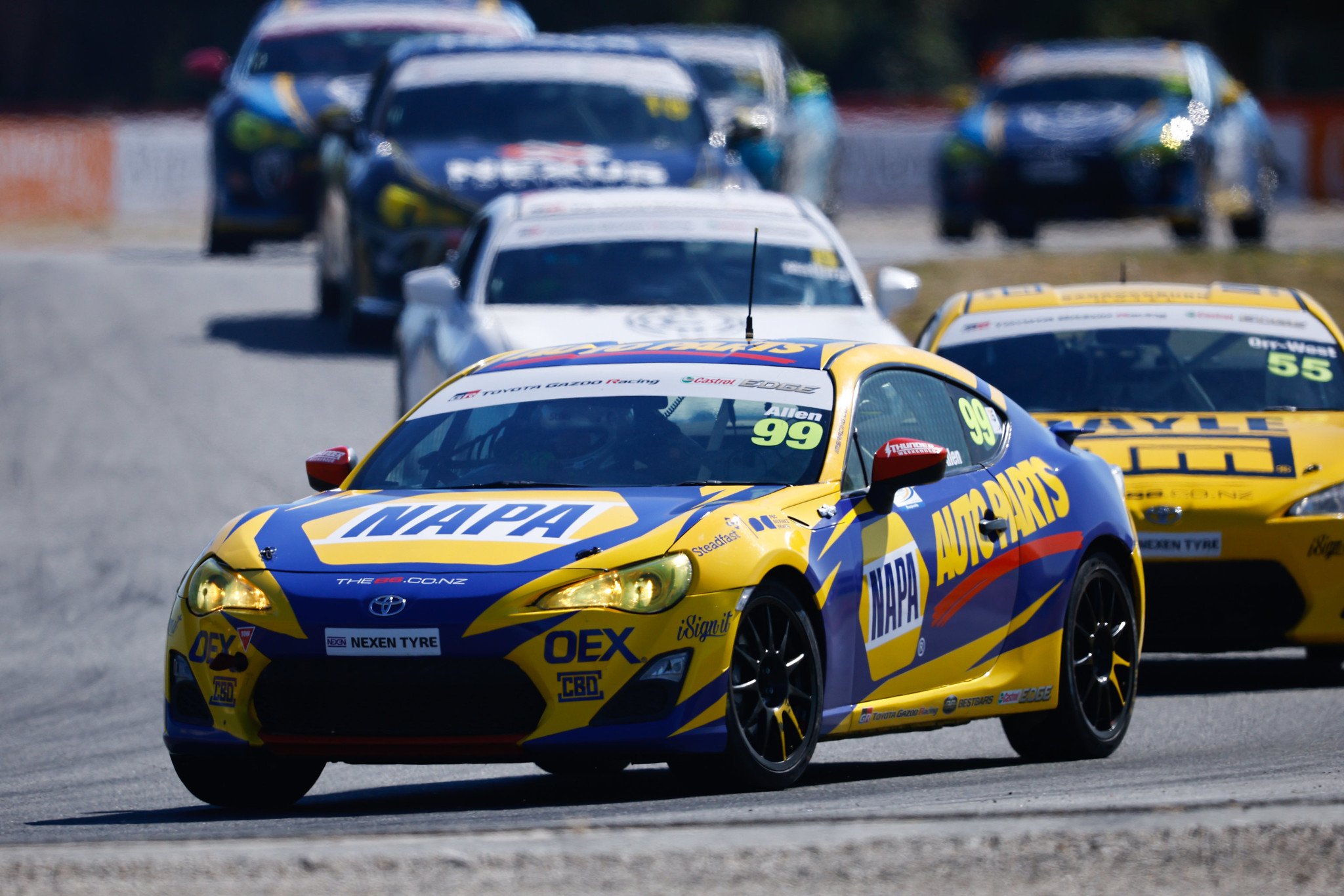 Advantage Evans – but Hampton Downs could change things in Toyota 86 Championship
Simon Evans heads to Hampton Downs this weekend with a lead of just under sixty points over second placed Justin Allen – but this could be the weekend when his major challengers in the race for the 2022 Toyota 86 Championship title fight back.
As ever, the Toyota 86 field is evenly matched, with at least a dozen drivers in the 21 car field capable of winning or securing a podium over the course of this weekend's four races. Evans four wins from six races puts him in a great position as the teams get set for the third round of the championship.
The interesting card in the pack is that everyone with the exception of the Giltrap Racing teams have tested extensively at Hampton Downs. Giltrap Racing opted to test in the South Island in the build up to the start of the championship and were well placed to shine in the first two rounds. The question is, will that advantage evaporate when they go to Hampton and their rivals have a head start on set up?
The impressive Allen will be hoping so. He heads the chasing pack comprising Rowan Shepherd, Marco Giltrap and Formula Ford champion Matthew McCutcheon and all will be raring to go on a track they tested for three days at towards the end of last year.
Allen has made his best ever start to the championship and can be well pleased with his results on the South Island leg of this year's series. He'll be looking to maintain that form on the North Island tracks – which he knows very well.
After a shaky start in early testing and a change of car, reigning champion Shepherd is up to full steam and will be a threat everywhere. Had it not been for a bit of bad luck at Ruapuna, he'd be much closer to the sharp end of the points table but there are more than enough races for him to bridge the gap.
McCutcheon, Ronan Murphy and Dion Pitt will head into this weekend optimistic of some big results. McCutcheon has been consistently fast so far and a regular top six runner so will be looking to take the step up and grab a win. Pitt and Murphy both also look like they can win races and masters class racer John Penny will be keen to add to his win at Highlands Motorsport Park too.
Ruapuna also saw the three Heart of Racing cars really up their pace and they too will be looking for some better results at Hampton Downs. Hugo Allan is due a good result to reward his obvious speed while Chelsea Herbert and Rianna O'Meara-Hunt could feature in the top ten as well.
In red level restrictions, it will be a little different for drivers and teams than normal, but action on track includes qualifying on Saturday morning with two races on Saturday afternoon. Sunday, meanwhile, brings a race in the morning based on a grid formed with qualifying's second fastest times. The feature race in the afternoon, based on points scored, makes it four races this weekend and that means it's going to be busy for the teams.