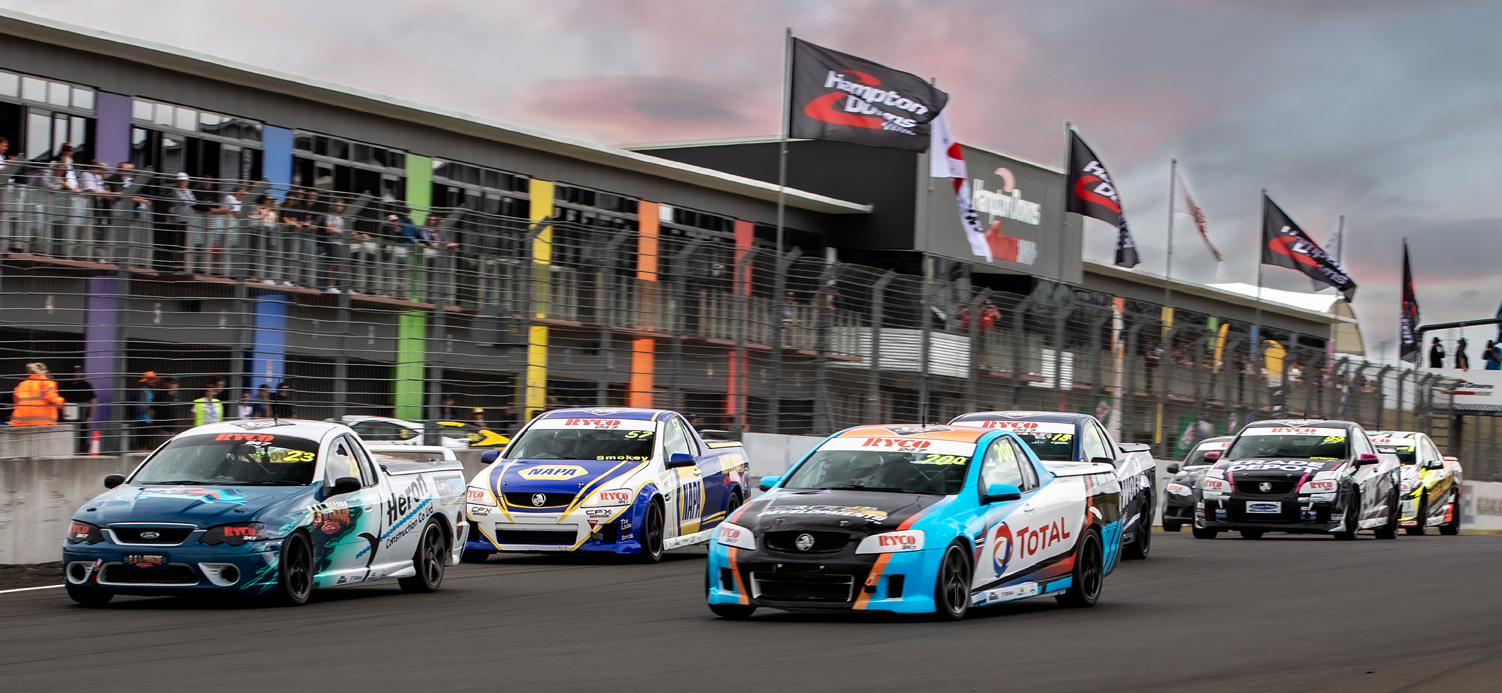 V8 Utes championship to be unleashed at Hampton Downs
The gloves are finally off the RYCO 24•7 V8 Utes with the championship poised to kick off at Hampton Downs Motorsport Park, February 11-13th.
During the Covid-induced layoff, crews have been busy straightening panels and preparing their rides after last April's fender-bending final round. Under the bonnets, the utes have received a new tune-up which will see closer racing with improved performance, especially in the tighter turns. The new ECU set-up is virtually the same as that used by utes in the Australian V8 Ute Racing Series.
Greg Kroef, one of the first utes with the new tune-up reported, "There's not a heap more power, but a lot more torque. You really notice it coming out of the corners." Greg will again race alongside son Brad – both Heron Construction utes being Ford FG utes after the Kroef family purchased Andrew Porter's previous race-winning ride, while their old Ford BF has found a new owner.
The other big news from the off-season was that RYCO 24•7 has extended its support of the V8 Utes series as naming rights sponsor. As RYCO 24•7 NZ Manager Azim Aslam explained, "The series has done our company really well. It's raising our brand exposure and helping us define RYCO 24•7 as a Hydraulic Hose & Fittings company distinct from the successful Ryco filters business."
Armed with a fresh set of Yokohama AO48 tyres for each round, Yokohama scholarship recipient Shane Dias is looking to improve on his third placing in last year's championship. Shane was the big mover last season, quickly getting to grips with an 1800kg 400hp Holden ute, while still enjoying success in the popular BMW E30 Series. Meanwhile David 'Shaggy' Lowe has 'moved to the dark side' – switching from his usual Ford BF to race a Holden VE ute.
A welcomed addition to the RYCO 24•7 V8 Utes championship is experienced campaigner Bruce McRae who has purchased Paul Manuell's championship-winning Holden. No stranger to the GMH badge, Bruce honed his driving skills over several seasons in the Northern Muscle Car series aboard an HQ Monaro. The other newcomer is Daniel Ludlam having purchased Brad Kroef's Ford BF – watch his progress as he gets to grips with his ute and storms through the ranks.
A ride day in late January allowed teams to test their set-ups while taking sponsors & supporters out for hot laps on the legendary Pukekohe circuit. So Round One will see all the RYCO 24•7 V8 Utes fully-primed and ready for the season ahead.
The Hampton Downs Motorsport Park event kicks off on Friday 11th Feb with practice sessions for the RYCO 24•7 V8 Utes at 10.40 am and 2.45 pm. On Saturday, Qualifying is at 10 am with Race 1 at 2.15 pm and Race 2 at 5.15 pm. Then on Sunday, Race 3 is at 10.33 am with Race 4 at 1.53 pm in the afternoon.