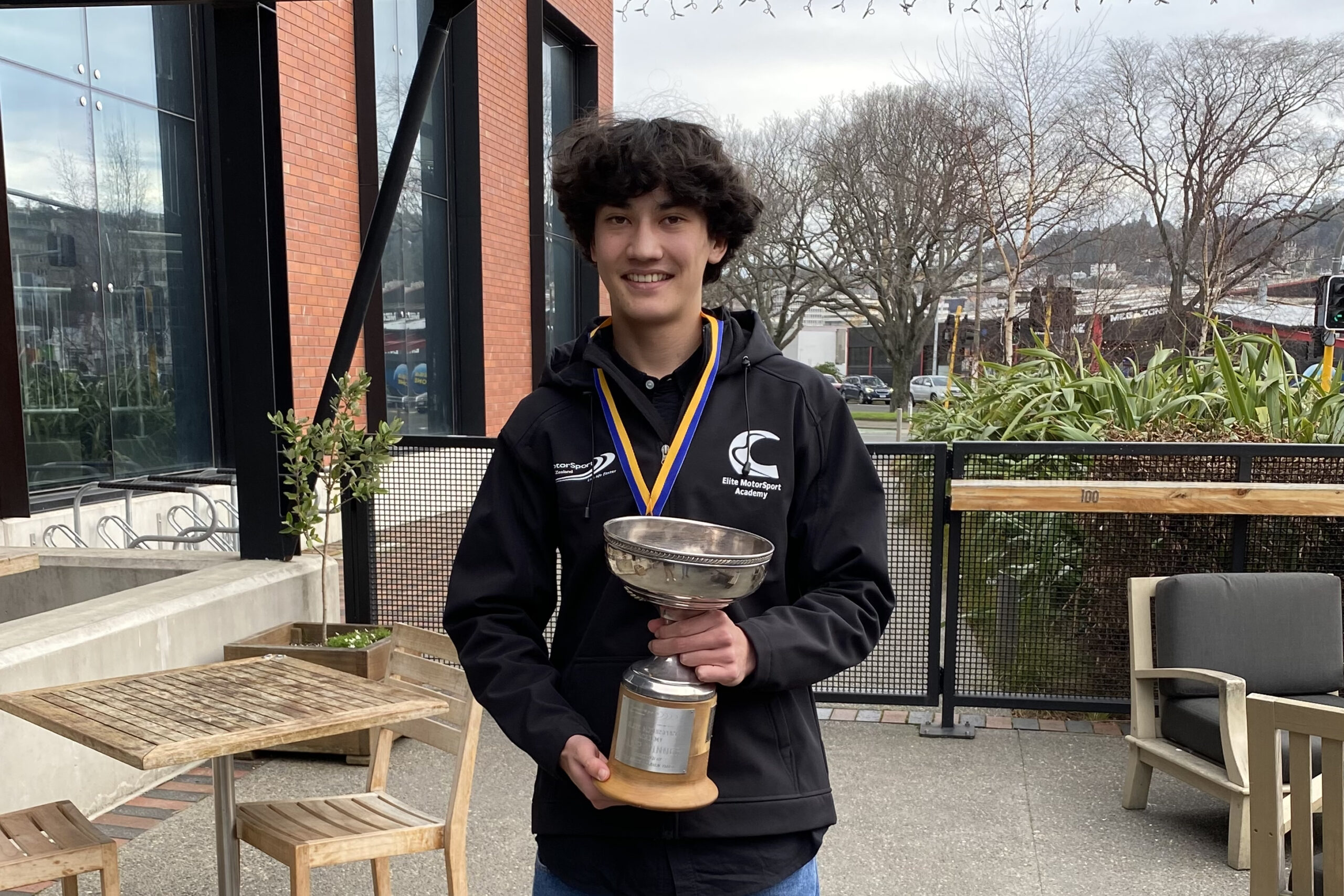 Zeal Jones tops Elite Motorsport Academy camp to win Bruce McLaren Trophy
Pukekohe rally driver Zeal Jones, 18, has won the Bruce McLaren Trophy by topping the points table for the 2023 Elite Motorsport Academy of New Zealand camp.
The Elite Motorsport Academy is an annual competitor development program put on by the MotorSport New Zealand Scholarship Trust for eight young and aspiring motorsport athletes. A week-long camp in Dunedin at the Otago Academy of Sport is the first part of the tailored 12-month development program each recipient receives.
Following a series of workshops, participants were assessed not only on their physical fitness but their newly acquired knowledge in sports psychology, nutrition, data analysis, public speaking/media skills, and motorsport regulations and procedures. Participants were also split into two teams and completed challenges together to assess their interpersonal skills and how they work as a team.
Jones' performance across the week saw him consistently performing at the high end of all challenges and learning activities.
"Our sincere congratulations go to Zeal for his top-of-the-class performance at the Elite Motorsport Academy camp this week," said Wayne Christie, President of MotorSport New Zealand and trustee of the MotorSport New Zealand Scholarship Trust.
"It means everything to me," said Jones upon being announced as the winner.
"You can prepare for it as much as you like physically, but all the mental learnings are so valuable. I took a lot away from the nutrition and hydration sessions, it was really valuable to me. The media and other mental skills are also super important and I look forward to putting what I've learnt into practice.
"It's a competition, but we made really good friends all around us. I really wanted to take on this opportunity this year, it was one of my goals so to achieve this it's really cool.
"I can't recommend it enough for young drivers, you should really apply next year."
Morrinsville racer and 2023 Toyota 86 runner-up Clay Osbourne ended the camp week second on the point table while Formula Ford racer Blake Knowles was third.
All eight academy participants will now continue their development with a personalised 12-month follow-up program where their progress will continue to be assessed before crowning an overall academy and Ian Snellgrove Trophy winner in May 2024.
Applications for the 2024 Elite Motorsport Academy will open later in October 2023 for the next crop of aspiring competitors who want the best kickstart to their motorsport careers.
The Elite Motorsport Academy and MotorSport New Zealand Scholarship Trust are thankful for the support of Hyundai New Zealand, Toyota GAZOO Racing New Zealand, MotorSport New Zealand and their other funding partners.