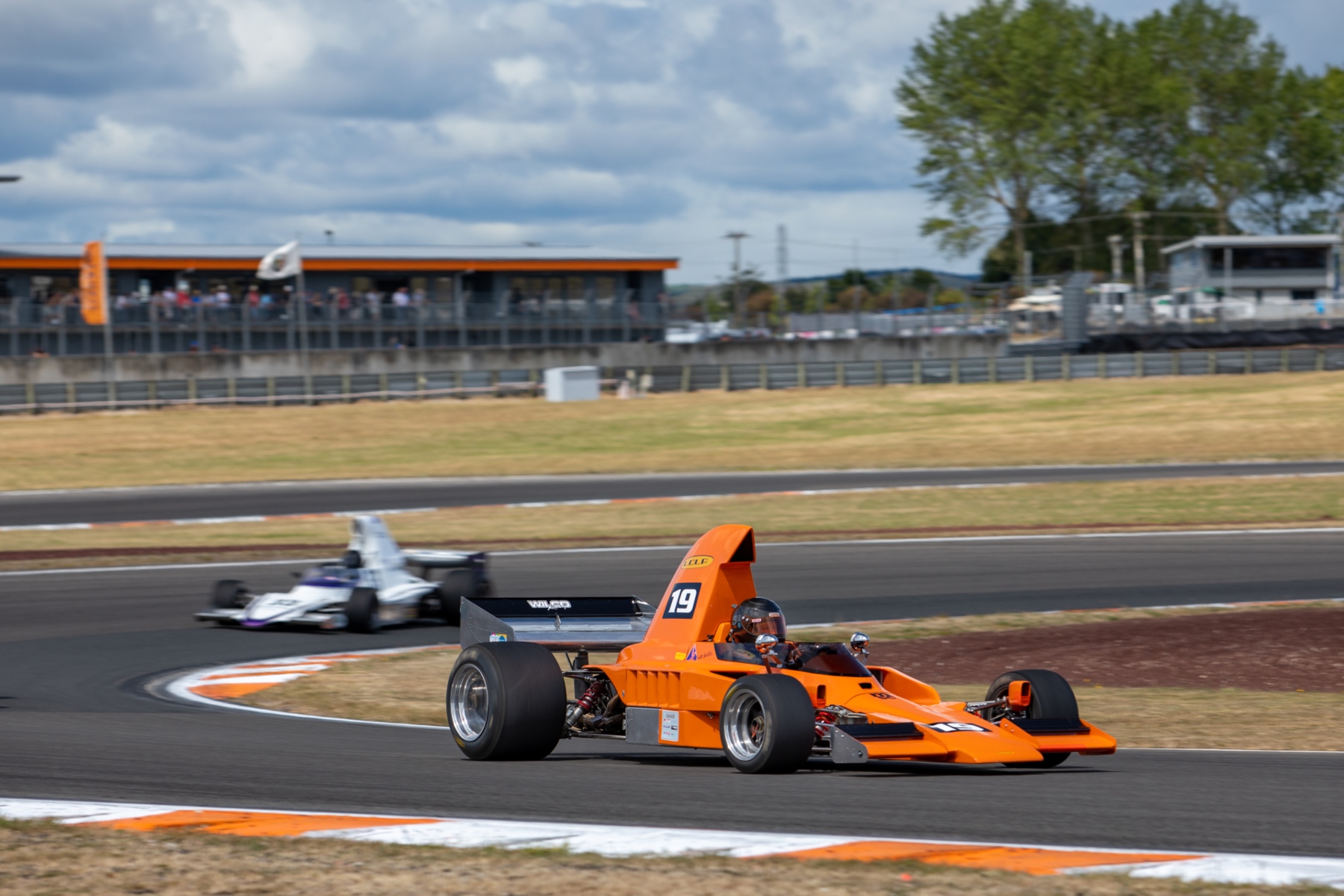 Young gun Lyons takes up where he left off at Taupo Historic GP meeting
Visiting category and series young gun Michael Lyons (Lola T400) from the UK dominated the first SAS Autoparts MSC F5000 series race of the weekend at the annual Taupo Historic GP meeting this afternoon, setting a new category lap record on his way to a lights-to-flag victory.
Lyons, who last raced in the SAS Autoparts MSC series and Taupo Historic GP meeting in January 2017, qualified quickest then lapped the 3.5 km Bruce McLaren Motorsport Park circuit a good half a second quicker (1:25.301) than the former F5000 class record holder Ken Smith did when he set the last F5000 category benchmark (a 1:25.963) at the same meeting in 2017.
2019/20 Rnd 1 winner Michael Collins (McRae GM1) also broke Smith's F5000 class lap record in this afternoon's race, his best lap a 1:25.833.
Lyons got the initial jump off the rolling start but had to do it all again after the Safety Car was deployed when series regular Glenn Richards spun his Lola T400 and could not restart it.
Out early meanwhile were Michael Dwyer (Lola T400), after contact with another car, Kevin Ingram (Lola T332) with a broken half shaft, Aaron Burson (McRae GM1) when his left rear wheel worked loose, and Frank Lyons (Lola T330) when an air cleaner element caught on fire.
Expat Warren Briggs was quick in Stu Lush's Lola T332 in practice but was forced to sit out the race after a universal joint broke late in this morning's qualifying session.
Once the track was cleared and racing resumed Grant Martin (Talon MR1A) held a watching brief in third behind Lyons and Collins until the last lap when a broken fuel pump drive slowed his Talon MR1A enough for fellow Talon driver David Banks to catch up and claim the final spot on the race podium.
Fourth despite issues selecting gears was former series title holder Brett Willis in his debut drive in his new Lola T332, fifth series lynchpin Shayne Windelburn in his Lola T400.
Codie Banks was next home in his Lola T332, followed by Grant Martin, Tony Roberts in the first of the original pre 1972 Class A cars, the high-wing McLaren M10A, Frank Karl in the second Class A car (his McLaren M10B), Tim Rush in his later model McLaren M22, Judy Lyons in the NZ-built Begg FM5 and Glenn Richards.
Michael Lyons was also comfortably quickest in the SAS Autoparts MSC NZ F5000 Tasman Cup Revival series qualifying session this morning with a time of 1:24.179, just over a second-and-a-half faster round the 3.5km Bruce McLaren Motorsport Park circuit than Michael Collins (McRae GM1).
Grant Martin and Kevin Ingram were the next quickest with a couple of 1:27 laps (a .218 for Martin and a .713 for Ingram) then the order was Aaron Burson in his McRae GM1 (1:28.233), David Banks (Talon MR1 with a 1:29.358), David's son Codie in the family's Lola T332 (1:30.036) and series new face, Warren Briggs, an ex-pat Kiwi who has raced extensively in Classic and historic events in Europe and the US, driving the Stu Lush Lola T332 (1:30.296) 8th quickest.
Also in the 1.30s was former series title holder Brett Willis from Rotorua (1:30.558), while one of the other series returnees from the UK, Michael Dwyer (Lola T400), was 10th.
After a dream start to his 2019/20 season, (pole and three race wins from three starts) at the opening SAS Autoparts MSC Series round at Manfeild in November last year Michael Collins held an early season points lead over Talon MR1A man Grant Martin heading into this weekend's Taupo Historic GP meeting round.
Today's race for the SAS Autoparts MSC F5000 series cars was the first of three this weekend with two further races tomorrow.