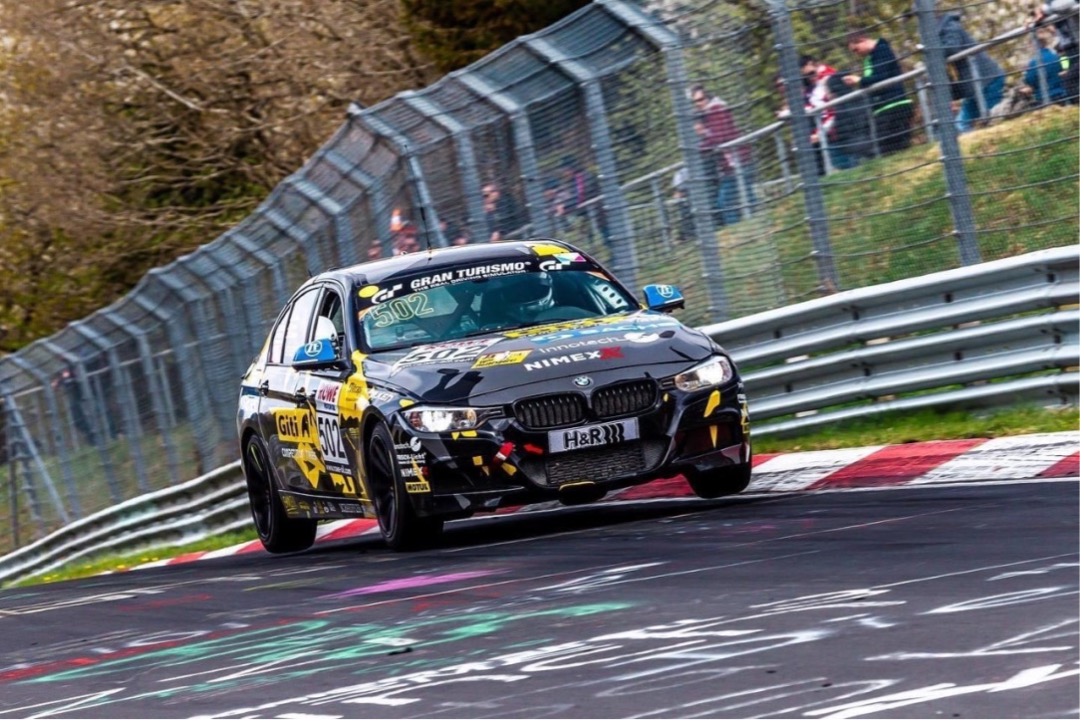 Wayne Moore set for 28th Nürburgring 24-Hour race
Intrepid Kiwi race car driver Wayne Moore from Paekakariki is returning to Germany for his 28th year driving in the ADAC TotalEnergies Nürburgring 24 Hour Race 26th-29th May 2022.
Moore this year will drive a BMW F30 328i in class V2T for production 2-litre turbo cars which he also entered last year in a VW Golf. He again joins WS Racing who are based in Trierweiler, Germany and primarily sponsored by GITI Tires.
Being sponsored by a tyre company is a blessing Moore values. "Last year the race was incredibly wet and visibility was further restricted by fog. We have a choice of 8 tyre treads from slick race tyres to intermediate, wet and monsoon patterns and often in various compounds ranging through soft, medium and hard. That means a huge reliance on our technical chief and the German crew who service the car once the driver conveys the track condition.
Moore also enthuses about the progression in communication between the race car and pits which in his early years relied on erratic cell phone coverage. We now have GPS radio and are in constant contact despite the mountainous terrain. Race organisers now also use a GPS system with in-car warning of sitruations ahead which has significantly reduced racing cars compounding an existing incident.
One lap of the Nürburgring is 25.3km and it is not feasible to use safety cars on such a lengthy circuit. Race incidents will often trigger a localised 60 kilometre per hour maximum speed limit through a system called Code 60. Pit lane speed limit is also 60 km/hr so drivers engage their speed limiter to ensure compliance and respect the safety of those working on the track.
Current regulations restrict a driver from driving for more than 3 hours without a 2 hour break and Moore is being joined this year by Matthias Möller, Fabian Pirrone and Detlef Steibrink all from Hamburg.
The three Germans gave the car a solid test in a 4 hour race during April.
2022 is the 50th anniversary of the 24 hour event and it's appropriate that fans are back after a two year hiatus due to COVID-19 restrictions. They are an integral part of the atmosphere with the pits and even the start grid freely accessible as the cars assemble on Saturday afternoon for 2 hours of pomp and pageantry before the race commences.
In non-COVID times 230,000 fans camped throughout the forest beside the race track as it winds through the Eifel Mountains and another 40,000+ encircle the stadium-like F1 Grand Prix circuit to view the cars as they return from the forest each lap. Moore believes numbers this year may be even higher and recalls enjoying the smell of steaks barbequing as he raced past hillside campsites and looks forward to that again.
With the return of fans manufacturer and supplier villages, and numerous fan zones will also reappear. Another spectator attraction that will be a welcome return is Adenauer Racing Day which is a street carnival closing the major village of Adenau one day in the preceding week.
Fan interaction is huge at the 24 hour race. They line the race track as cars progress on their formation lap before the rolling start and are permitted on the racing side of the 3 metre FIA safety fence for the time it takes three grids each of 60+ race cars to pass. This may be unique in the world of motorsport and certainly couldn't safely happen on a short circuit.
In the current OHS climate a tape barrier now separates the procession of creeping race cars from spectators and Moore remembers earlier days before the tape when drivers and fans briefly touched finger tips as a sign of comradery and celebration. One lap and ten minutes later the fans are behind the fence as the leading cars are now travelling at 300 kilometres per hour across the same tarmac.
The race has a unique flair as it attracts ambitious amateurs and professional drivers employed by factory teams regularly including young Kiwis with Earl Bamber in the field again this year. It's believed these teams can spend €1m over race weekend when they run 3 cars and entertain thousands of existing and potential customers. Moore raced for a Volkswagen factory-supported team for 17 years and says their budget was miniscule compared with today's figures.
The motorsport adage of 'win on Sunday, sell on Monday' runs true in the Eifel Mountains with fierce competition at the front of the field. "It's not uncommon to see race cars stuck in a gravel trap after leaving the circuit on turn one at the very start of the race in the intense battle to dominate television coverage at the front of the field" says Moore.
The 20.4 kilometre Nordschleife or North Loop is largely the same as that raced by Formula One until 1976 when Nicky Lauda experienced a fiery crash and the race track was then deemed too dangerous. Sir Jackie Stewart dubbed it 'The Green Hell' and Formula One now uses a more modern circuit at Nürburgring which is also part of what Moore races on.
He says roadworks often take place between snow falls during the winter months and this year has been no exception with major resealing and the trial installation of a further GPS safety system on Dottinger Hohe which is a high speed 3 kilometre straight.
Since first entering the race in 1994 Moore has raced 32,000km on the Nürburgring which is an extraordinary achievement for an offshore driver and other than German nationals no race driver in the world has entered the race more times.
His team have frequently been on the race podium for success in their class and won twice. One of Moore's personal ambitions is a third class win and time will tell whether he, his BMW F30 and 2022 team can deliver that.