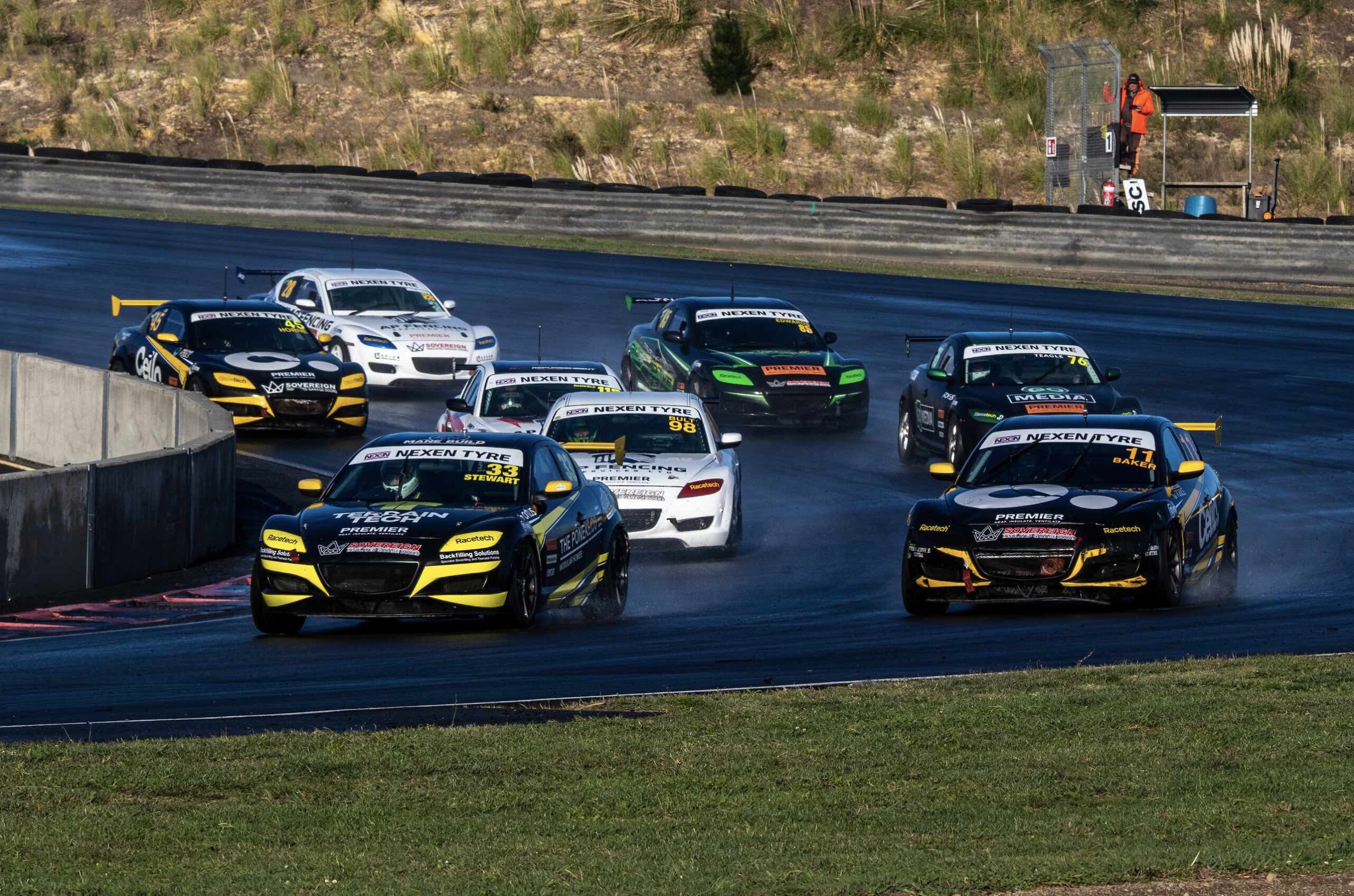 Ben Stewart nabs the Mazda North Island title in a dramatic final
The final round for the North Island series in the Nexen Tyre Mazda Racing Series ran at Hampton Downs over Anzac weekend. It's fair to say calculators were out along pit lane and everyone had done their math on the points. With each driver having to drop their worst non- penalty race result from the season the weekend started with Rex Edwards in 1st place on 695, 2nd Leo Bult on 662, and 3rd saw Ben Stewart on 639. Rex technically needed to finish all three races in at least third place to take the North Island title. The scene was set for an exciting finish to the season.
Qualifying in perfect conditions on Saturday morning saw three drivers post times under the official lap race record with Ben Stewart taking pole position with a 1:14.334, Simon Baker in 2nd with a 1:14.736 and Rex Edwards 3rd with a 1:15.183. Steve Brown also showed great pace to post a 1:15.717 for 4th on the grid.
On to race 1 and Simon Baker got a great start off the line to lead. After three laps of door to door racing Ben Stewart eventually got past and then set his first lap record of the weekend with a 1:15.110, eclipsing Roger Beuvink's record from 2018. Leo Bult and Steve Brown had a coming together at the dipper that saw Brown parked up for the race and Leo drop to last, putting a dent in his title hopes. First place went to Ben Stewart with Simon Baker in 2nd and a hard-charging Rex Edwards in 3rd.
Sunday morning the reverse top ten race 2 started with Jared Leith on pole with Elton Wichman alongside. A great start from Wichman had him leading the first lap before Steve Fistonich flew through. Unfortunately, on lap 3, Fistonich got knocked at the entry to turn 1 and lost control. Rex Edwards took the inside option to avoid Fistonich but didn't quite make it. The resulting coming together sidelined both cars for the weekend and red-flagged the race. When racing resumed Ben Stewart went on to take the win and set another lap record of 1:15.103. Second place went to Simon Baker and Terry Edwards completed the podium in 3rd.
The North Island title was down to the wire and then the rain came. Rex Edwards had swapped into brother Terry's car and needed to get from the rear of the field into 2nd to the secure the title. Rex got an amazing start to be in 3rd place by turn 3. In front, he had Ben Stewart leading with Simon Baker in 2nd. Lap 4 and the nightmare continued for Rex when he spun in the wet conditions coming into turn 1 hitting the outside wall and ending his title run. Ben went on to win the race, with 2nd going to Matt Horne who found some late pace. Simon Baker coming home in 3rd for a full Team Wellington podium. Notable drives in the wet from Elton Wichman coming through the field for 4th and Phil Clemas in 9th securing his first top 10 finish.
Overall results for the weekend had Ben Stewart in 1st with another dominant weekend, Simon Baker 2nd and Matt Horne in 3rd. The all-important North Island title for the Nexen Tyre Mazda Racing Series went to Ben Stewart, completing the clean sweep having secured the South Island and New Zealand titles. Rex Edwards hung onto 2nd despite a very tough weekend and Leo Bult wrapped up 3rd.