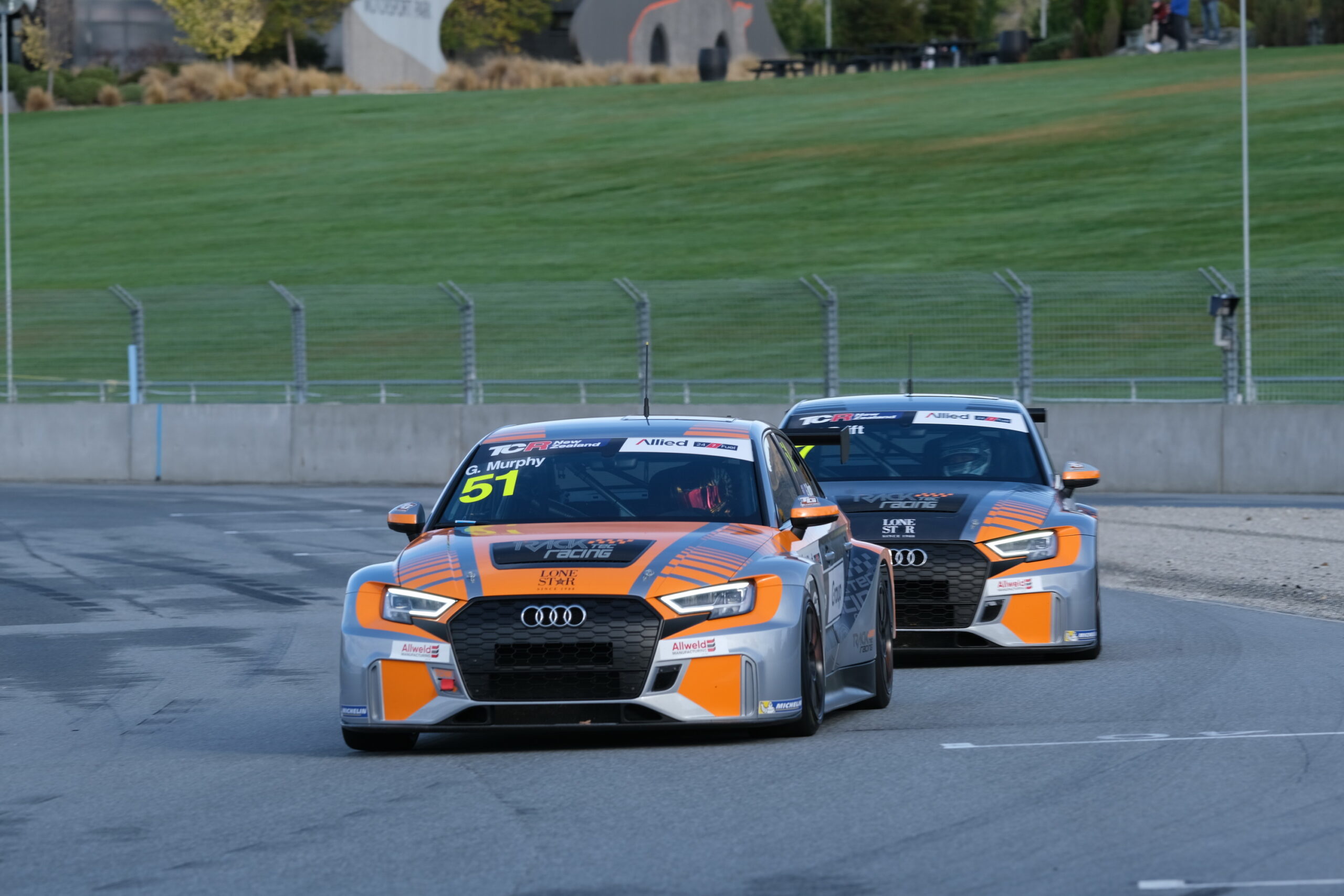 Track Tec Racing have proven performance in TCR category
Competition in the New Zealand TCR Championship is expected to again be close as we head into a new three-round 2022 season. Highlands Motorsport Park based Track Tec Racing have a proven race and championship winning history and bring plenty of experience to the new season.
Current NZ TCR champion, Chris van der Drift, won the 2021 title driving a Track Tec Racing Audi RS3 LMS TCR. Van der Drift won two of the three races in the Covid-19 affected, winner-takes-all, round at Highlands Motorsport Park in Cromwell last April. Also, on the podium in another Track Tec Racing Audi was Loch Fitzgerald-Symes who came home in third, showing consistent results across the races.
Coupled to this is the recent win for the team in the Class A & B 2021 One Hour South Island Endurance Series with Dennis Chapman at the wheel. Four TCR cars filled the top four placings in one of the most competitive seasons held so far. Track Tec Racing Audis finished on the podium at all four rounds beating home Scott O'Donnell in a Hyundai i30N TCR and making it a back to back team championship result in the Class B One Hour Series.
"We have a lot of experience in the TCR category both here and in Australia with running three Audi (RS3 LMS TCR)," commented Track Tec's Matt Waters. "We are the NZ TCR champions with Chris van der Drift winning this year's title.
"TCR is such a good format and it's a level playing field for all. They are all built to a budget and we have BoP (Balance of Performance) hence we have close racing and that's what it is all about.
"If you look at Europe, Australia and Asia we have seen some amazing racing in the category over there. Track Tec Racing was on the grid at the 2020 Melbourne F1 Grand Prix in two Audi TCRs as the only international team to take on the Asia Pacific Cup and TCR Australian Series when Covid cut the plans short and we can't wait to get back to international racing.
"The great thing about TCR cars is that they are built for both endurance and sprint races. There are a number of TCR 24 Hour races around the world as well as the sprint championships that we are familiar with from Australia."
The benefits of reliability and close racing are a big attraction for drivers, teams, sponsors and spectators in NZ.
"The cars are fun to drive and have great performance and we expect to see some drivers in the cars that are looking to progress their international motorsport career where the TCR format is a great stepping stone to international TCR series as the world starts to open up again after Covid.
"We have been doing this for a long time and we, as a team, have a lot of experience. We produce a car that performs on the track and will be reliable and get a driver to the finish.
"Reliability is such a strength for this category. As long as you keep to the maintenance and don't mess with it and keep the factory spec, then you will get results."
Two South Island rounds are expected to take place in January 2022 with one final round in the North Island either in late February or early March. While the dates are still to be confirmed, all three rounds will be at Speed Works promoted events.