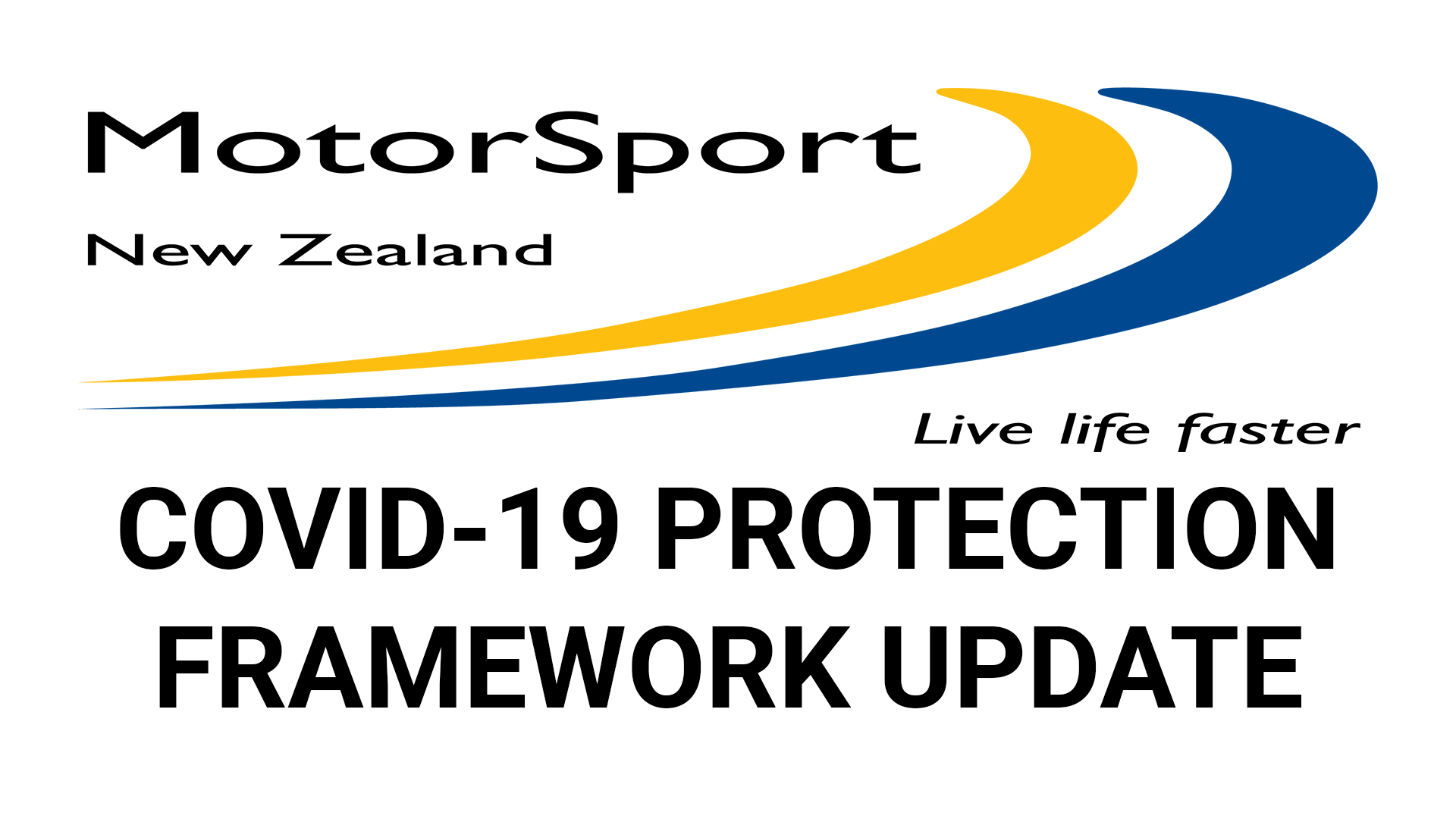 COVID-19 Vaccination Update 27 November
With the country having spent the past 18 months moving in and out of various states of lockdowns, it has been an extremely challenging period for us all. I'd like to take a moment to say to you all that we are extremely grateful for everyone's efforts in organising, running and supporting the many motorsport events that have been happening under the various levels of restriction as we have had to contend with COVID-19 as part of daily life.
As New Zealand readies itself to move into the new COVID-19 Protection Framework (CPF) on Friday 3 December  2021, MotorSport New Zealand are continuing to work through the information that is been provided to us but like many, we have been struggling to gain clarity on the CPF and what it means for sport and events.
On Friday the 26th of November we received some high-level guidance from both Sport NZ and the NZ Events Association on how we should operate under the new CPF as well as the use of COVID-19 Vaccination Certificates (CVC). However, we anticipate that there will be many more challenges as we navigate that guidance and become operational under the framework at the same time.
What is very clear from the guidance is that:
Auckland and those areas with low vaccination rates will start in the 'Red' setting with other regions expected to start in Orange, however this will be confirmed on 29 November
Auckland will remain in "lockdown" until 15 December 2021
If events or gatherings are to be held with no restrictions on numbers at the venue, there will be a provision that the use of CVC must be presented in the form of "My Vaccine Pass" prior to accessing the venue. This requirement will be for everyone over the age of 12 years 3 months.
There is the ability to organise events/gatherings without CVC but numbers at the venue will be restricted
Any restriction on numbers at the venue does not include 'workers'
The ability to do a negative test prior to attendance is not currently being considered as an option
However, to allow for a smoother transition for businesses and events into the CPF, the Government announced an extension to vaccine mandates on Tuesday (November 23 2021) requiring vaccination for all workers working in events that operate with the CVC. It is now required that workers will have had to receive their first vaccination by 3 December 2021 and have up until 17 January 2022 to receive the second vaccination after which all workers will be required to meet the CVC requirements (double dose).
A "Worker" is defined as including staff, volunteers (officials) and contractors, both paid and unpaid.
Relevant links: https://www.business.govt.nz/news/vaccine-updates-vaccine-assessment-tool-and-my-vaccine-pass-mandates/
In an event or gathering setting, what roles are classified under the "worker" mandate? 
MotorSport New Zealand-appointed volunteer officials
All club-sourced officials including track or stage officials, recovery or response crews, timing crews, pit or service park personnel, etc
Contractors to the event/gathering (i.e., Fire Service, Medical Crew, Security / Gate Staff)
Venue staff
All others including competitors, crew members and spectators over the age of 12 years 3 months who are attending the event/gathering are required to meet the CVC requirements (double dose) by the 3rd December 2021.
We are still waiting for guidance on how we manage the process regarding record holding, and what exceptions or exemptions look like.
If a club, organiser or venue wishes to implement restrictions beyond the Government guidelines mandate, that is at the discretion of the individual group to do so.
The team at MotorSport New Zealand are currently updating the Back in Motion Guidelines document to reflect these new changes and provide some more specific motorsport examples and we will aim to have this updated and published early next week. We will be in touch with those clubs and organisers who are running events on the weekend of 4-5 December on Monday to discuss the draft guidelines with you to see how best we can make the events happen.
I understand this is a particularly polarising subject so if you have any questions regarding this, please do not hesitate to get in touch with me.
Kind regards,

Elton Goonan
CEO | MotorSport New Zealand Inc.
elton@motorsport.org.nz