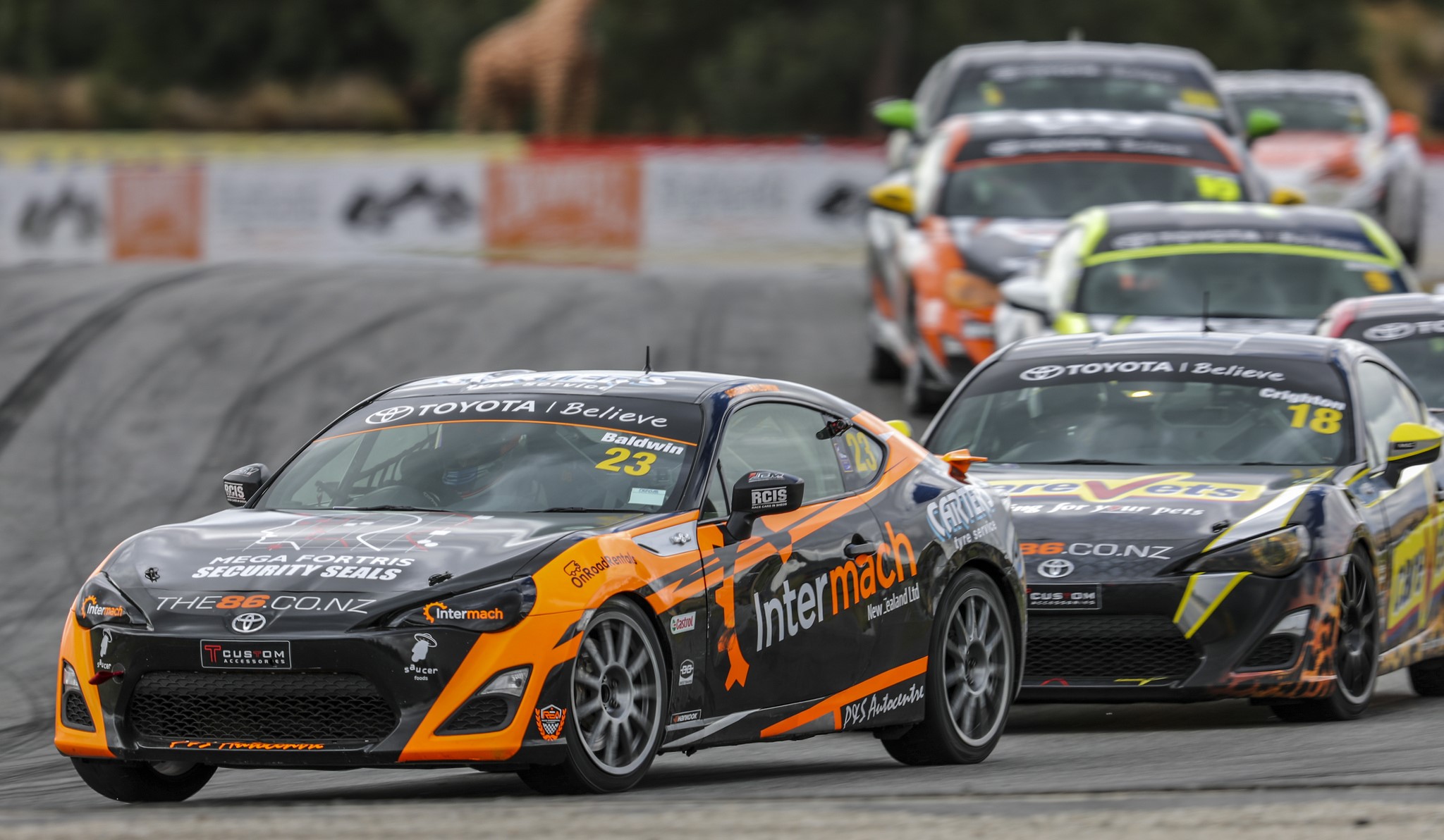 Toyota 86 Championship – the race is on
It's one of the big weekends of the season for the Toyota 86 Championship and the series looks set to go down to the wire.
Points leader and Intermach-backed racer Jordan Baldwin took the last round literally by storm as he splashed and slithered his way in challenging conditions to two wins and a second place to dominate in the wet and wild south.
In a championship delivering exactly what it promised at the start of the season – close racing action, multiple passing and unpredictability – Baldwin made the most of a weekend when Hedge was dogged by having to run a new engine after a practice failure.
Would he have challenged Baldwin otherwise? It's difficult to know, but the field head to the Grand Prix weekend in Manfeild with it all to play for with six races left in the battle for the 2018-2019 championship. And it's currently a three-way fight between Baldwin, second placed Jaden Ransley and Hedge.
Baldwin has shown pace throughout the season – who could forget his season start rocking up a day late at Pukekohe due to exams and promptly grabbing two pole positions in his first session of the weekend? He's been there or thereabouts in the points since then but was unable to break into the winner's circle. It all came good at Teretonga, however, and the youngster is full of confidence heading to one of the big weekends of the season for the series, the GP meeting.
"I'm really looking forward to getting down to Manfeild for the Grand Prix, the championship is extremely close and our lead is tight," he said. "The competition this year has been really tough, but something I think has been good for the series in general. It was good to grab a couple wins at Teretonga, but we need to keep our head down and stay focused on bagging solid points and aim to head to Hampton having retained the championship lead."
Hedge has proved so impressive that the blip on the radar that was Teretonga can be considered simply that, a blip and the bad moment of a championship campaign so far that has impressed everyone. The F1600 champ is a rookie in 86s of course, but has shown immense talent and adaptability. His laid back approach and friendly demeanour – a common trait in the Toyota 86 paddock – have also been stand out features so far. He'll be back at the sharp end at Manfeild and will take the fight back to Baldwin – that's a guarantee.
The driver both Baldwin and Hedge will be very aware of as a threat to them both is Jaden Ransley. Competitive everywhere – and that's a pretty important ingredient in this championship – he's right in the fight for the title and sits second heading to Manfeild. Thirteen points behind Baldwin and ten ahead of Hedge. It's that close. Ransley races hard and has proved that he can make progress through the field wherever he starts. Baldwin and Hedge can also do this to a very high standard and that is why the three way fight is so intense.
Peter Vodanovich is recovering from a less than ideal start to the season but is now bagging the results to match his obvious speed. He's more than 100 points down, but can be expected to mount a challenge. He has nothing to lose, where the three ahead of him do. He'll be racing hard at Manfeild and will be another who is more than likely going to be up at the front this weekend.
Early championship leader Connor Adam has been there on occasion since his Round 1 win, but has lacked the consistency of the other front runners. With two rounds to go he'll be looking for a strong finish. And he'll also be conscious of the progress of Brock Gilchrist – team mate at International Motorsport. His learning curve has been super impressive and his first podium at Teretonga was a sign of what is to come. A race win at Manfeild or at the final round at Hampton Downs is not out of the question.
Of the rest, Kaleb Ngatoa, Jacob Cranston and Campbell Stewart are all primed for a big result after showing plenty of speed. And Justin Allen has proven it's possible with a stellar performance that saw him podium in wet conditions at Teretonga after showing improved form at Highlands.
Watch out too this weekend for the second new car of Darkhorse Racing. So far this season drivers Leo Bult and Andrew Jackson have been sharing duties in the cockpit, but this weekend they have a car each.
2018-2019 Toyota 86 Championship – Points after Round 4
1. Jordan Baldwin 735
2. Jaden Ransley 722
3. Callum Hedge 712
4. Peter Vodanovich 603
5. Connor Adam 578
6. Brock Gilchrist 543
7. Arran Crighton 484
8. Jacob Cranston 445
9. Kaleb Ngatoa 430
10. Campbell Stewart 391
11. Sam Wright 370
12. Justin Allen 350
13. Connor Davison 336
14. Mitch Hughes 215
15. Andrew Jackson 193
16. Leo Bult 164
17. Jake Klein 143
18. Tony Austin 102
Caption:  Jordan Baldwin has the points lead in the chase for the Toyota 86 Championship. Picture Bruce Jenkins.
Media release: Toyota Racing NZ