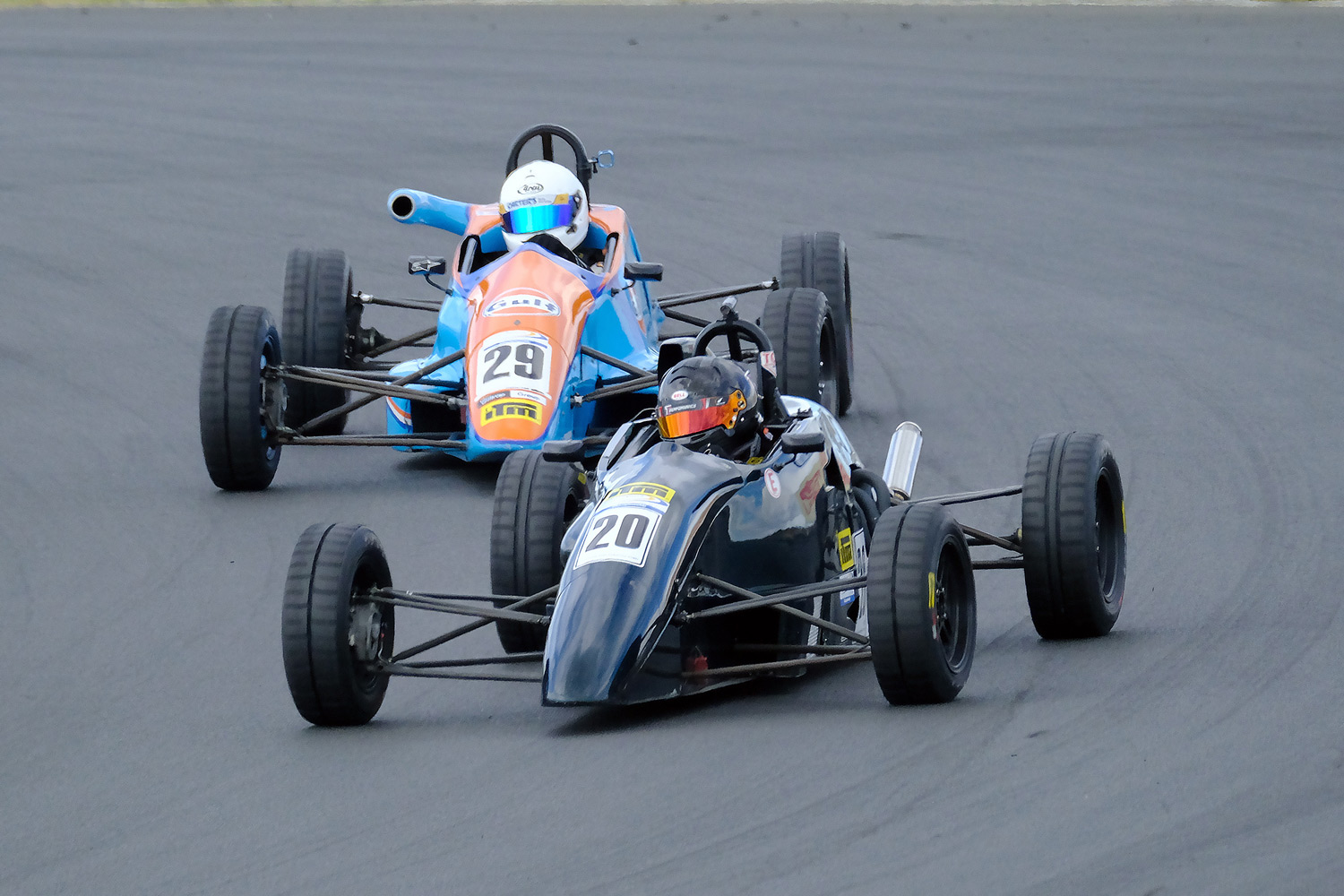 Top ten results pleasing for Douglas at NZ Formula Ford champs
Jacob Douglas has come away from the opening round of the 2021 New Zealand Formula Ford Championship having learned from the experience of a new track, new competitors and performing at a national level. Three top ten placings, a heap of learning experiences and a gaining of more confidence, has been ample reward for the team's hard work at Hampton Downs on Sunday.
"That was pretty good, not too bad after all," commented Douglas at the end of the day. "There's been a heap of learning. I struggled with getting up to speed as it is the first time at this track. Every corner is unique, especially into turn one. When you brake it curves off camber and downhill and it's difficult to see the exit. Every corner is different.
"We have had loads of close racing as everyone is competitive in the mid-pack. The competition is really good across the whole field and I have gained more confidence and experience."
Being a rookie on a new track was evident having qualified 11th and still learning the track. Good starts in the first two races saw Douglas move into the top ten and finish eighth and ninth respectively.
"In the third race I seem to have lost some pace but had a good battle with an old kartsport rival, Liam Sceats, and finished in eighth."
The Christchurch team is on the back foot for the first two North Island rounds of the three-round championship. Just three South Island drivers made the trip north for the one-day meeting. James Penrose won the opening race and twice finished second to Matthew McCutcheon who now leads the championship. Zac Christensen, like Douglas, is also new to the northern circuits and finished fourth and third in the first two races and did not make the start of the third.
"Jacob has gained lots of valuable learning," commented chief team technician, Andy Neale. "It's a tough track to learn with its blind slow and fast corners and crests. He continued to improve all weekend and three top ten finishes is a great result. He's shy on experience compared with most of the field.
"This is what this season is all about. It is a matter of having a go, throwing yourself in the deep end with new competitors who are experienced at this track. We're low on experience with one of the oldest cars in the field but it is all about gaining learning. We knew it was going to be tough and as a driver, Jacob has needed to take few hits on the chin. As a result of that, there has been some major gains made from the experience."
"I'm looking forward to Pukekohe," said Douglas. "Another new track which I will definitely be doing some homework on that one"
Now back in Christchurch, the team will prepare for the second round at Pukekohe Park, Auckland on 14 March 2021.