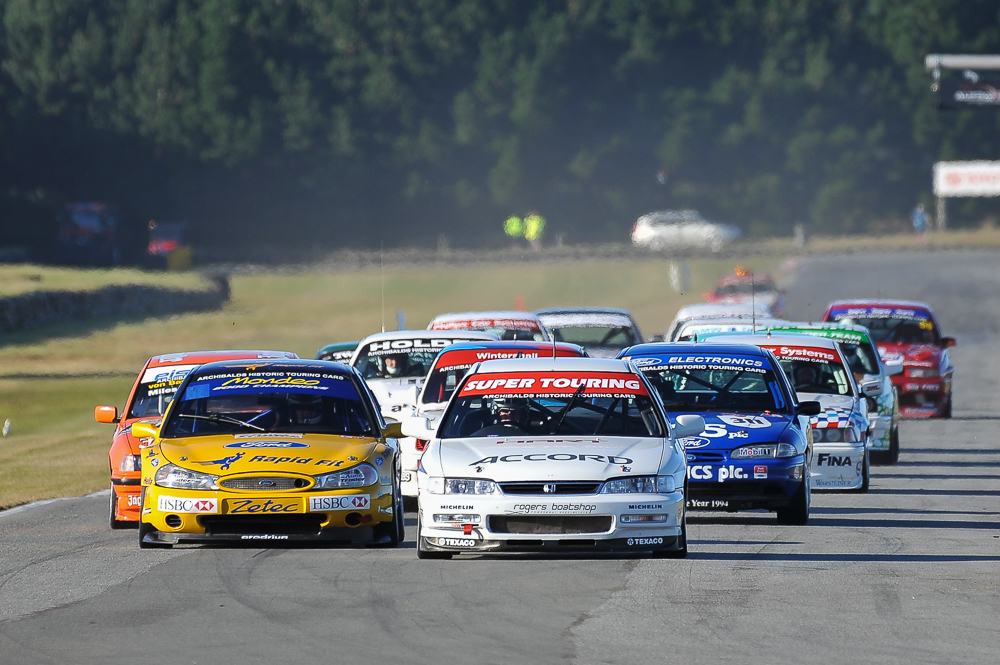 Mondeos take the limelight in Mobil 1 Classic Speedfest at Teretonga
The Ford Mondeo ST's of Paul Radisich and Scott O'Donnell had the march over the rest of the Archibalds Historic Touring Car field at the Mobil 1 Classic Speedfest held at Teretonga Park, Invercargill, over the weekend.
While O'Donnell won two of the four races, crowd favourite Paul Radisich come home first in a thriller driving his 1994 FIA Touring Car World Cup winning Mondeo.
"It was a lot of fun, especially to win in that car again," commented Radisich. "It's a bit like an old friend. It's an arm chair and it's still great to drive.
"This type of racing is really enjoyable and that's what it is about. And, everyone is driving safely but hard."
However, it was Nigel Arkell's Honda Accord Supertourer that not only set fastest time in qualifying but went on to win the opening race of the weekend. Initially Brett Stevens (Ford Sierra Cosworth RS500) grabbed the lead ahead of Arkell but this came undone with Stevens retiring and ending his weekend. Starting last on the grid, O'Donnell (Ford Mondeo) had worked his way through the field to take second from Radisich, Arron Black (BMW E30), Bruce Miles (BMW 320i Supertourer) and Tony Forde (Holden Commodore Walkinshaw).
O'Donnell's fortune continued in the opening race on Sunday, winning after Arkell's luck came to a halt on the first lap and put him out for the remaining two races. Scott had to sustain pressure from Miles who finished second ahead of Radisich, Black and Gary Geeves (BMW 320i Supertourer).
The third race of the round provided the thriller which saw numerous lead changes and a third winner for the weekend. From pole, under a rolling start, O'Donnell was swapped as the lights went green allowing Miles to lead from Radisich and Black. These four were to duel for the podium positions with Radisich leading before Scott got back in front only to miss a gear change over the back of the circuit on the final lap. Radisich, always the professional, seized the opportunity, crossing the line ahead of Miles, O'Donnell and Black.
Scott went on to win the final encounter from Miles and Radisich, taking his second win for the round. With both Miles and Radisich applying pressure it was about keeping it clean and not making any more mistakes. Black retired with an ignition coil problem moving Geeves into fourth ahead of Forde.
"Both the Mondeos have gone really well," commented O'Donnell. "Paul (Radisich) has done a great job driving the other car. He still has amazing skills that the rest of us just don't have. We have had some really good drags in straight lines which goes to show that there is not a lot between them and that's good to see in this category."
Behind the top four, the remaining field fought for minor placings. Local Tony Forde and Geeves traded places all weekend while Dennis Chapman (BMW 318i Supertourer), Warren Dunn (BMW M3), Warren Good (BMW E36) and Nick Young (BMW 325i) battled amongst themselves while trying to keep the beautiful Jaguar XJS of Gary Johnstone at bay.
"I was pretty happy with the way we went," said Forde. "I really enjoyed that as the BMWs are a lot nimbler than the Commodore, but it makes it up with grunt so some good racing. I'm quicker on the straight and the only problem is they aren't long enough."
The weekend was the second and final round of another successful Archibalds Historic Touring Car season. The category continues to build and expects more racecars to join the grid in the spring.