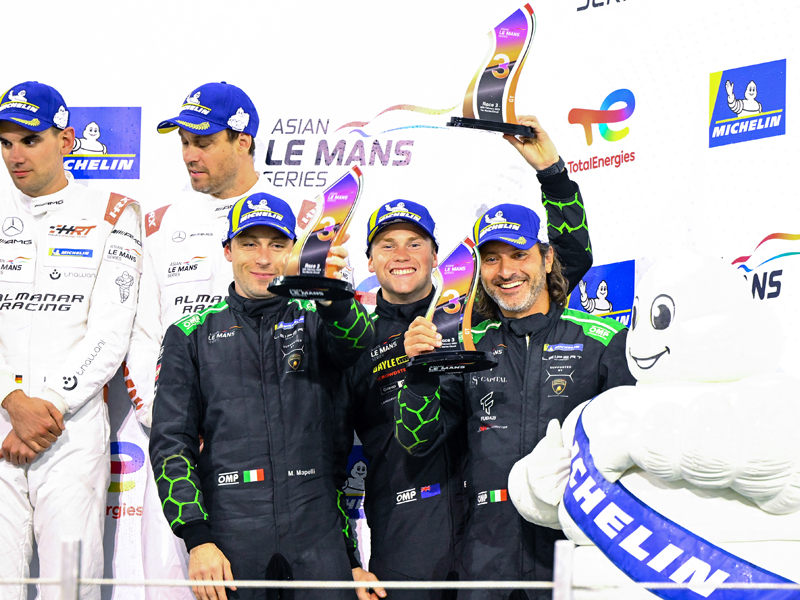 Top result for Brendon Leitch's Leipert Motorsport in Asian Le Mans Series
Brendon Leitch and Leipert Motorsport have finished a credible fourth overall in the GT category of the 2023 Asian Le Mans Series after two top results in Abu Dhabi over the weekend. Driving a factory-supported Lamborghini Huracan GT3, Leitch, along with teammates – top Am driver Gabriel Rindone and Lamborghini factory driver Marco Mapelli, finished third on the podium in the four-hour race on Saturday and followed up with a fourth place in Sunday's four-hour race. The result propelling them up the leaderboard to finish fourth overall.
"It's a fantastic result," commented Leitch. "It's definitely made the series for us after our mediocre result the weekend before in Dubai."
Leitch's team took part in the opening two four-hour races in Dubai the week before coming away with just one-point knowing that they had a competitive lineup.
"We knew our line-up was strong and it just didn't fall into place whereas here at Abu Dhabi our strategy worked perfectly in the first race and the boys did an awesome job."
The Asian Le Mans Series consists of four four-hour races over consecutive weekends in Dubai and Abu Dhabi attracting teams to compete in LMP2, LMP3, and GT3 categories.
"We soon found out that our car was not going to be the quickest, even with the BoP* (Balance of Performance) being adjusted after the first race in Dubai.
"What worked in our favour in Saturday's race is we got the strategy almost bang-on. The number of cautions and full-course yellows played into our hands whereas in Sundays' race there were very few for us to take advantage of.
"Gabbie (Gabriel Rindone) drove first in today's race and held 11th when I got into the car. I was able to soon get up to third as most other teams had their Am driver in the car, and Marco was able to hold on for fourth at the end of the race."
"It's been an awesome experience and really pleased with the end result. The support from Lamborghini, Leipert Motorsport, Dayle ITM and all our supporters has been fantastic. A great way to get our (GT) season underway.
The ALMS (GT category) was won by the Walkenhorst Motorsport team (BMW GT3). Leitch now heads back to his European base in Germany with testing the new Lamborghini Huracan GT3 Evo 2 due to get underway before competing in the Northern Hemisphere summer season of racing.