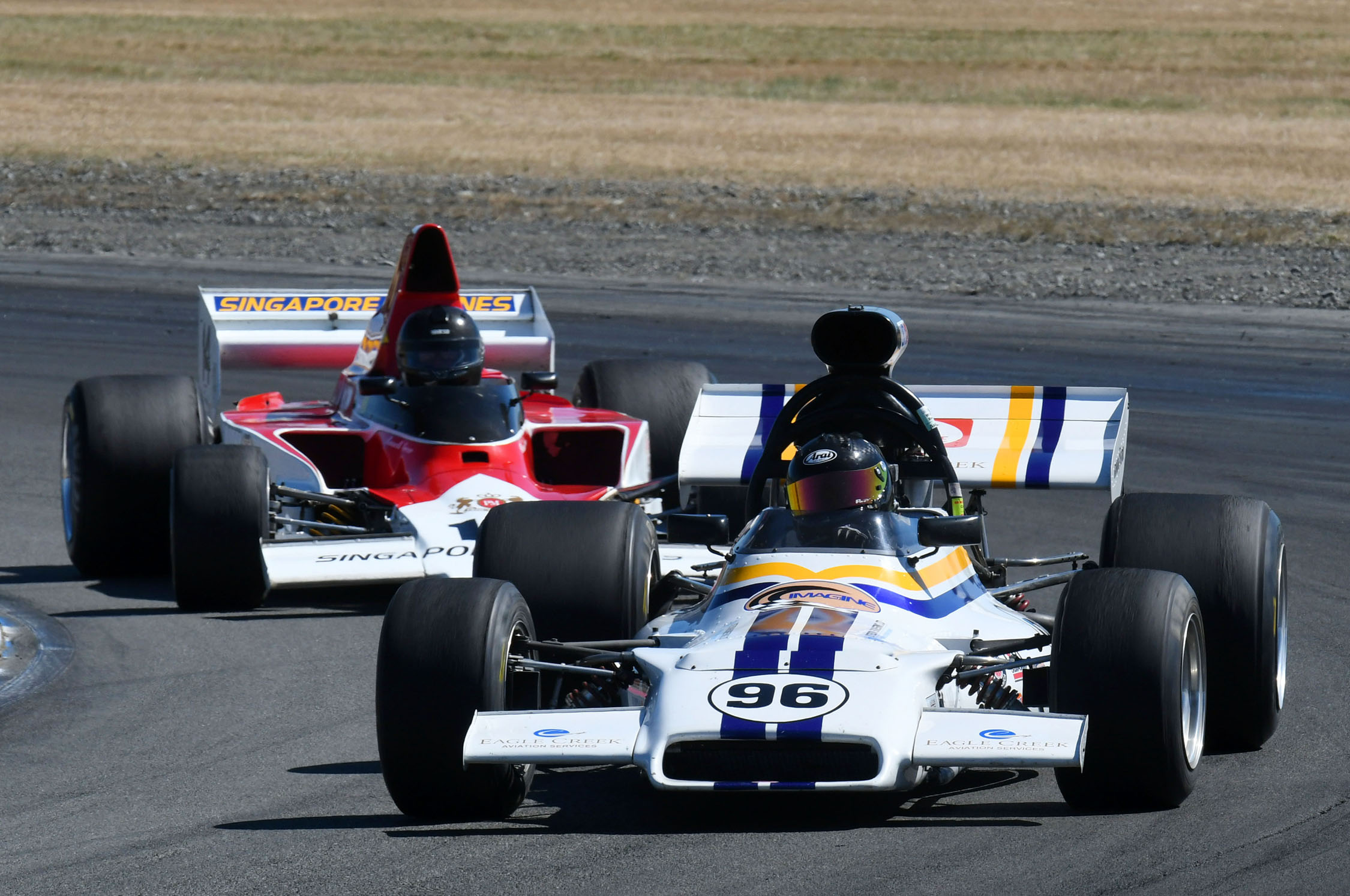 Cyclone Gabrielle's effects still being felt as F5000 field prepares for penultimate 2022/23 Series Round at Pukekohe this weekend
Before ex-tropical cyclone Gabrielle cut a swathe from Northland and Auckland down through the East Coast of the North Island, as far south as Hawke's Bay on Monday night and Tuesday morning a week ago now, the organisers of the SAS Autoparts MSC NZ F5000 Tasman Cup Revival Series were confident that they had a season-best twenty-car entry for the penultimate round of their 2022-23 series at Pukekohe this weekend.
However, after the destruction caused by the cyclone, they have (hopefully, temporarily) lost one car plus several entries, meaning that earlier this week they were staring down the barrel of 16 cars fronting for the final fling around the Pukekohe circuit before it closes for good on Monday, 03 April.
Worst-affected was long-time Piha, Auckland resident Grant Martin (Talon MR1/A) whose house and garage, where he stores and works on his car, has been red-stickered, meaning he can't access his own property to even check on the car let alone collect and take it somewhere else for safe keeping.
Also affected was Hastings, Hawke's Bay resident Alastair Chalmers (Chevron B32). Though his house and car were not directly hit, Chalmers says that the whole incident has shaken him up and he has decided to sit this round out.
"We were very lucky that we seemed to be in a little bubble in Hastings where apart from strong winds, a lot of rain and a 3 hour power outage everything seemed as normal; until you tried to go anywhere and there are at least five major bridges that have gone plus lots of smaller ones so access around the area is seriously compromised.
"Also the total devastation of the Esk Valley and State H/way 5 will require a major rebuilding programme before it comes back into use, so the only way out of the 'Bay at the moment is south to Palmerston North.
"However," Chalmers said, "I have friends here who have been totally wiped out with houses flooded to roof level and businesses wiped out completely, which is totally devastating for them. So we will be sticking close to home this weekend but hoping that we'll be OK to make the trip up to Hampton Downs for the final round of the series next month."
One driver keen on forging a path from where he now calls home, high on Napier's Bluff Hill, to Pukekohe THIS week is category, series and McLaren marque stalwart, Tony Roberts.
"My plan," said Roberts on Sunday evening, "is to set off on Tuesday heading south, then cross over the Saddle to Feilding then head north to Taupo, where we will stay with relatives. Which should take about 6 hours. Then on Wednesday we will go to Auckland, which is another – say – 4 hours driving but we will be able to leave the race car and trailer at (business partner) Duncan Fox's house.
"On Thursday," continues Roberts, 'I will have the pleasure of 'shaking down' the ex-Denny Hulme Can-Am sports car, the M8B-1 high wing McLaren at Pukekohe. And hopefully we will be also be able to demonstrate the Can-Am car over the weekend as well.
"It will be a big effort, but the last race for F5000s at Pukekohe will make it all worth-while."
Indeed!
The Jim Palmer-themed meeting this weekend (Feb 25&26) is the last one the Historic Racing Club will hold at the iconic Pukekohe venue.
It will also be the last time anyone will be able to run their preferred 'full-send' 2.830km 'no-chicane/full-length back straight' layout, last used in competition in 2012.
Heading the entry list, and again behind the wheel of the iconic Alistair Hey & Vicki Jones-owned STP pink-liveried Leda GM1 001 is category and series young gun, Michael Collins from Christchurch.
The first of late, great, Kiwi designer Graham McRae's three GM1 cars to run in the distinctive fluro-pink colours of sponsor STP, 001 was arguably the single most successful F5000 car of the 1971-1973 period. With McRae behind the wheel it won the 1972 Tasman Series and the 1972 US L & M Continental Series before being sold and used here in the 1973 Gold Star and Tasman series by Wellington driver Dexter Dunlop.
on the grid at Pukekohe this weekend, driving the second of two Hey family-owned Graham McRae-designed GM1 cars will be top NZ female driver, Anna Collins.
The two 'McRae' cars will join 14 other SAS Autoparts MSC NZ Tasman Cup Revival Series cars at the meeting with the main competition expected to come from the Lola T332 of Feilding ace Kevin Ingram.
Ingram will be driving one of the six Lola T332s in the field, the ex-Ian Clements car he bought for his long-awaited return to the country's motor racing circuits.
Other T332s will be in the hands of quick young Auckland prospect, Codie Banks, Muscle Car Series alumni Tony Galbraith and Bruce Kett as well as former series title holder Brett Willis from Rotorua and series OG Stu Lush.
Series regulars Glenn Richards and Shayne Windelburn are also back in their later model Lola T400s, while set to make their racing returns are Aaron Burson (Talon MR1/A), David Banks (Talon MR1/A) and fellow Aucklander John Mackinlay (March 722). And ready to do battle with anyone, anytime over the weekend is Tim Rush from Feilding in his 'rare-as,' 'one-of-a-kind' McLaren M22.
Back, to inject some interest in Class A (for earlier cars) are McLaren protagonists Tony Roberts and Frank Karl. This time Roberts will be driving one of his favoured high-wing M10A models – unlike fellow series regular Frank Karl's later model, low-wing M10B.
The SAS Autoparts MSC NZ F5000 Tasman Cup Revival Series is organised and run with the support of sponsors SAS Autoparts, MSC, NZ Express Transport, Bonney's Specialised Bulk Transport, Mobil Lubricants, Pacifica, Avon Tyres, Webdesign and Exide Batteries.
You can follow the series on Facebook at F5000 New Zealand or on the NZ F5000 Association's website www.F5000.co.nz