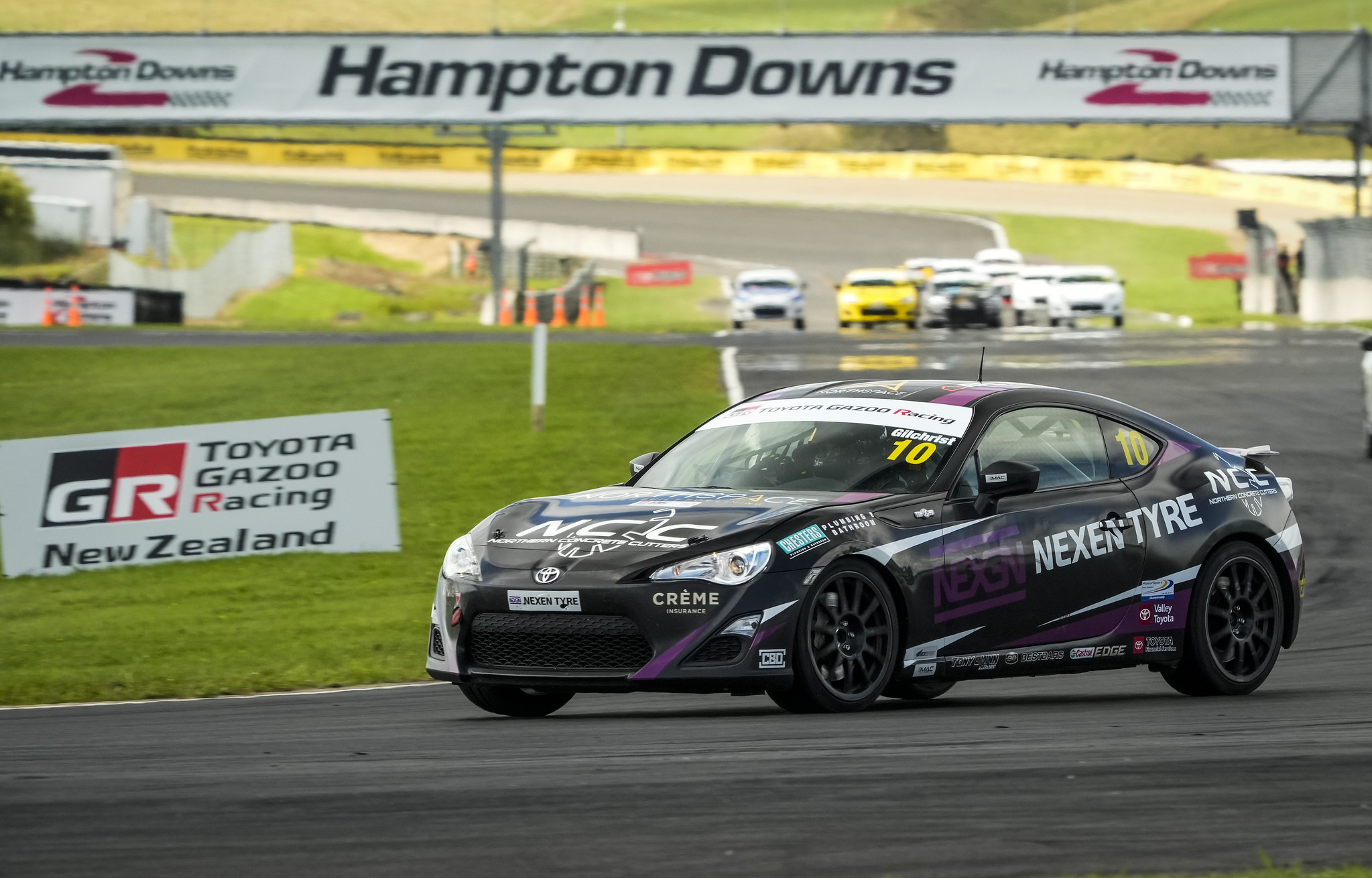 Three from three for dominant Gilchrist in Toyota 86
Brock Gilchrist completed a perfect weekend with his third race win from three to wrap up the third round of the Toyota 86 Championship and leaves the rest of the field wondering what they can do to halt the progress of the youngster.
Starting from pole position, Gilchrist made the perfect getaway from his main challengers over the New Zealand Grand Prix weekend, Clay Osborne and Justin Allen. He built up a comfortable one and half second lead and never looked back, racing away to win and leave a long train of cars behind him.
"I'm stoked, I didn't wake up this morning thinking I would clean sweep the whole round," he beamed in parc fermé after the race.
"I'm over the moon to be honest. The car, the NEXEN tyres, everything was working well for the whole race. Ian and Todd my crew have been a huge help to me over the past two years and that's really why I am able to drive how I am right now."
Osborne and Allen renewed their battle and produced some great moments until Clay managed to build a gap to Justin in the second half of the 14 lap race. Happier with his car after some set up changes, he tried hard to catch Gilchrist and did take a few tenths out the leader in the second half, but like the rest he simply didn't have enough pace.
Behind the top three there was plenty to keep the fans entertained in the chasing group. John Penny had a great battle with Rylan Gray and bagged another fourth place at a track he loves and always goes well at. His weekend performance comfortably won him the Masters class.
Rylan Gray couldn't quite match his pace from the morning's race but still ran strongly enough to claim the final top five spot of the weekend. Hunter Robb capped off his fine debut weekend in the championship with another top ten result – this time sixth – while Dion Pitt salvaged something from a challenging couple of days with seventh.
Tayler Bryant, a much better Christina Orr-West and William Exton rounded out the top ten, with Exton this time getting the better of former karting rival Tom Bewley in another one of their battles which is becoming something of a feature of this year's Toyota 86 Championship.
The championship now takes a break before the fourth round at Taupo Motorsport mid-March. Gilchrist holds a commanding lead in the points at the half way mark of the six round series and looks to be getting even quicker each time he takes to the track.
There will be a lot of head scratching and hours burning the midnight oil as his rivals try to regroup for the second half and make a fight of it.