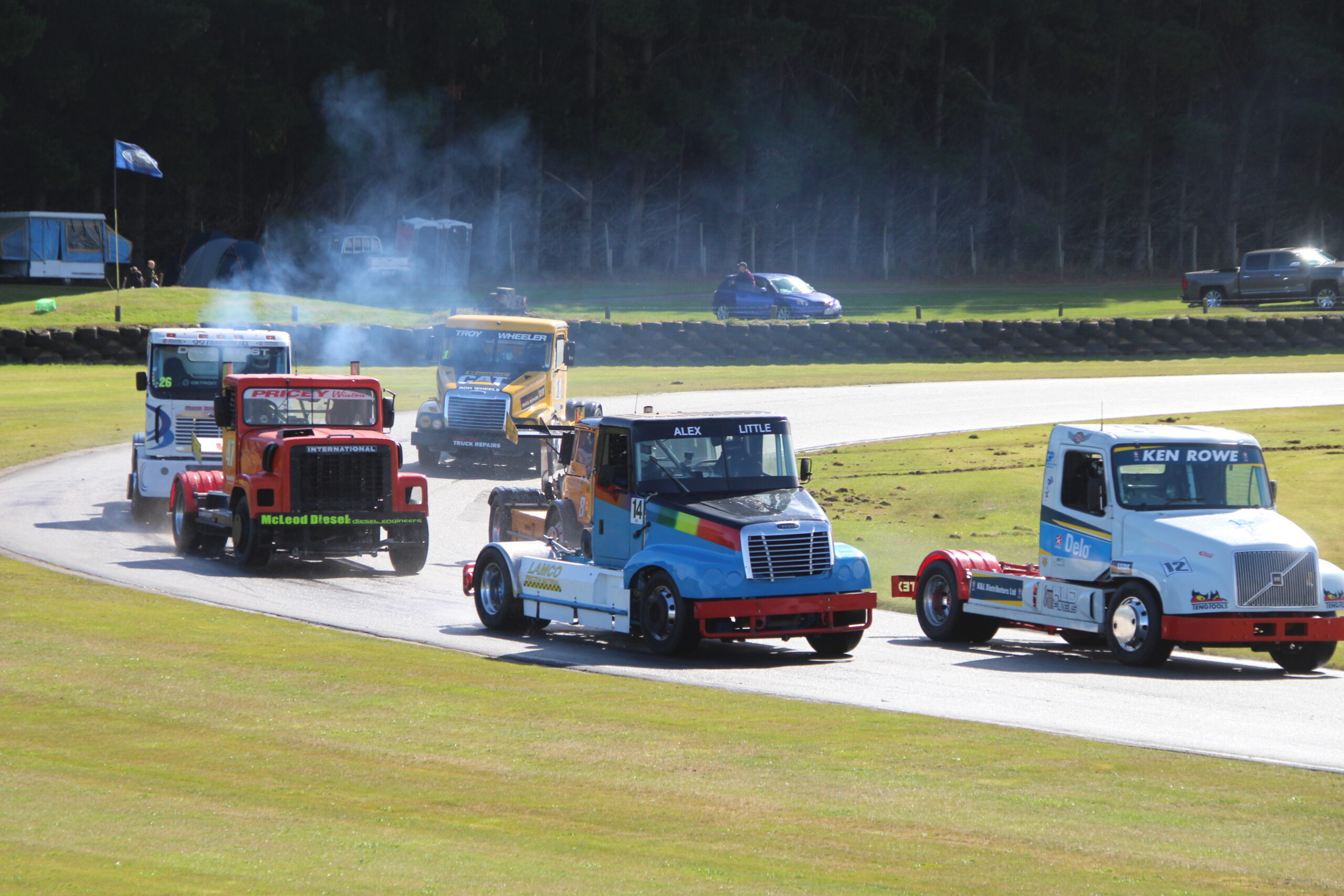 The rumble of thunder coming to Teretonga Park
The New Zealand Super Truck Championship and Mobil 1 Mainland Muscle Cars are the main drawcards at this weekend's huge Southern Thunder presented by Downer motor race meeting at Teretonga Park in Invercargill.
The Super Trucks are always popular and leading the way will be Lower Hutt driver Alex Little who has won the Teretonga round of the championship three times in the past. Little also won the opening round of this year's championship at Timaru in January at the wheel of his Freightliner. He faces plenty of competition however, with reigning New Zealand Champion Troy Wheeler in his Freightliner Century Class and other former NZ Champs, Little's father Malcolm, and Ron Salter also lining up. Add in local favourite Garry Price in his International, and Lower Hutt driver Shane Gray in his new Kenworth and it all points to an epic battle.
The Mobil 1 Mainland Muscle Cars will also provide a great spectacle with John Hepburn of Timaru in a Holden Monaro on a winning streak, having won the last three rounds of last years championship and the first three this season. Hepburn has identified fellow Timaru driver Craig Gilbert in a Camaro and local driver Brendan Mason in another Camaro as his biggest threats while Dunedin driver Michael Wallace who won the Teretonga round back in 2019 in his Chevy Monza will also be a factor.
The South Island Formula 1600 Championship reaches its climax at Teretonga and it should see fierce wheel to wheel racing. The series last visited in December and the racing featured a colossal battle won by Louis Sharp. Since then, 14-year-old Sharp's talent has taken him out of the championship as he heads to the UK where he will race in Formula 4, so the experienced Matthew Hamilton Christchurch and rising star Zac Christensen of Rolleston will battle it out for the title. Sharp is still third on points but local driver Alex Crosbie and Daniel Brown of Geraldine will be fighting it out to grab third place in the points. Another Southlander, Harry Wilson, sits just outside the top ten.
The Historic Formula Ford category will showcase some of the older Formula Ford cars while in the Pre 65 Saloons Garry Price backs up his truck racing efforts in a Falcon along with Invercargill drivers David Robertson (Falcon) and Rod Sinclair in an Alfa Romeo Giulia Super.
Jordan Michels of Invercargill was unbeatable last time out in the Noel McIntyre Drainage Club Saloons in his Ford Focus V8 while Liam MacDonald will be looking to take the battle to him again. Mike Hall of Queenstown returns to defend his A1 Auto Services One Hour Race title while the varied field of the SS Cup and NZ 6 Saloons complete a bumper programme.
The event will be held within the rules and guidelines to comply with the restrictions set out in the Covid-19 Protection Framework (Red Traffic Light setting). Tickets are on sale at Auto Centre, Tweed Street, Invercargill and E Hayes & Sons, Dee Street, Invercargill. Gate sales will be dependent on pre-sales and vaccine passports are required for admission to the event. Those under the age of 12 years and 3 months are not required to show proof of vaccination. Spectators will not be permitted on the infield and there will be no food vendors on site so please bring your own food.
Action commences at 9.30am on Saturday and from 9.00am on Sunday.