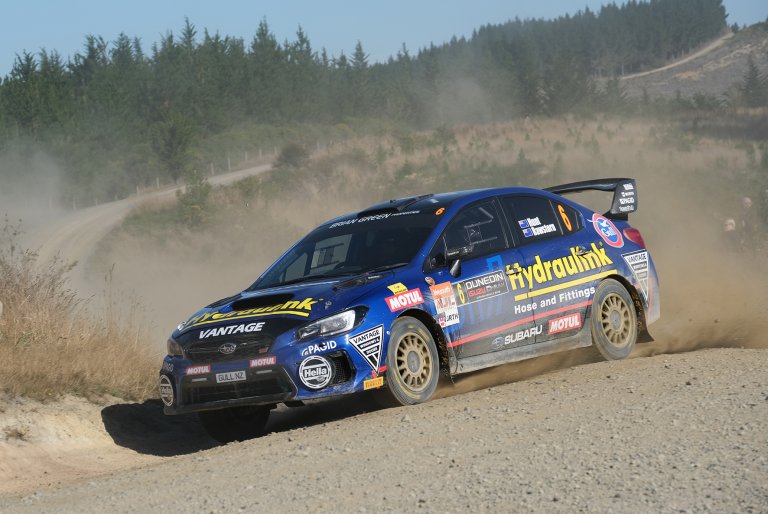 Subaru's Hunt hits out with a category win at Otago Rally season-opener
Subaru driver Ben Hunt has staked an early claim in the Brian Green Property Group New Zealand Rally Championship (NZRC) with a comprehensive category win at the opening round, the Drivesouth Rally of Otago.
Blasting through the seven stages on today's schedule, north of Dunedin, in his Subaru WRX STI, with long-term co-driver Tony Rawstorn calling the pace notes, Hunt overcame the 11.5 second deficit he had to Pukekohe's Dylan Turner after Saturday's first day of action.
"That was so awesome. There were a few new stages on some pretty cool bits of road. The Subaru got airborne a number of times and it's a neat feeling to have one wheel – or all four wheels – off the ground so often!" Hunt said of the 15-stage, Dunedin-based event.
Pulling away from their NZRC rivals today, Hunt and Rawstorn headed home Audi AP4 driver Turner and co-driver Malcom Read by 1min:08.1secs after the final finish flag. They also withstood pressure from other strong competitors Rangiora Mitsubishi driver Matt Summerfield, Australian Brendan Reeves (Ford Fiesta AP4) and Mount Maunganui's David Holder (Holden Barina AP4) – all of whom suffered trouble of some kind. Tauranga's Phil Campbell finished third in a Ford Fiesta AP4, just over 3mins:30secs off Hunt's pace
Former World Rally Championship driver Hayden Paddon, who is not registered for 2019 NZRC points – won the rally outright. It was a case of history repeating itself for Hunt who finished runner-up to Paddon last year, and again in 2016.
"With his international experience he's pretty hard to beat that's for sure. We'll take being the best of the rest. We are playing the long-game this year – looking ahead to winning the NZRC title at the end of the next five rounds," Hunt said.
The Subaru WRX STI, that Hunt was officially given the keys to by Subaru of New Zealand, after three years of rallying the modified production vehicle, "ran faultlessly" over the weekend, he said.
"I noticed some really big differences with the Subaru yesterday and today. The new Pirelli tyres, our Pagid Racing Brakes and the changes we made to the gearbox ratios have given us some extra speed."
Hunt and Rawstorn have entered their tenth season in the car together and their trust in each other is paying dividends. Flying through the iconic Kuri Bush stage yesterday in 7mins:27secs, they bettered their 2018 time by 5secs.
Hunt and the Subaru will return to their Auckland base and prepare for the International Rally of Whangarei in three weeks time.
Hunt Motorsports is grateful for support in the 2019 Brian Green Property Group New Zealand Rally Championship from: Subaru of New Zealand, Hydraulink, Motul Oil, Vantage Windows and Doors, Speedhub Motorsport, Gull NZ Fuel, Winger Subaru, Hella NZ, Reiger suspension, Bluebridge, MTF Finance, Wurth, Mean Machine Engines, Vernon Developments, TCC Solutions, Hitech Motorsport, Hunt Diesel, Make Architects, Pirelli, Pagid Racing Brake Pads, Nuzest, SOS and Hammer King.
Media release: Catherine Pattison, Subaru of New Zealand
Photo: Geoff Ridder