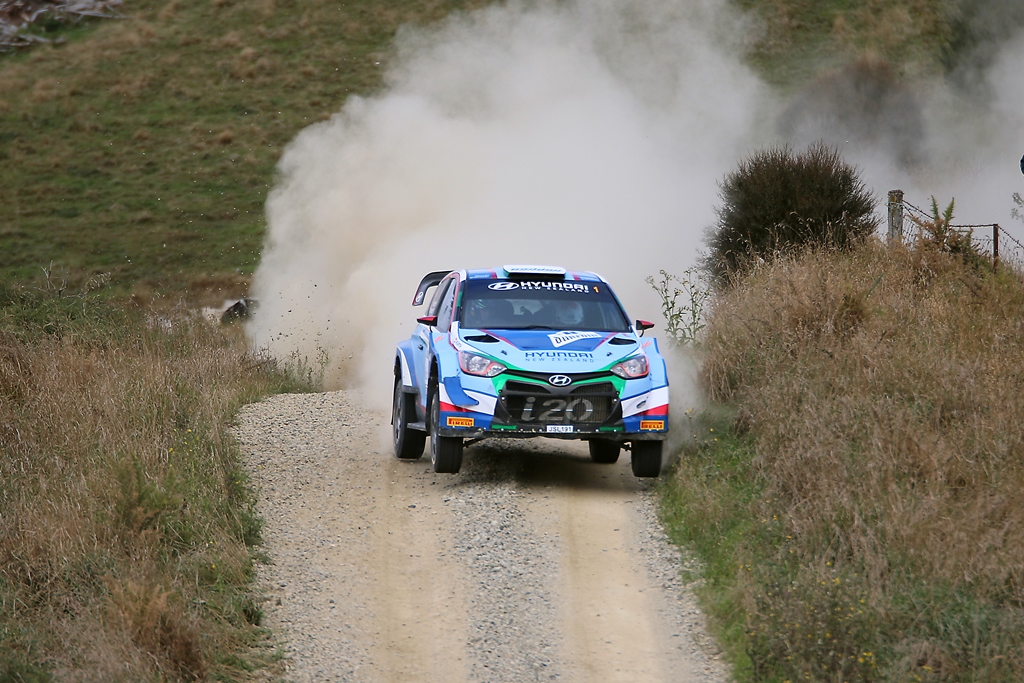 Paddon and Kennard dominate Otago Rally
Hayden Paddon and John Kennard have completed a near perfect two days of rallying in their Hyundai i20 AP4, winning Rally Otago outright and getting their FIA Asia Pacific Rally Championship campaign off to the ideal start with maximum points.
Paddon, from Cromwell, and Kennard, from Blenheim, won the Otago event for the sixth time after two days and 280 km of competition. The pair also won and set new stage records for 14 of the rally's 15 special stages. Their total time for the 15 stages was over seven minutes faster than second-placed Ben Hunt and Tony Rawstorn, who won the New Zealand Rally Championship category (Paddon has elected not to enter the NZRC this year, opting to focus on the APRC category and not potentially impact the available points for other NZRC contenders).
"It's been a good rally for us," said Paddon. "A couple of minor issues with the car yesterday morning and the puncture on the super special stage on Saturday afternoon, but today everything went well. The team did an amazing job with the car. We have a few new guys on the rally crew for the first time who are part of our new operation in Cromwell. They did an amazing job, really enthusiastic and learnt a lot. We're quite a young team now, with several new people, so it's really promising for what we have coming up in the future that everything worked so well this weekend."
Paddon has long said Rally Otago is one of his favourite events and this year further cemented his enjoyment of these excellent gravel roads.
"I really enjoyed driving on these amazing stages. They're very good roads; the rain held off and the roads dried out before the event, so we had almost perfect conditions for rallying," said Paddon who ran at the front of the combined APRC/NZRC field, which was behind the classic rally category on the stages.
Setting new stage records was an important target for Paddon. "Striving to be faster on stages I know well is important from a motivation point of view. It shows we're not getting slower year in, year out; that we're upping performance of the car, the team and myself, and showing that we're still trying to improve. We've just got to keep trying to push forward and making progress."
Taking maximum points in the FIA APRC category in Otago ticks off another goal for Paddon's first rally of 2019. "Yes, it's a nice bonus as we head to Whangarei next. We can assess where we're at, championship-wise, after Whangarei."
The International Rally of Whangarei, running 4-5 May, is New Zealand's second APRC round, and also counts as one of the four Pacific Cup events. "We are targeting the Pacific Cup, which includes two rounds in Australia, in June and August, which also gives us a chance to qualify for the APRC final in China at the end of the year if that works for us."
Three other New Zealanders – David Holder, Andrew and Jack Hawkeswood – and Australian Haowen Chu are registered for the 2019 FIA APRC Pacific Cup and contested Rally Otago. Both Hawkeswoods and Chu finished the Otago event while Holder retired with mechanical issues.
Keep up with news from Hayden Paddon and Paddon Rallysport by joining Paddon's Pack at https://www.paddonspack.co.nz or follow them on social media: Facebook, Twitter or Instagram.
Final overall classification for the International Rally Otago
See http://chrissport.kiwi/ for more details.
Overall position
Driver / co-driver
Car
Category
Total time
Difference to leader
Difference to previous
1
Hayden Paddon
John Kennard
Hyundai i20 AP4
APRC
2:25:54.3
***
***
2
Ben Hunt
Tony Rawstorn
Subaru Impreza WRX
NZRC
2:33:11.2
+7:16.9
+7:16.9
3
Dylan Turner
Malcolm Read
Audi AP4
NZRC
2:34:19.3
+8:25.0
+1:08.1
4
Phil Campbell
Malcolm Peden
Ford Fiesta AP4
NZRC
2:37:51.5
+11:57.2
+3:32.2
5
Andrew Hawkeswood
Jeff Cress
Mazda 2 AP4
APRC/ NZRC
2:41:19.9
+15:25.6
+3:28.4
6
Josh Marston
Andrew Graves
Holden Barina AP4
NZRC
2:42:05.7
+16:11.4
+0:45.8
7
Mads Ostberg
Torstein Eriksen
Ford Escort RS1800
Classic rally
2:42:32.0
+16:37.7
+0:26.3
8
Matt Summerfield
Nicole Summerfield
Mitsubishi Mirage AP4
NZRC
2:43:09.6
+17:15.3
+0:37.6
9
Marcus van Klink
Dave Neill
Mazda RX8
NZRC
2:43:41.6
+17:47.3
+0:32.0
10
Derek Ayson
Nikita Gibson
Ford Escort Mk2
Classic rally
2:44:25.8
+18:31.5
+0:44.2
Photo: Mark Walton.
Media release: Kate Gordon-Smith, Paddon Rallysport