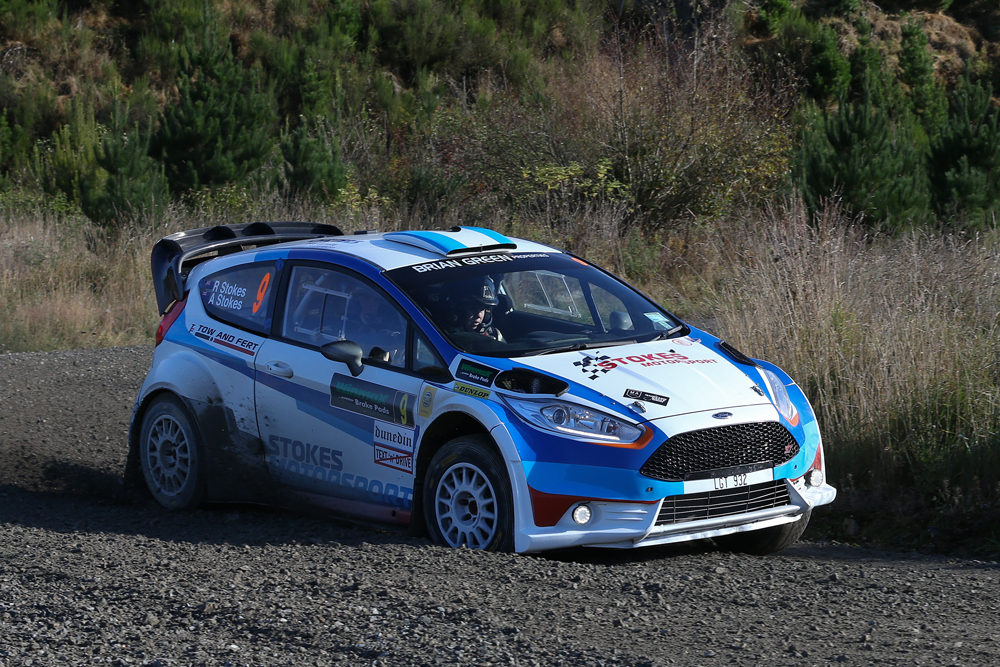 Stunning Stokes' win Mainland Rally Series round in Otago
Waikuku's Robbie Stokes and co-driver Amy Stokes have won the second round of the Mainland Rally Series and now take the overall points lead in the six-round series. The one-day round, incorporated within the two-day Winmax Brakes Otago Rally, saw drivers and teams competing over 139km of seven Special Stages near the township of Lawrence.
"That's awesome," commented Robbie Stokes (Ford Fiesta AP4). "All the stages were great, although I had a bit of a moment on the last one, in Dunedin, as it got a bit slippery. The whole day has been awesome fun so really happy with how the car is going."
Just 15-seconds behind Stokes, and second home, was Matt Summerfield/Nicole Summerfield (Mitsubishi Mirage AP4), followed by Josh Marston/Andrew Graves (Holden Barina AP4), just over a minute back.
Although Summerfield won four stages, Stokes two and and one for Regan Ross/Katrina Renshaw (Ford Fiesta Ap4), the win could have gone Summerfield's way had he not incurred a 20-second penalty for leaving the first service two-minutes late.
Heading into the round, John Giltrap (Mitusbishi Evo), who had won the Westland Rally, held the points lead ahead of Sean Haggarty/Sean Sands (Subaru Impreza WRX) and Stokes. After a dream run at Westland, Giltrap unfortunately struck problems this afternoon and retired in the very last Super Special Stage of the day around the streets of Dunedin city.
"Today has been below average," said Giltrap. "We had a terminal problem in the engine with something floating around the first or second cylinder, so we have been nursing that through. Then we did the brake line in stage four and had no brakes in the next two stages. It has just been a matter of trying to get through the day and collect points, as in the end they all add up."
After his podium at Westland, Haggarty was on form to finish in the top-ten but time penalties saw him finish 11th. Despite this set-back, he retains second overall ahead of Giltrap in third and Nick Marston/Pete Calvert (Subaru H6) in fourth.
As well as overall placings, separate classes are competing for honours, including $500 contributed by Autotech Services, RDL Performance and Brita Safety for each winner at the end of the Mainland Rally Championship season.
Class B (2WD 1301-1600cc) saw Brendon Wadsworth/Shane Reynolds (Ford Fiesta R2) finish almost half a minute ahead of Chris Hogan/Brent Clement (Suzuki Ignis 1500) with Craig Cormack/Paul Clement (Toyota Corolla AE86) third. Marcus van Klink/Dave Neill (Mazda RX8) were first home in Class C (2WD 1601cc and over), finishing fifth overall behind Reagan Ross/Katrina Renshaw (Ford Fiesta AP4).
Stokes won Class D (4WD 1601cc and over) while David Owen/Mitzielene Machida (Ford Escort RS2000) beat Timothy James/John Mulrennan (Mazda RX3) winning the 2wd Classic Class F. Paul Cross/Janey Blair (Subaru Impreza H6) beat Nick Marston/Pete Calvert (Subaru Impreza H6) in the popular Class H (Subaru H6).
Next up for the Mainland Rally Series teams is Rally Canterbury (6 June), followed by Rally South Canterbury (19 June), Rally Hanmer (25 September) and either Catlins or Lawrence Rally (T.B.A.) (15 November).