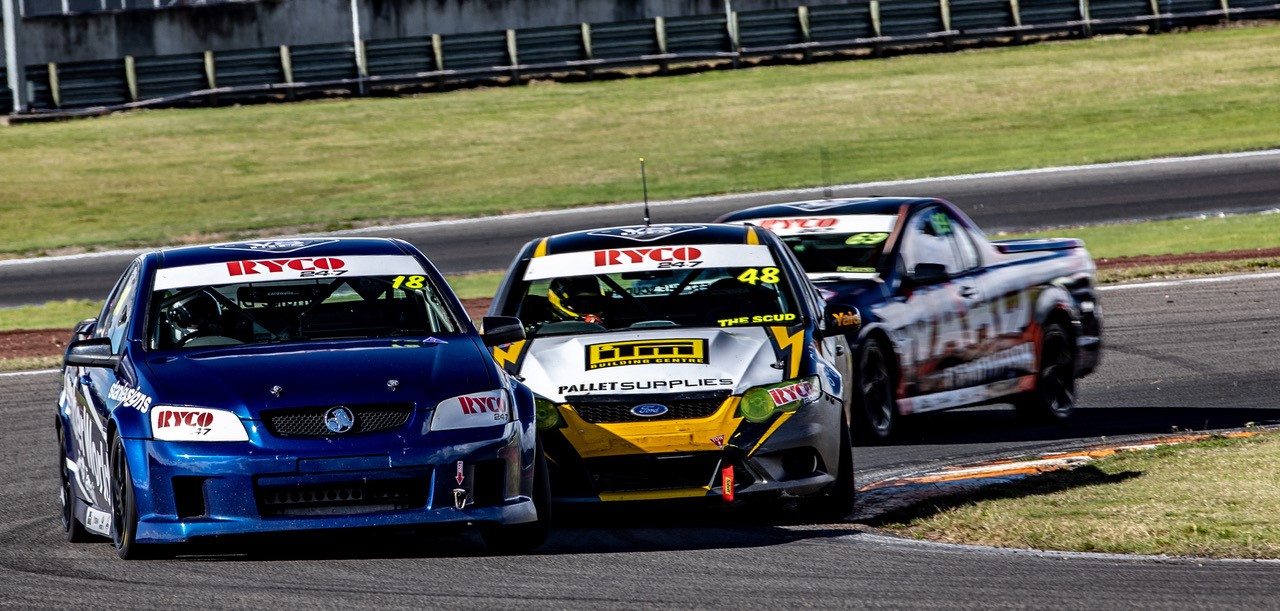 Manuell snatches V8 Utes pole then Race 1 win
Championship leader Paul Manuell came out on top in Saturday morning's qualifying, then backed it up with an impressive win in Race 1 of the RYCO 24.7 V8 Utes Racing Series. But just behind him, a heady mix of spirited newcomers clashing with hardened veterans made for some enticing racing.
First, we flash back to Friday's practice sessions. Shane Dias was hampered by a steering issue and Matt Gibson's Holden decided to run on 7 cylinders instead of 8. Yet the remainder of the field was on fire as the closeness of practice lap times gave a premonition of what was to come.
In a heated qualifying session on a cool Saturday morning, the class of the series leaders shone through. Paul Manuell's 1.44.19 qualifying lap eclipsed Peter Ward by 1.4 seconds, then Brett Rudd and Shane Dias were just 0.2 seconds apart. A sheared suspension bolt sidelined Matt Gibson mid-session, but not before he'd posted the 5th fastest time. Further back, just 3.5 seconds separated positions 6th to 15th ensuring Race 1 that afternoon was set to be intense. It didn't disappoint.
When the lights went out, the drama turned on. As Paul Manuell stormed ahead, Shane Dias ran inside of Ward on turn 1 to grab 2nd place, Brett Rudd followed suit leaving Ward just ahead of Gibson. Shane Ussher nipped ahead of Jeff Kernohan to lead the mid-field freight train and enjoy an up-front view of the battle developing up ahead. By lap 2, Paul Manuell was stretching his lead, but nothing could separate positions 2 to 5 as the Dias/Rudd/Ward/Gibson show hit the road. Lap after lap, they traded blows but not places.
On lap 6, mustering all his race experience 'The Scud' Rudd made an aggressive move as Dias ran wide on Turn 5 to get his nose in front, but Dias immediately reeled him in to keep 2nd place. Meanwhile back in the field, Brad Kroef spun on Turn 6 and headed cross-country, David Lowe lost a cylinder and Stu Monteith limped back to the pits with a dysfunctional drive-train.
Come the final lap, Paul Manuell took the chequered flag giving him one hand on the championship trophy while Shane Dias kept his grip on 2nd place ahead of Rudd, Ward, Gibson and a persistent Simon Ussher.