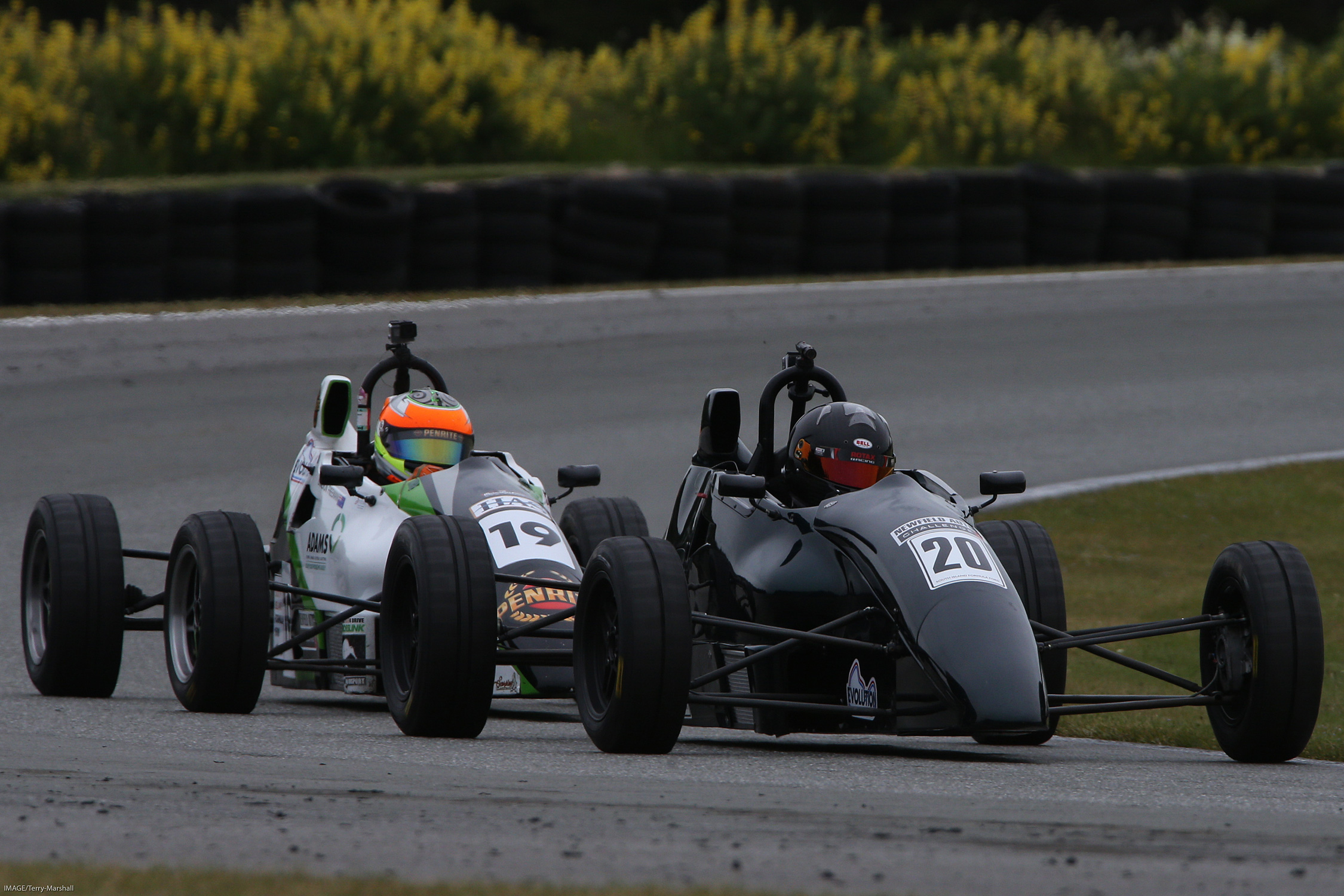 Strong and solid debut for Douglas in South Island Formula 1600 series
Christchurch's Jacob Douglas has made a solid start to his single-seater career, debuting in the 2020/21 South Island Formula 1600 Series at Teretonga over the weekend. A podium placing in his opening race, third overall in Class 2 and wining the Driver of the Weekend award was ample reward for both driver and team.
"Pretty good for my first race weekend," commented Douglas. "I enjoyed it a lot. We ticked a lot of boxes – driving in the wet, safety cars, race starts and restarts, battling with other drivers.
Having recently returned from competing internationally in kartsport, Douglas has been testing a Formula Ford in preparation for the season and was comfortable with the reality of actual racing.
"It's definitely different to practice. There is plenty of pressure from those around me, so it was important not to make mistakes, being as consistent as I can and qualifying with a good lap.
While the weekend's three races were all in the dry, Saturday morning qualifying was the opposite.
"It was wet for qualifying in the rain but ended up all right considering.
"Overall we had good starts as this helps with momentum to build on in the race, getting confidence with the car and those around me and the racing itself."
Having qualified fifth fastest, in the first race of the weekend Douglas positioned himself well to take advantage when the opportunity arose to move up to third place, which he did, taking a podium finish.
The second race on Sunday morning saw him finish in fifth after a solid race.
In the third 12-lap feature race, initially Douglas dropped back to seventh from fifth on the grid but quickly moved up one place to sixth. With a considerable gap to fifth placed Cameron Freeman, he then set about chasing the position down.
"Lucky it was a 12-lap race as it gave me more time to reel him in. I just had to do the best I could without any mistakes and eventually
I got there and got in front of him but kept having a battle in the last few laps."
Key to both the car and driver performance, technician Andy Neale was more than happy with the weekend.
"I guess you would describe it as a solid debut," Neale said. "He made a few small mistakes but as a learning process it was massive.
"A really good foundation now to come back in January and have another go. He has got a really good feel for where he is at. We have a good feel for what we can now work on relative to the front runners. A very good weekend for us all."
Douglas and his crew now take a well-earned break from racing over the Christmas/New Year period before returning to Teretonga Park again for the series' fourth round 16-17 January 2021.
"It's been a great meeting and I'm looking forward to coming back here in January. Hopefully, we can get some more testing at home before then."