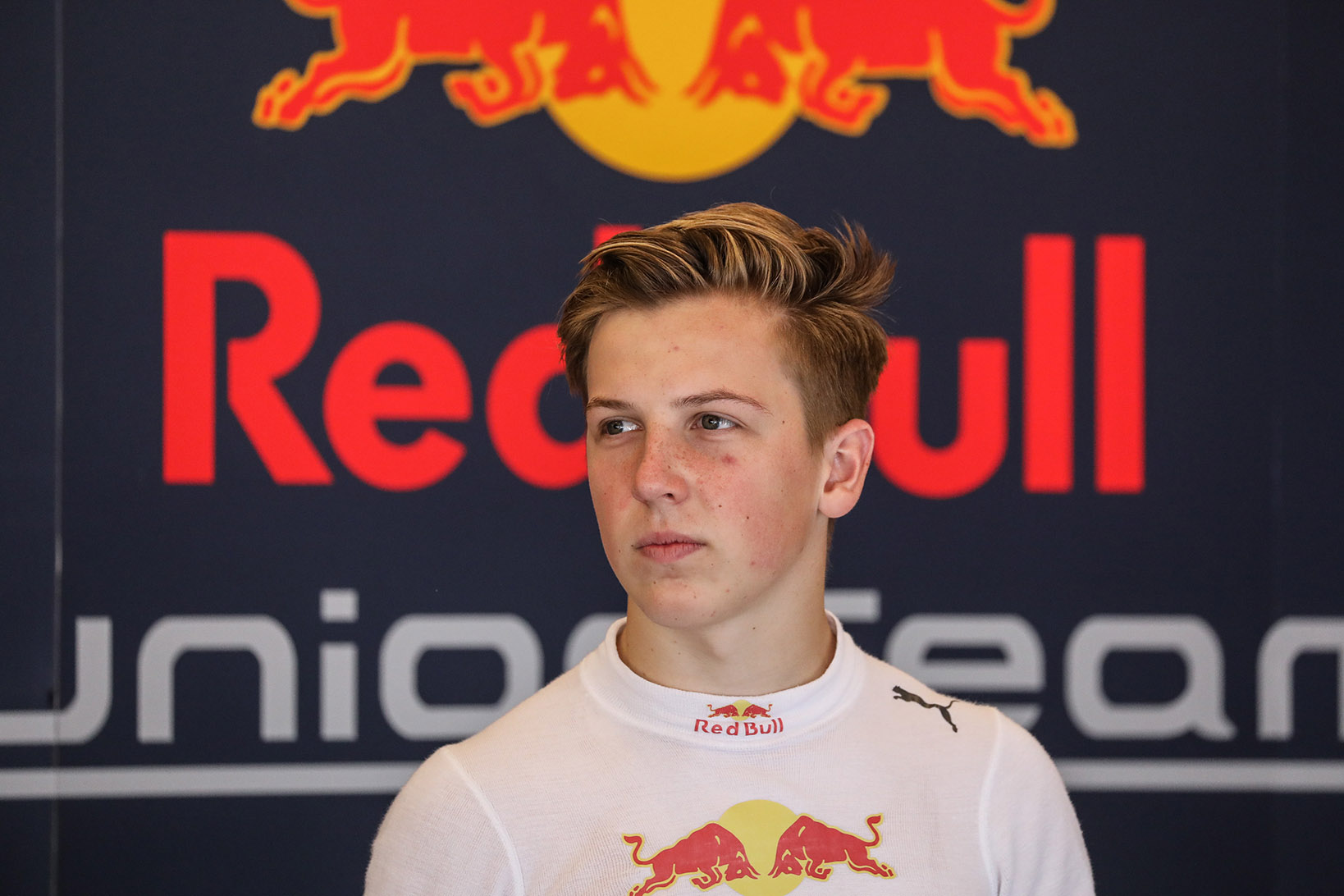 Start-line stall costs Lawson championship position in Hungary
After missing pole position by the smallest of margins, Kiwi teenage driver Liam Lawson watched a front-row start in race two of Euroformula Open in Hungray disappear when a delayed start saw the clutch of his car overheat, causing both the Red Bull Junior Team cars stall on the start line.
Lawson recovered to take the final championship point on offer by finishing in 10th place, but slid down to third in the points tally with four rounds remaining.
The confusion at the start of the 17-lap race began when a back-marker car was out of grid position and the yellow flags waved to signal an aborted start but not all officials seemed aware and the lights went green.
"Unfortunately off the start there was a bit of confusion with the lights, and with a green flag and then a yellow flag and I was thinking that the start would be aborted. But then the lights came back on and by then the clutch was too hot and so we stalled the car trying to preload," said Lawson.
"It was a shame. Then it was difficult to overtake so that was a disappointing end to the weekend but we definitely had the pace so it was a bit of a turnaround in that sense so we can be happy about that."
The same fate cost Lawson's teammate Yuki Tsunoda starting directly behind him.
It was a disappointment for Lawson after going so close to snatching pole position for the race. One-off guest driver Nobuharu Matsushita took pole by 12-thousand's-of-a-second from Lawson, with championship leader and eventual race winner Marino Sato starting from third beside Tsunoda.
Matsushita, who won the feature race in Formula 2 at Red Bull Ring the previous weekend, entered the round to get track experience before the F2 cars go to the Hungoraring in four weeks time. The 25-year-old Japanese driver has been competing at the higher level for four years.
Sato's win now extends his EFO championship lead out to 81 points over Lukas Dunner, who inherits second place from Lawson by 7 points.
With both Red Bull Junior drivers missing next weekend's EFO round at the Red Bull Ring due to a clash with Formula 3 at the British Grand Prix, it looks like Sato will march even further ahead in the title chase.
After suffering car set-up issues in previous rounds, Lawson was happy with the progress his Motopark team has made to his Porter Group/Turners/Giltrap sponsored car.
"Today we made a big balance change for today's race with improved in Qually a lot. It really could have been pole, shame we missed it by such a small margin," explained Lawson.
In the opening race of the weekend Lawson finished third, taking his fifth podium of the season.
"In the first race the tyres went of pretty quickly so we struggled to stay with the leaders. I just had to conserve them as best I could and stayed third."
While Lawson slipped to third in the overall standings, he retains the lead in the Rookie championship by 10 points over Tsunoda, both well clear off third-placed Jack Doohan (Australia).
Euroformula Open: Hungoraring Qualifying 2 – Top 10
1. Nobuharu Matsushita (Carlin) 1:34.361
2. Liam Lawson (Team Motopark) +0.012
3. Marino Sato (Team Motopark) +0.127
4. Yuki Tsunoda (Team Motopark) +0.286
5. Lukas Dunner (Teo Martin) +0.330
6. Christian Hahn (Carlin Motorsport) +0.430
7. Javier Gonzalez (RP Motorsport) +0.456
8. Linus Lundqvist (Double R) +0.512
9. Julian Hanses (Motopark) +0.779
10. Calan Williams (Fortec) +0.784
Euroformula Open: Hungoraring Race 2 (17 laps) – Top 10
1. Sato
2. Matsushita +0.653
3. Dunner +1.047
4. Hahn +4.732
5. Lindqvist +6.118
6. Teppei Natori ( ) +7.515
7. Jack Doohan ( ) +9463
8. Calan William (Forte) +10.929
9. Nicolai Kjaergaard ( ) +11.581
10. Lawson +12.387
Caption: Liam Lawson recovered from a stalled start in Race 2 to claim the final championship point in Race 2.  
Media release: Grant McDonald