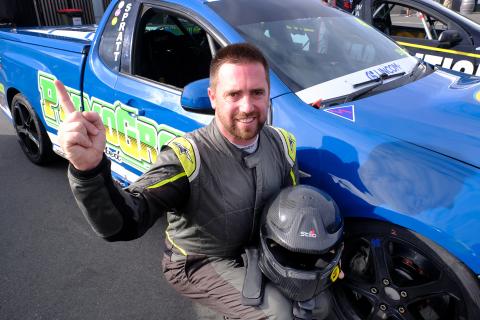 SPRATT SEALS TITLE WITH CHAMPION'S DRIVE
Matthew Spratt put in his best drive of the season in the second race at Hampton Downs to seal the 2018-2019 V8 Utes title in winning style.
Spratt – starting from fifth on the grid – scythed his way to the front before unleashing a series of blistering laps in the Primogrow Ford Falcon FG to leave the field behind. Ahead on points going into the race, his haul for a dominant win was enough to lock away the title after a fast and consistent year.
"I started three years ago and have been with Jake and his team ever since," said a delighted Spratt afterwards. "It's been a season where I have tried to be focussed and consistent and pick my moments. I've learned a lot over the past couple of seasons and it's amazing to win. I've got a lot of people to thank and it's pretty special. We've got a new addition coming along in the family and now a big trophy as well."
Any chance Andrew Porter had in his late bid for the title evaporated on the first lap of the race when contact with Paul Manuell at turn 2 left the PorterHire Holden severely wounded, with damaged steering and a puncture. Porter continued circulating to ensure he took some points for a race finish, but it wasn't enough to stay in touch with Spratt in the battle for the title. Glen Collinson in the DNA Paints Falcon GF faired a little better, ending the race in fifth place again falling short of what was needed to prevent the title being decided.
The race wasn't without its drama. Simon Ussher's Falcon FG shed an axle in spectacular style off the start line, bringing out the Safety Car. Jeff Kernohan defended well early on as the faster cars closed in but the battle pack of Spratt, Peter Ward in the Ward Demolition Holden, Alexandra Whitley in the LDV Vans Holden, Collinson and Spratt all found a way through.
Saturday winner Manuell's drive was also uncompromising and impressive as he battled his way through from tenth on the grid to second place at the end. Ward ended up in third having defended second as long as he could before Manuell found a way through. Whitley took a solid fourth place, Collinson fifth, Brett Rudd sixth in the Pallet Supplies LOSCAM Holden with Jeff and dad Dave Kernohan next up in seventh and eighth in the KCH Ford Falcons – the best combined result for the family team for some time.
Series front runner Brent Main in the Ryco 82C Ford and Stu Monteith in the Trade Freight Holden rounded out the top ten.
NZ V8 Utes – Round 4 Hampton Downs – Race 2 Result
1. Matthew Spratt – Primogrow Ford
2. Paul Manuell – Superfreight Partmaster Holden
3. Peter Ward – Ward Demolition Holden
4. Alexandra Whitley – LDV Vans Holden
5. Glen Collinson – DNA Paints Ford
6. Brett Rudd – Pallet Supplies LOSCAM Holden
7. Jeff Kernohan – KCH Ford
8. David Kernohan – KCH Ford
9. Brent Main – Ryco 82C Ford
10. Stu Monteith – Trade Freight Holden
11. David Lowe – Ryco 82C Ford
12. Joe Farre – Ward Demolition Holden d
13. Liam Porter – PorterHire Ford
14. Mark Weal – Ford Falcon BF
15. Andrew Porter – PorterHire Holden
16. Geoff Spencer – Coresteel Buildings Holden
17. Simon Ussher – United Freight Ford
18. Derek Tremewan – Ford Falcon BF