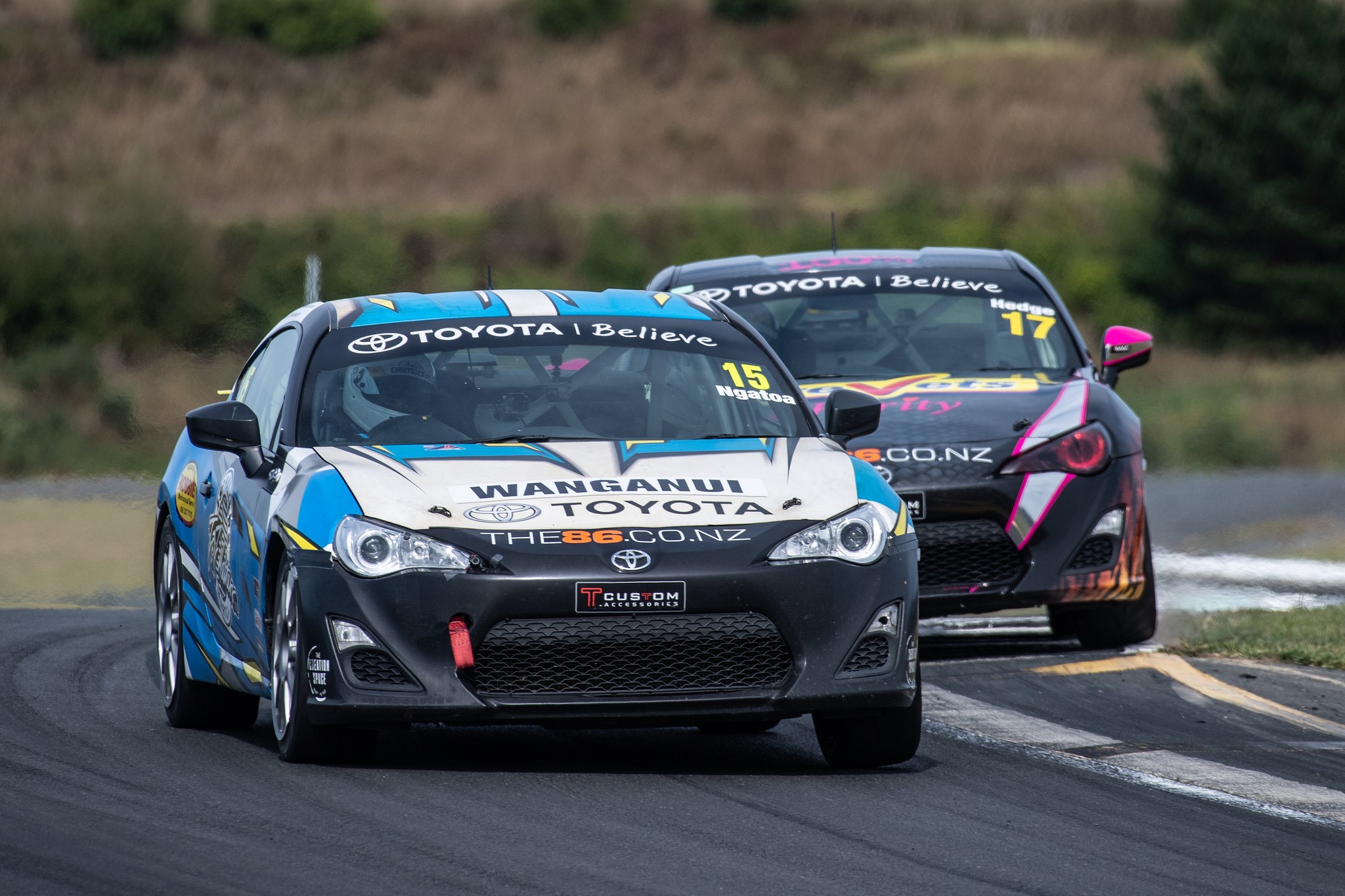 Ngatoa wins – championship down to the last race
Kaleb Ngatoa took his first victory in the 2018-2019 Toyota 86 Championship with a fine performance at Hampton Downs on Sunday morning in the JJ Walters/OCL Telecommunications car.
Series leader Callum Hedge extended his lead in the championship with one race to go in the CareVets Scholarship car with second place, but former championship leader Jaden Ransley kept his own title hopes alive with a miraculous drive to third place. With one race to go, Hedge has a 64 point lead over Ransley.
It was Hedge who made the early running after another impressive start and just like Saturday, it was Ngatoa who took the battle to his rival. This time though, Ngatoa was closer and after clocking the race's fastest lap, he dived down the inside of Hedge out of the hairpin on lap five to take the lead. Hedge slotted in right behind and never lost touch, but any chance of retaking the lead was lost with four laps to go when a sizeable shunt for Jacob Cranston brought out the Safety Car. There was not enough time to get the race restarted once the damaged car had been extricated from the gravel at Turn 1, and the cars took the flag under the Safety Car with Ngatoa ahead.
"It's been a while," said the Marton youngster. "This weekend we've had the car hooked up with the set up. Everything has come together and we've got our first win. We've done a lot of little things with the car throughout the season and I've been working on my driving as well. We're finally here."
Ransley was lucky to start the race at all after he was the innocent victim in Connor Adam's huge multiple rollover on Saturday. The Miles Toyota machine was extensively damaged and required major surgery from the team to get it race worthy for Sunday morning. That Jaden made the start was impressive enough but he then delivered something in return for the team's hard work with one of the drives of the season – fighting through the pack to seal a podium spot.
"We started seventh in that one and to come back for third is awesome," he said afterwards. "The team worked really hard overnight on the car to get it where it is now. It's not one hundred percent but it's better than it was. The car is driving fine, so we've got to push on for the last race. Mathematically the championship is still alive and we'll have a go and see where we end up."
Further down the order, Peter Vodanovich in the CMC Markets car, Brock Gilchrist in the NEXUS Logistics Car and Arran Crighton in the other CareVets Scholarship racer battled hard throughout the race and it was Gilchrist, who spent much of the race trying to find a way around Vodanovich, who eventually emerged in fourth place. Vodanovich stayed in the fight to secure fifth, while Crighton had to be content with sixth. Campbell Stewart came home seventh for International Motorsport in the NZPGS/Hydraulink machine while Andrew Jackson impressed for Darkhorse in eighth in the North Shore Toyota car.
Connor Davison came home ninth in the Hampton Downs/Highlands car, with Conor Adam rounding out the top ten and getting a very popular finish after his huge crash on Saturday. His mechanics at International motorsport, like Ransley's, had performed wonders overnight to get the Post Haste car not only race worthy, but also looking surprisingly presentable. A top ten result was just reward for the mechanics and for Connor after the hard slog overnight.
2018-2019 Toyota 86 Championship – Round 6 Race 2 – Hampton Downs
1. Kaleb Ngatoa – JJ Walters/OCL Telecommunications
2. Callum Hedge – CareVets NZ Ltd
3. Jaden Ransley – Miles Toyota/Kitchen Studio
4. Brock Gilchrist – NEXUS Logistics/Giltrap Group
5. Peter Vodanovich – CMC Markets/MacClure's ITM
6. Arran Crighton – CareVets NZ Ltd
7. Campbell Stewart – NZPGS/Hydraulink
8. Andrew Jackson – North Shore Toyota
9. Connor Davison – Hampton Downs/Highlands
10. Connor Adam – Post Haste/Weigh Northland
11. Leo Bult – North Western Toyota
12. Sam Wright – Tony Richards Toyota/Premiers
13. Justin Allen – Battery Town
14. Jordan Baldwin – Intermach NZ/Carters Tyres
15. Jacob Cranston – Best Bars/Vista Lite
Caption: Kaleb Ngatoa took his first win in the Toyota 86 Championship, beating Callum Hedge on the way. Picture Bruce Jenkins.
Media release: Toyota Racing NZ