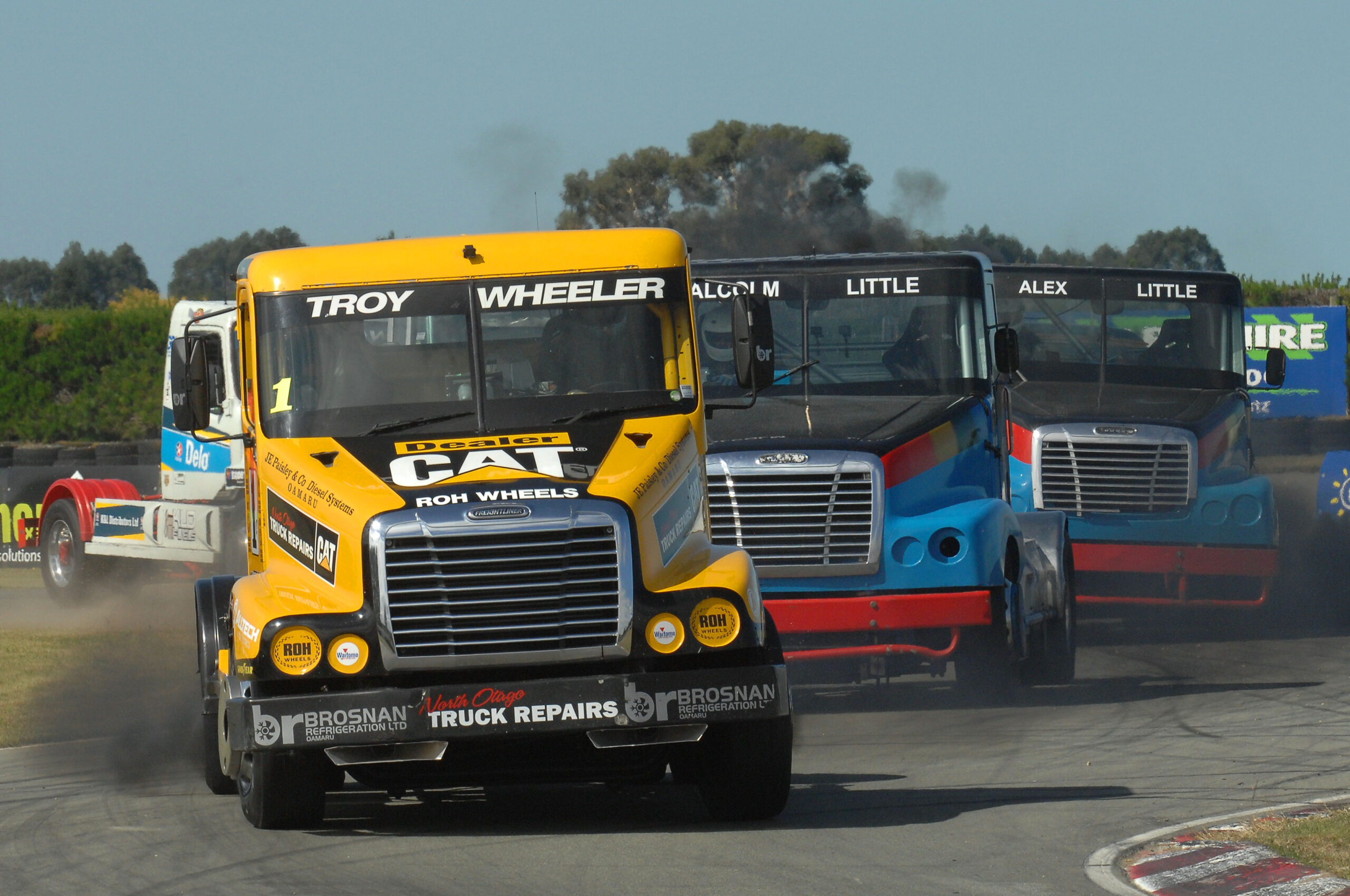 Southern Thunder ready to rumble at Teretonga Park
Southern Thunder is ready to rumble at Teretonga Park in Invercargill this weekend.
An outstanding line up headlined by the NZ Super Trucks and Mobil 1 Mainland Muscle Cars will provide an outstanding weekend of motor racing, the last of the season at Teretonga Park.
The heavyweights of New Zealand motorsport will contest Round 3 of the NZ Super Truck Championship with five-time champion and current championship leader Troy Wheeler of Hicks Bay near Gisborne in his Freightliner Century one of the favourites, although Alex Little of Wellington in another Freightliner has topped the podium on the last two occasions the trucks have been to Teretonga. A good field including Alex Little's father Malcolm, himself a former three-time champion, will contest four races across the weekend with Freightliner, Volvo and Bedford all represented while Garry Price of Winton will be at the wheel of his International Transtar.
The Mainland Muscle Cars are another feature class at the event and they have amassed a fantastic line up for southern fans.
If you have a passion for loud, powerful and iconic saloons such as Chev Camaro, Ford Mustang, Holden Monaro's, Torana's and Commodores plus a Dodge Challenger and a Pontiac Firebird then Teretonga Park is the place to be this weekend.
Brendan Mason in his ex-Grant Dalton Chev Camaro will be a big local chance. The experienced Mason has done a lot of laps at Teretonga Park and won three races in the car at the January race meeting. However, he faces tough opposition with drivers such as John Hepburn of Timaru in his Holden Monaro amongst his rivals. Hepburn was third overall the last time the Mainland Muscle Cars raced at Teretonga Park two years ago. Hepburn is a vastly experienced driver who has achieved success in everything from motorcycles to Super Trucks. Paul Boden of Porirua (Camaro) and Ross Graham of New Plymouth in a Holden Torana LXSS make the trek from the North Island to race.
The Pre 65 Saloons bring a great grid with Ford Mustang's, several Ford Falcon XP's plus some great cars of the era such as Anglia's, an Austin A40 Farina, Ford Cortina, Valiant AP6 and an EH Holden. Corey Ross of Ashburton is the reigning champion while Southlanders John Smolenski and Wayne Tuffley were well placed in their class in last year's championship. Garry Price backs up from his Super Truck commitments to drive a Ford Falcon XP.
The Noel McIntyre Drainage Club Saloons boasts some great machinery with two-time NZV8 Class 2 Champion Liam MacDonald of Invercargill unbeatable last time out at the Mobil 1 Classic SpeedFest in his Ford Falcon. His main opposition at this meeting will come from Bruce Davidson of Alexandra in a Chev Corvette C6R and Brian Scott of Dunedin in a Porsche GT3 Cup Gen II while Jordan Michels will be prominent in his Honda TCR car. Many of the Club Saloon drivers will back up in one of the feature events of the season, the A1 Auto Services One Hour race on the Sunday and Davidson and Scott may just have the machinery to dispute victory in that event.
Tickets are on sale and are available from Auto Centre, Tweed Street, Invercargill and E Hayes & Sons, Dee Street, Invercargill. A pre-sale weekend pass is just $30 while at the gate they will cost $40. Children 14 & under are free if accompanied by an adult. Tickets for Saturday purchased at the gate cost just $20 at for Sunday $25.
The action starts at 10.00am on Saturday and 9.00am on Sunday.