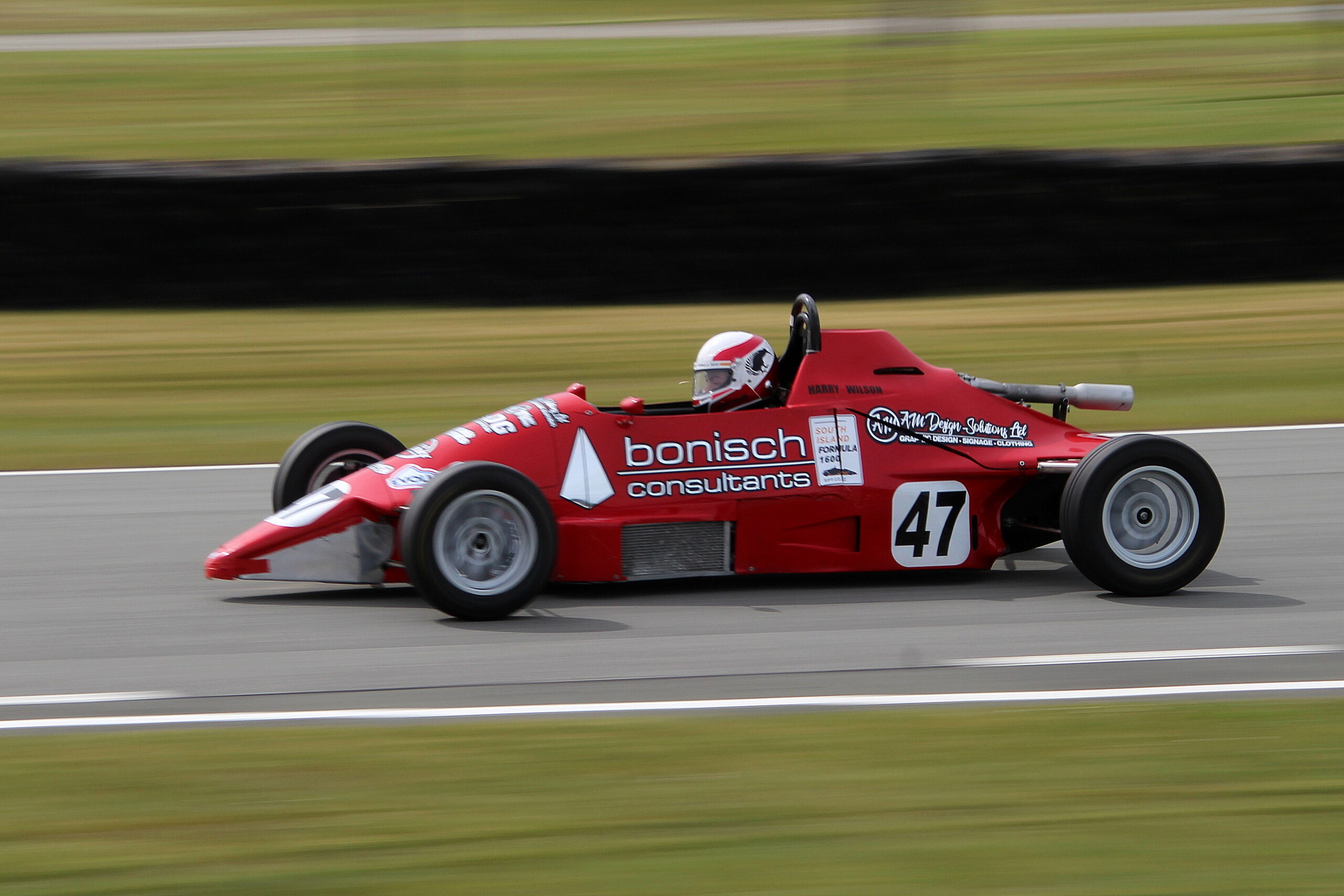 Southern rookies look to bring strong form to Teretonga
The Southland Sports Car Club are preparing for their annual January race meeting from 15-17 January and two of their younger members enjoying strong rookie seasons will line up on the South Island Formula 1600 grid at the event.
The oldest of the duo is Harry Wilson who will turn nineteen on the Saturday of race weekend. Wilson has been competing in Class 3 of the series in a car that the category provides to a scholarship winner. At the midway point of the series Wilson leads the class and sits a highly creditable 13th overall in the points amongst some very seasoned competitors. Wilson is an Auto Electrician and arrives in Formula 1600 by the traditional route of karting, having raced for about ten years coming through the classes locally, winning two club championships in a row in Rotax Light.
He took a break for a couple of years when he crewed for his father, Boyd, who was running a Ford Falcon, and also participated in the Gateway on site work experience programme. While participating in that programme he was working with Rick Michels at Evolution Motorsport when he spied an orange Toyota Corona in the workshop. Rick explained that the Corona had a few issues that required attention and told Harry "if you fix it, you can race it." Fix it he did, and Harry participated in the Noel McIntyre Drainage Clubmans Series at the wheel of the Corona at two Classic SpeedFests and a club meeting.
It was Rick who approached Harry about the South Island Formula 1600 Championship scholarship. "I thought sweet, but I also thought it was too good to be true. I had to do a proposal and I worked really hard on it. There were heaps of names in the mix but I managed to get the drive in the scholarship car, a Van Diemen RF88 owned by Gary Love," says Wilson.
Harry is thoroughly enjoying the experience. "I loved karting and always aspired to do something like this. It is a cool class, very competitive. It is like karts. In Clubmans you may be dicing with one or two cars whereas in Formula 1600 there are cars all around. At Mike Pero Motorsport Park at the opening round of the championship the track was full. It was a big field." Wilson has surpassed his objectives in his rookie season. "The goal was to go out and have some fun. I did not expect to be doing so well and leading the class at the halfway mark of the season," he says.
Ironically Harry is leading two other Southlanders, Noel Atley and Dave McKenzie, and when asked how he gets along with his fellow Southlanders, he replies, "they are a friendly bunch. The whole Formula 1600 community are great. If you have a problem you just walk down the pitlane and someone will help you." Wilson also extends his thanks to Gary Love. "Without him it would be hard to race without a car! I am also grateful to Evolution Motorsport and my other sponsors."
Alex Crosbie is the other Southland rookie in the class. Crosbie only celebrated his fourteenth birthday three days before Christmas but has been performing well in the championship in his ex-Steve Heffernan, ex-Corey Hodges Van Diemen RF92.
Crosbie got the car just prior to lockdown but had to wait to drive it. He tested at Teretonga Park and then travelled to Ruapuna and Timaru for testing before Round 1 of the Championship at Mike Pero Motorsport Park in Christchurch where he raced mid-pack in a massive field of 34 cars. He has continued to race well at both Timaru and Teretonga Park prior to Christmas and will roll out at Teretonga in January eleventh in the overall points and ninth in Class 2 against some very experienced and talented competitors.
Crosbie also comes from a karting background. As a twelve-year-old he trekked to Hamilton for the 2019 Kartsport New Zealand National Sprint Championships, finishing third in the Vortex Mini ROK Class for 9-12 year olds in a highly competitive field of twenty-seven entries. He followed that performance by finishing second at the School Nationals in Wellington before he flew to Melbourne to compete in the 2019 City of Melbourne Titles. The entries were massive compared to New Zealand with 335 entries across 12 classes. There were 26 karters in Alex's class alone and he was driving in a class higher than he normally would back home – using the same chassis but with a bigger engine and stickier tires. With Alex competing against some of the top kids in Australia he managed to finish a respectable 11th. He was lucky enough to have Sera Driver Development and Erebus Motorsport helping out the team he was in, with the use of their data engineer and Supercar star Anton de Pasquale showing up for a chat on the Saturday. Crosbie also competes in Speedway Youth Saloons where he is successful in the 1600cc & under class for 12-16 year olds.
He has also competed in Clubsport in a Honda which he also raced at SpeedFest early in 2020 before competing in the South Island Formula 1600 Championship.
The duo will be in action in the South Island Formula 1600 category at Teretonga Park from 15-17 January in a meeting featuring Drift South action on the Friday and Saturday of the event, plus OSCA Super Saloons, the 2K Teretonga Challenge, Noel McIntyre Drainage Clubmans Series, and Sports & Racing Cars.