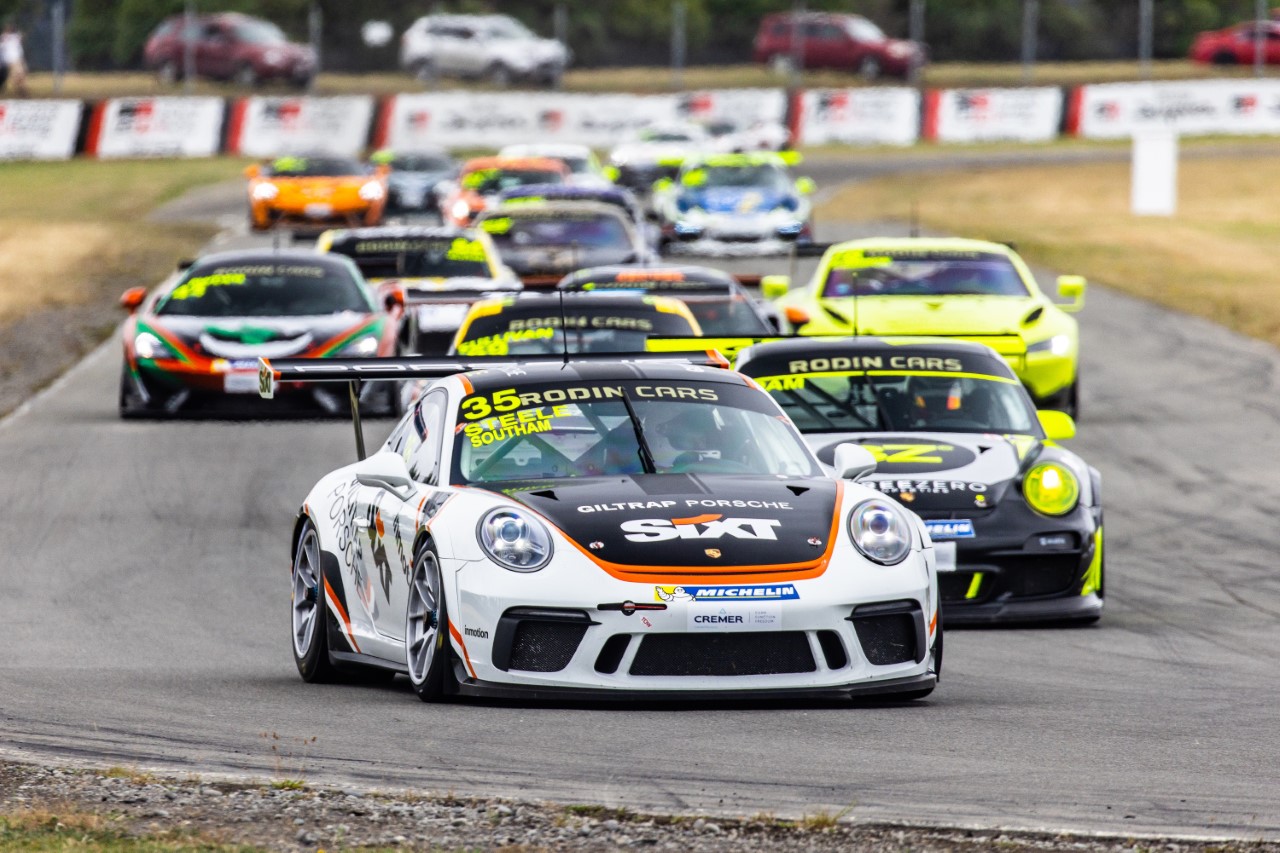 Southam and Steele take Super GT Feature Race Win
Paul Southam and Rob Steele have taken the feature race win aboard their Porsche at Ruapuna in the Rodin Cars Super GT Series.
Martin Dippie claimed the round win for the Porsche Class, while Nigel Cromie has taken the victory over the weekend for the GT4 Class aboard his McLaren 570.
Following race one yesterday, race two of the weekend was held in drizzly and wet conditions at the Mike Pero Motorsport Park Ruapuna circuit.
Despite the wet and treacherous conditions, the race was relatively incident free, with the only non-finisher being David Cranna in his McLaren, which suffered a steering issue after some light contact with another car.
With the chequered flag dropping after the 30-minute encounter, it was the McLaren GT4 of Todd Bawden who took the race win, with Nigel Cromie in his McLaren second. The Porsche of Connor Adam, crossing the line in third.
The one-hour feature race held this afternoon in dry conditions, saw the local duo of Paul Kelly and Ben Byers start alongside each other in their respective Porsche machines.
On the start, Kelly held the lead, with Byers slotting in behind and Martin Dippie running in third, sitting in behind
The opening laps were drama free, and with the pit stop window open, the leaders pitted from lap five onwards, with Southam staying out on track and eventually pitting to hand over to Steele on lap 16.
With the pit stops all complete, the two Aston Martin's of Shane Helms and Stephen Harrison held down positions one and two.
The first of the Porsche runners being Martin Dippie.
With 20 mins to go Connor Adam found himself pitting with a brake calliper issue. The International Motorsport team looking over the car, before Connor had to out of car and out of the race.
Back on the track, Rob Steele had found his way up the field, slotting into fourth position. Before eventually honing in on the back of Martin Dippie, and making a pass.
On the second to last lap, a momentary lapse in concentration saw race leader Shane Helms spin at the hairpin, letting the trio of Porsche's through.
Steele crossed the line in first, followed by Martin Dippie in second and Ben Byers in third. Helms recovered to hold onto fourth place overall, and the first of the GT4 class. Stephen Harrison and Nigel Cromie rounded out the GT4 podium.
Overall round results saw Martin Dippie win the Porsche class, with Ben Byers in second, Connor Adam third.
The GT4 Class saw Nigel Cromie take the round win, Shane Helms in his Aston Martin second, with Steven Harrison in his Aston Martin third.