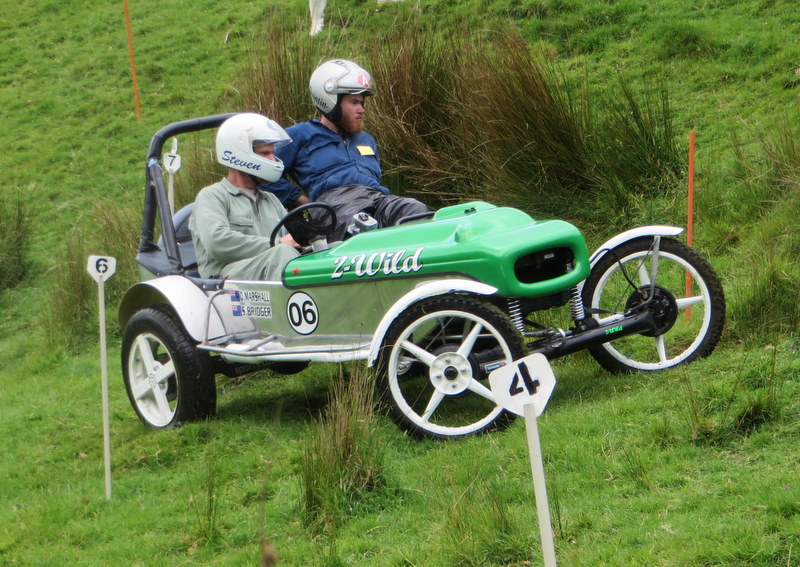 Sid Hirst claims 25th Tarata Cup
Sid Hirst claimed the 25th running of Sporting Trials NZ's Tarata Cup event. held the 25th Tarata Cup event at Tarata, 30kms east of Inglewood, Taranaki were it has always been held.
Sporting Trials is a very inexpensive form of motorsport that involves driving purpose-built, lightweight vehicles up steep undulating hills, often with tight turns to test the drivers even more. All this has to be done without stopping or hitting the marker pegs. There is no timing or speed involved, the drivers are simply marked by how far they get through each set course, usually 6, and attempted 4 times during the day, very similar to 4WD trials but a lot less expensive. A passenger, called a "Bouncer" helps maintain traction and stability of the car and also shows the driver where to go.
Because this was such a special event all the volunteers received a commemorative trophy as well as all the competitors and land owners at the lavish prize-giving dinner. Quest Speaker Mr Bryan Hocken (MNZM) spoke about his recent Queens Birthday honour and the importance of giving to your community.
Although it was fine during the event, the weather leading up to it was extremely wet, which made the grass very slippery, especially in the morning.
Because there has been a lot of new interest in the sport over the past 12 months the courses were set fairly easy to accommodate the many new drivers, and one course in particular, almost all the new drivers managed to clean it (lose zero points) at least once during the day.
Fifteen drivers and their crews took part, unfortunately, due to various reasons, some that entered were unable to attend the event, including Barry and Pam Simmonds from Dannevirke who were the instigators for getting the sport underway in the Tararua district.
It was great to see new young drivers with mums taking part, in fact, Linda Greer from Waipukarau was the best of the new drivers and very close to some of the more experienced ones. It was also great to see husband and wife teams such as Nigel and Sue Heighway also from Waipukarau, Gordon and Lynely Marshall and Adam Berge and Linda Greer.
The scores at the lunch break were close' with only 8 points separating the top 5 drivers with young Cameron Hunger (aided by Driver-Bouncer Matthew Hopkins only 3 points behind NZ1 Sid Hirst. However the pressure got to Hunger in the afternoon to lose some very valuable points which put him back to 4th place and possibly cost him a win. This left Murray Bridger, Quintin Marshall, Warwick Landers and Hirst to battle it out for top honours. Hirst lost all 7 points on the dreaded section 6 which had a tight turn, then a run up a rough climb to finish with another tight turn. Marshall lost one less point on this section but with accumulated points from the rest of the day put him in a close 2nd. Landers continued the afternoon in great form to be equal with Bridger on 22 points, but would be decided with a countdown of the number of zero points for the day which was in Lander's favour.
With Hirst only losing only 7 points for the day, made the victory his 13th consecutive win of this event.
Joe Fulton from Hamilton was debuting his newly built car with a hot Honda Civic twin cam motor producing around 320 HP per ton in a car weighing around 400 KG which will be a big advantage in mud but no advantage in an event like this where less power is better.
The Driver of the day must go to young Ben Carter who hasn't been competing for many years and driving Kevin Silverwood's car (from the Waikato) gained a very commendable 6th place overall, better than even Kevin who is also a good driver.
Overall results
1st Sid Hirst
2nd Quintin Marshall 3rd Warwick Landers
7 points lost 15 points lost 22 points lost
For more information on this inexpensive form of motorsport contact Sidney Hirst (0272685156) or Barry Simmonds (0279122856) or follow us on FaceBook: Sporting Trials New Zealand.