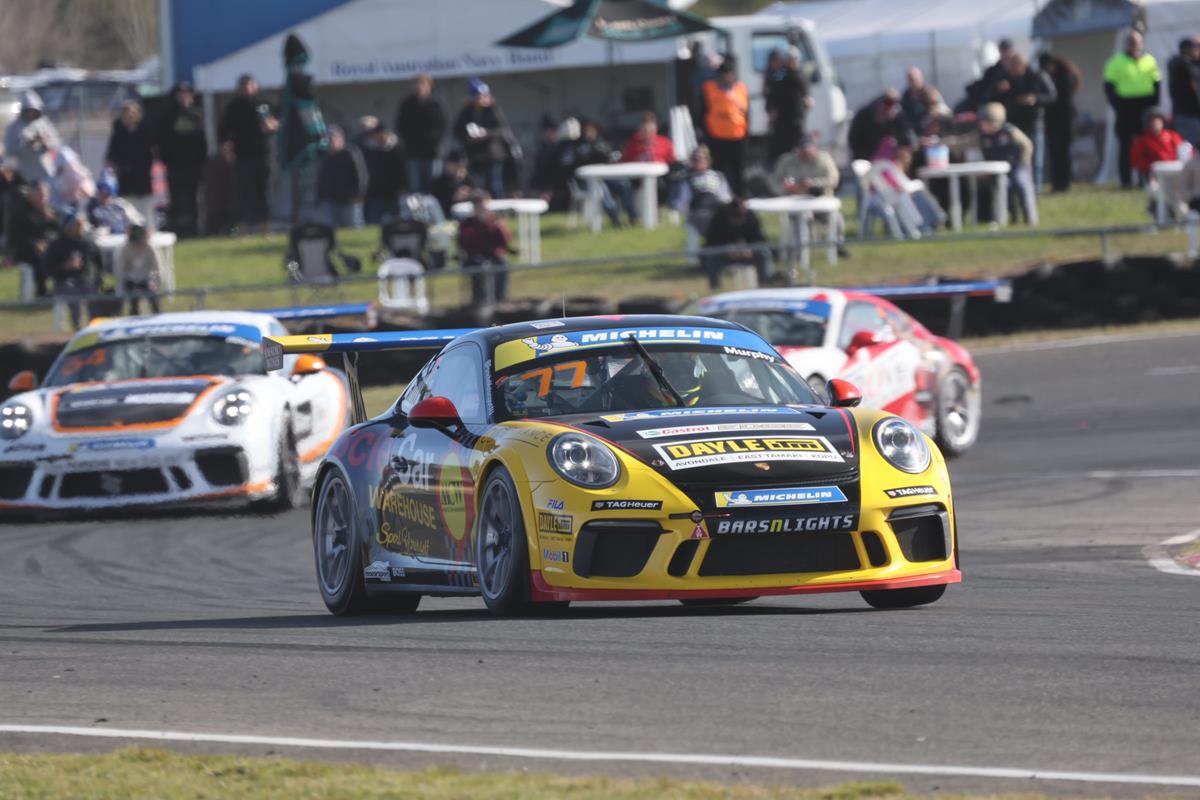 Ronan Murphy takes first race win, Giltrap second round win in Tasmania
Son-of-a-gun Ronan Murphy has claimed his first win on Aussie soil after racing his way to the front in a 40-lap Porsche Michelin Sprint Challenge Australia showdown at Symmons Plains Raceway, while Marco Giltrap claimed his second round win in a row.
Murphy started on the second row but passed both Giltrap and Zac Stichbury – with a series of decisive passes at the famous Symmons hairpin – to take the race lead and ultimately pull away to grab the victory in the Enduro Cup race.
Sam Shahin claimed the race and the round in the Pro-Am Class, while Brad Carr also completed his clean-sweep of the Class B battle to cap off a perfect weekend.
The Jim Richards Enduro Cup race started in cool but clear conditions with Giltrap leading teammate Stichbury into the first corner.
Murphy, however, had pace to burn and passed his first Kiwi rival to move to second on lap 7.
He only needed three more laps to pressure and ultimately pass Giltrap to take the race lead on the 11th tour.
Murphy pulled away gradually in the lead while a five-car fight evolved for the minors, Giltrap slipping several spots back as Lachlan Bloxsom, Oscar Targett and others charged forward.
Murphy ultimately claimed his first victory, his first of his career on Aussie soil. He was also the third different race winner from six races this year – and the first for the Sonic team this year.
Targett and Bloxsom spent much of their race battling for second, and though he crossed the line behind Bloxsom he inherited the position post race on account of a five-second penalty for the latter after on-track contact.
That contact was with Zac Stichbury, who was spun down the order and out of podium contention.
The penalty ultimately dropped Bloxsom to sixth, behind Murphy, Targett and a fast-finishing Tom McLennan – who scored his first top three in PMSC competition – Marco Giltrap and Hamish Fitzsimmons.
Caleb Sumich raced to seventh position in the Enduro Cup race with Shahin, Harrison Goodman and Tom Taplin completing the top-10 for the race.
Giltrap ultimately did enough to claim his second-straight round win in PMSC competition, taking the overall round honours over Murphy with Grove junior Targett on the overall podium on his round debut.
Shahin's win in the Pro-Am class came ahead of Brett Boulton and Andrew Goldie, who finished third in class.
The Porsche Michelin Sprint Challenge will return to the Repco Supercars Championship for Round 3 of the series at the Sydney SuperNight event on July 28-30, while the Porsche Paynter Dixon Carrera Cup Australia returns to the circuit at the Darwin Triple Crown at Hidden Valley on June 16-18.
MARCO GILTRAP – ROUND WINNER
"Yeah, it's a little bit bittersweet after that last race. You know, we really really struggled. I think it was p4 on the end after if so it was just a bit of damage limitation.
"But it was a good weekend, we can't let it take away from that pole to race wins, so I'm very happy and have the championship lead and I think it's pretty wide open – it's going to be a good season."