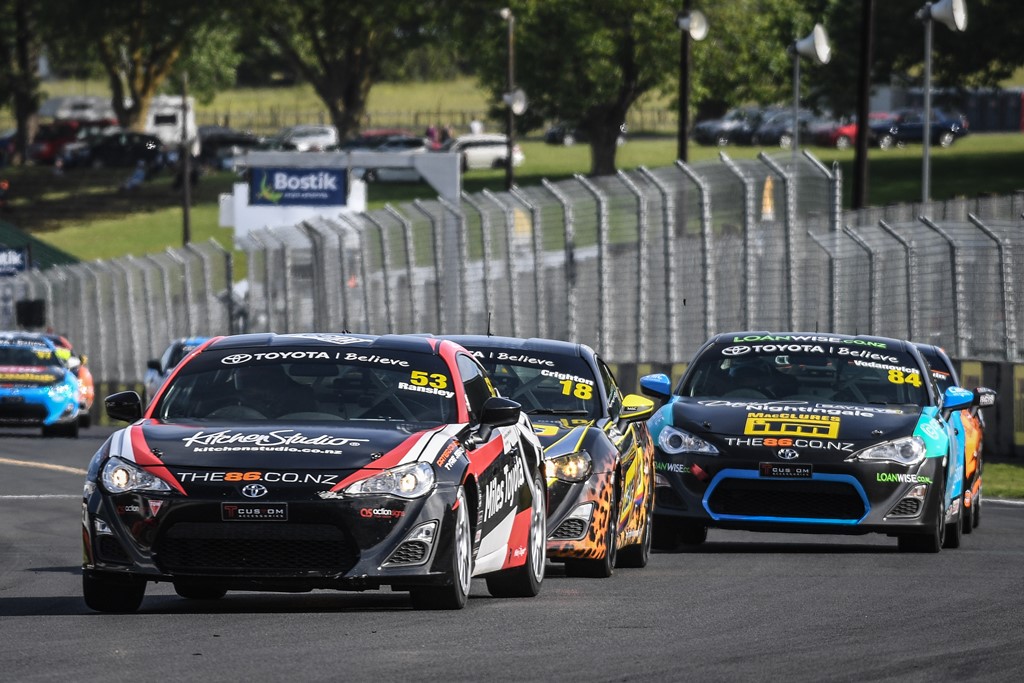 Ransley shows his class to win Race 1 at Pukekohe
Jaden Ransley put in a fabulous drive to win the first race of the weekend at Round 2 of the Toyota 86 Championship at Pukekohe Park today.
Having passed pole position sitter Peter Vodanovich in the CMC Markets car on lap four in a great move into the hairpin, he drove a mature race in challenging circumstances to open his account for the weekend in style.
A race long battle at the front was interrupted by three laps under the Safety Car after Justin Allen made light contact with the barrier at the exit of Turn 4 and was unable to restart. Despite the lengthy delay Ransley made the best getaway at the restart and was able to resist massive pressure from Arran Crighton in the CareVets car, Vodanovich and a resurgent Jordan Baldwin, who bounced back from some problems in qualifying to put in a solid recovery drive to fourth.
For Ransley, it was a sweet moment after losing a race win at the same venue in the first round when he lost a race win due to a jumped start.  "Yeah, it was really good to bounce back so positively after the round one penalty and to show our pace around here and come back with a win," he explained.
"Crighton and Vodanovich were very fast and it was tough to keep them behind me. It's just great to take a win and get the weekend off to a great start."
Behind the top four the battle for fifth to tenth was epic for the duration of the race and featured plenty of passing and daring moves – some that came off and some that didn't. Most disappointed would have been Callum Hedge in the second CareVets car. Racing three abreast with Baldwin and Kaleb Ngatoa around Turn 1, he ran out of space and slithered across the grass before re-joining behind Mitch Hughes in tenth. Though he was ultimately able to recover to eighth, a potential podium place was lost.
Ngatoa was best of the rest in fifth in the JJ Wallers car, while Campbell Stewart was impressive converting his fifth place on the grid to a sixth place finish in the NZPGS/Hydraulink car. He was in the thick of the action throughout and did well to hold of erstwhile championship leader Connor Adam in the yellow Post Haste machine. After a problematic qualifying, Adam was off the pace early in the race but fought back strongly to be just three tenths down on Stewart in seventh at the end.
Ninth behind Hedge was Brock Gilchrist in the Nexus supported car while an impressive Hughes rounded out the top ten after a great drive in what was only his fourth circuit race.
Toyota 86 Championship – Round 2 Race 1 Result
1. Jaden Ransley – Miles Toyota/Kitchen Studio
2. Arran Crighton – CareVets NZ Ltd
3. Peter Vodanovich – CMC Markets/MacClure's ITM
4. Jordan Baldwin – Intermach NZ/Carters Tyres
5. Kaleb Ngatoa – JJ Wallers/Capture Signs
6. Campbell Stewart – NZPGS/Hydraulink
7. Connor Adam – Post Haste/Weigh Northland
8. Callum Hedge – CareVets NZ Ltd
9. Brock Gilchrist – Zic/Giltrap Group
10. Mitch Hughes- Gilpin Cartage Contractors
11. Jacob Cranston – Best Bars/Vista Lite
12. Sam Wright – Tony Richards Toyota/Premier
13. Connor Davison – Hampton Downs/Highlands Park
14. Leo Bult – North Shore Toyota
15. Tony Austin – Genweld
DNF Justin Allen – Battery Town/Thunder Adventure
Caption:  Race winner Jaden Ransley leads the field in an intense Race 1 battle at Pukekohe Park.
Picture Bruce Jenkins.
Media release: Toyota Racing NZ