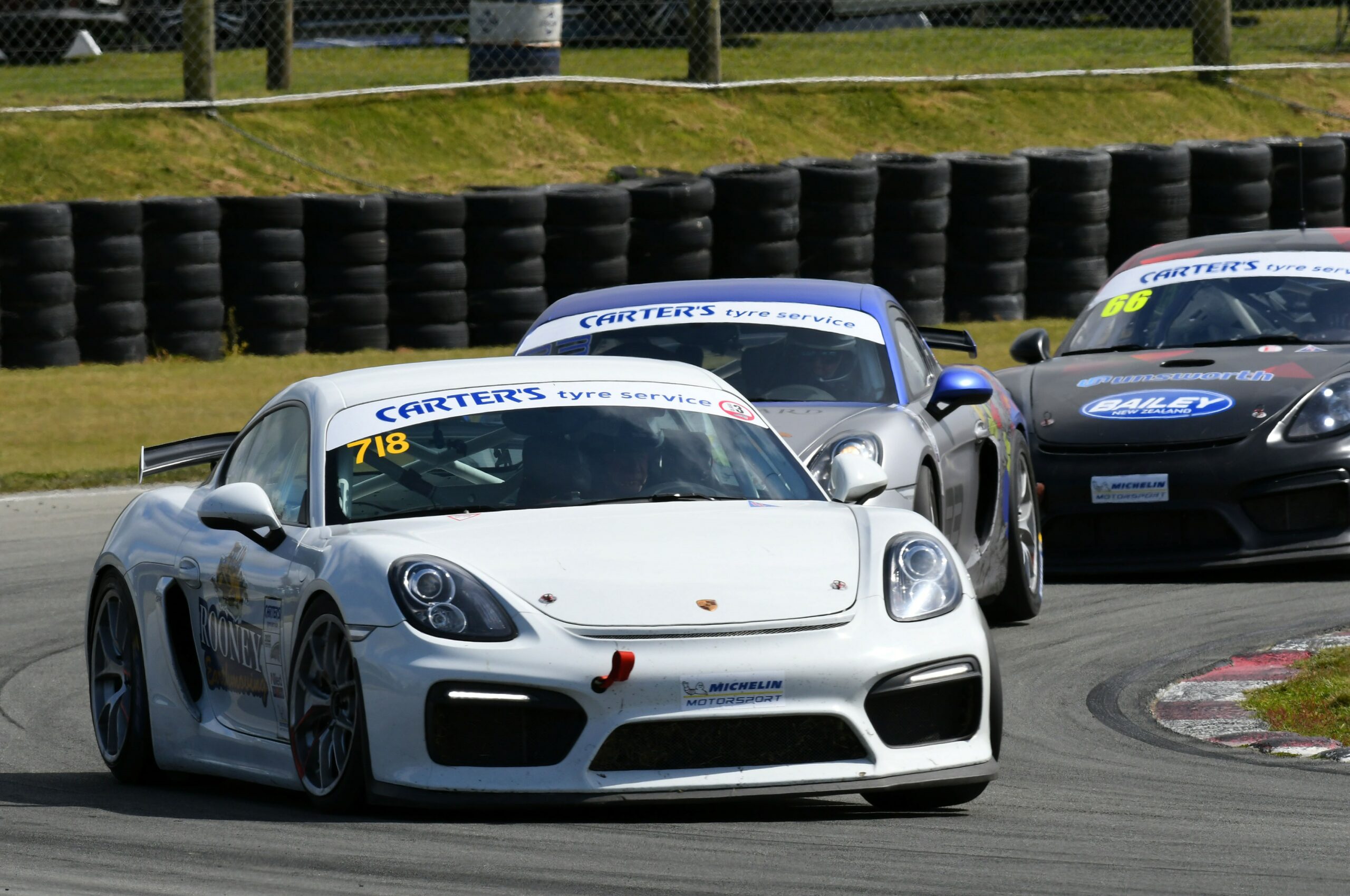 Porsche Cayman GT4 for Saxton & Paterson Pairing
Oliver Saxton and James Paterson will combine to race a Porsche Cayman 981 GT4 in the upcoming Golden Homes GT New Zealand Championship.
Saxton, a bull farmer from the Waikato purchased the car earlier this year, which was previously campaigned by Francois Beziac in last season's GT4 championship. He has already run the car in one round of the North Island Endurance Series and then the South Island Championships where he shared the car with 'Racing' Ray Williams and Mark Mallard.
Paterson, also a bull farmer from Central Otago has been competing in the South Island endurance events and finished first in the three-hour Class 4 category in an Audi R8 at Highlands recently with Barry Moore.
"I did my first race at the Hampton Downs round of the North Island Endurance Series with Ray in the rain, and then the Ruapuna and Teretonga rounds of the South Island series, before Mark jumped in at Levels when Ray was unavailable," said Saxton.
"We had a good South Island series, finishing third overall in class."
Relatively new to circuit racing, Saxton says he's really enjoyed the racing so far – albeit in a casual and relaxed manner and is excited to partner with Paterson in the Cayman GT4 dubbed, 'The Bull.'
"Both James and I really enjoyed our experience in the recent endurance series, and decided to team up and have a crack at the GT NZ Championship."
"Though lacking in HP and experience compared with our competitors we hope to just have some fun, be consistent, finish each race in one piece and hopefully the pit stop handicap system will give us some chance to be competitive."
"We're both really looking forward to it and will have Tony Adamson and his team at Frankton Automotive supporting us plus a couple of other new Cayman 718 GT4 RS cars which should be super competitive."
"No expectations for the season, we will have one of the slower cars, but all going to plan, the Balance of Performance rules should level things up for us."
The 2023 GT New Zealand Championship will consist of a four-round series over three months commencing January 13-15 at Highlands Motorsport Park in Cromwell.
This will be followed by the second round with the New Zealand Grand Prix at Hampton Downs on February 3-5, before heading to Taupo on March 17-19. The final round will be at Manfeild on April 14-16.