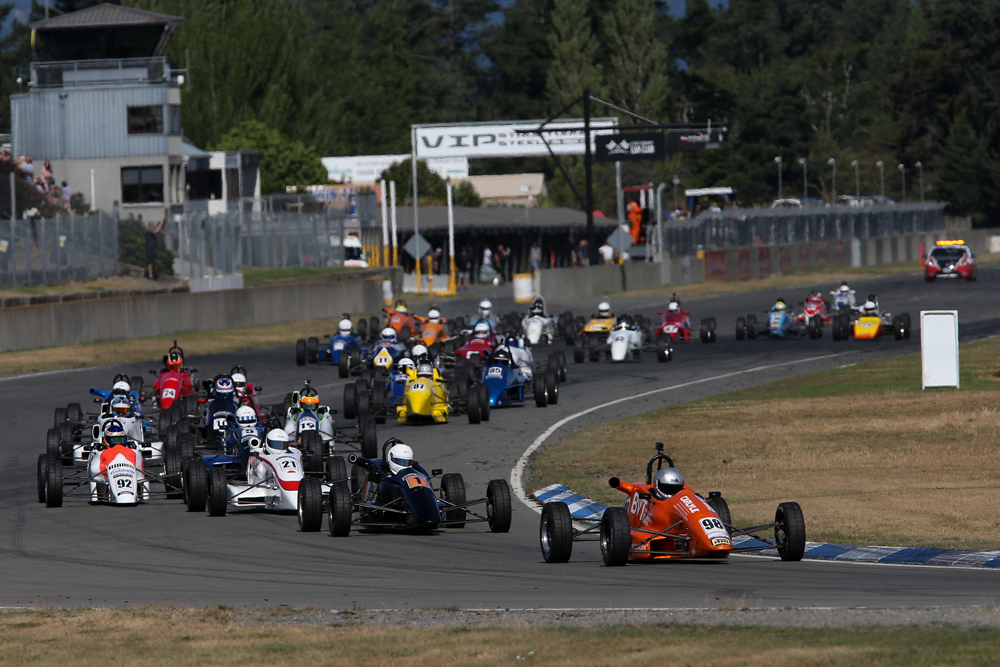 Perfect Penrose wins Wigram Cup for second consecutive time
Canterbury's James Penrose has won the prestigious Wigram Cup for the second consecutive time as the 2020/21 South Island Formula 1600 Series got underway at the Wigram Revival meeting in Christchurch. It was the perfect way for Penrose (Van Diemen RF93) to start his summer campaign winning all three races after setting fastest time in qualifying at the Mike Pero Motorsport Park.
"Really happy with that," commented Penrose. It means a lot, so absolutely thrilled. It is quite special to win it (Wigram Cup) twice. A big thanks to my Dad for his work on the car"
In all three races Penrose was able to get away right from the opening lap and create a gap back to the chasing pack. Even when each race had a safety car period he was still able to make a break.
"Getting a clean start was important. Then getting as much of a gap back to second and then putting in fast qualifying laps after that," said Penrose.
Second home in all three races was current South Island F1600 title holder Jack Noble Adams (Van Diemen Stealth). The university student is currently in the middle of exams so missed Friday practice.
"It was a good round for us," commented Noble-Adams. "Last year we had a rough round at Ruapuna so I'm pretty happy with the car. We couldn't have gone to much better given the limited track time."
Third overall for the weekend was 1995 NZ Formula Ford title holder Shane Drake (Van Diemen RF92). The Auckland driver hasn't turned a competitive wheel in a Formula 1600 (Ford) since 1995 but proved he still has what it takes with two thirds and a fourth placings.
"Pretty chuffed actually," said Drake. "I didn't think I would be up there so very happy to be third. I'm thrilled with the car but there is certainly a fair bit to go to catch the two in front. It is a matter of understanding the car, what it needs and what to give it. I'm probably a bit conservative in my driving until I know my limitations."
The round was the first of six to be competed over the summer. Over thirty entries made it to the grid with a number of rookie drivers' also making their debut into single seater racing. A handful of drivers have returned to the category as well as a number of freshly imported new and second-hand chassis.
Top rookie was Bo Hill driving a Van Diemen RF92, a South Island Formula Ford Club Scholarship car. Making the move up from kartsport, Hill finished 9th, 11th and 12th across the three races.
Within the overall title competition there are three Class titles in contention. Zac Christensen was the first home in Class 1 (post 2000). Christensen was debuting a brand new Ray GR20 chassis along with Steve Donaldson (Ray GR20) who finished second in the Class.
Penrose also won Class 2 (1990-1999) as well as the Driver of the Day award, while Noel Atley (Crossle 55F) won the Historic Class 3 (pre 1990) from Marc Doran (Ray 86F) and Dave Arrowsmith (Van Diemen RF88).
Drivers and teams head to Timaru International Raceway for the second round this coming Saturday. The one-day event will see qualifying and three races with a full grid of 30 cars expected.