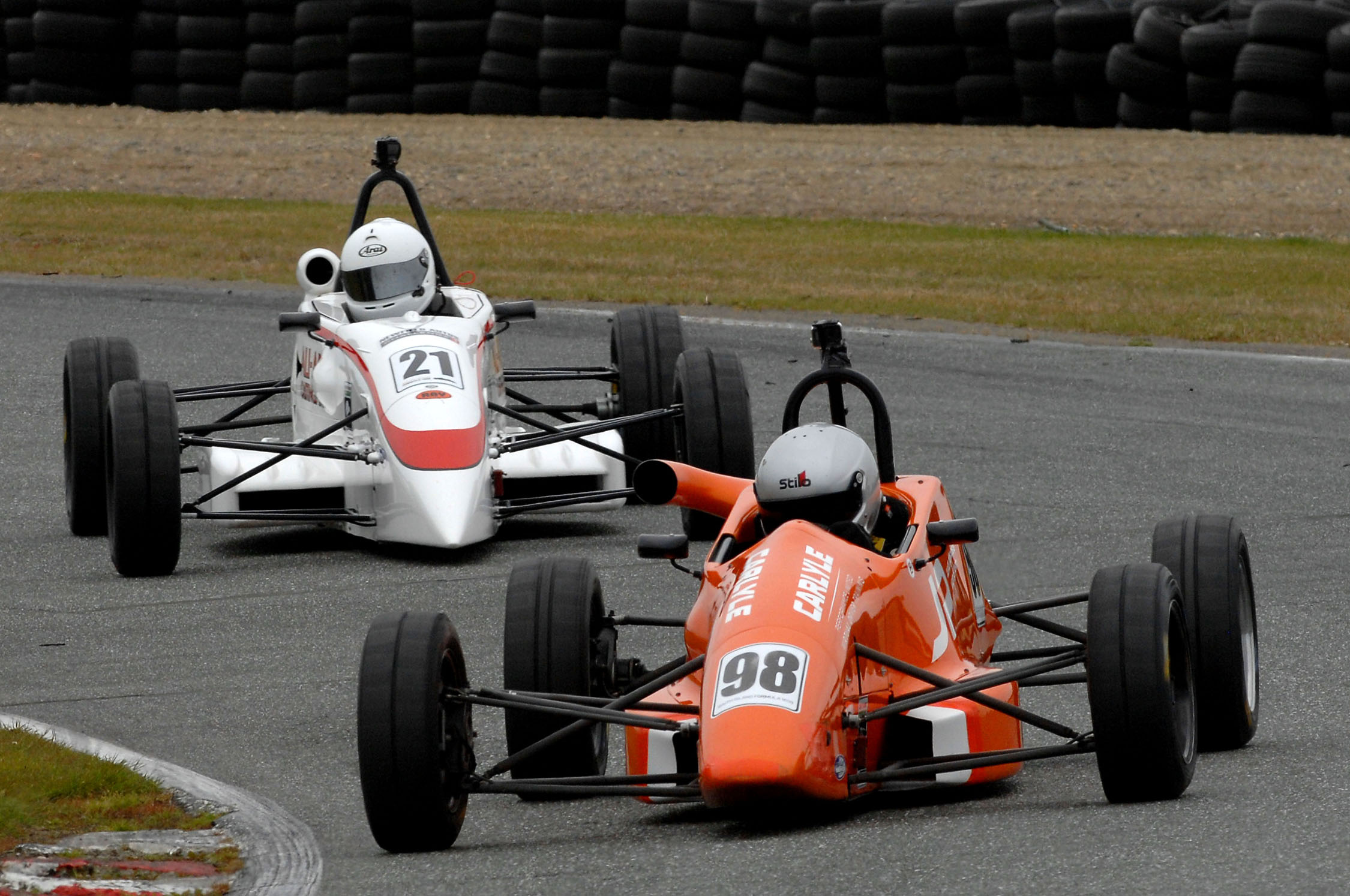 Penrose continues his winning way in South Island Formula 1600 Series at Teretonga
Rangiora's James Penrose has continued his dominant form this season, adding another three race wins at the latest round of the 2020/21 South Island Formula 1600 Championship. Invercargill's Teretonga Park hosted the third round which saw plenty of action throughout the grid.
Having now qualified on pole in all three rounds, Penrose has won all nine races and led every lap of the series' this season.
"Absolutely happy with the result and to share it with Dad," commented Penrose (Van Diemen Stealth). "It's a great category to compete in. The other guys have been pushing me all the way, especially in that last race, Zac (Christensen) was all over me.
"It's keeping me honest, making me push hard and having to work for it. It is always rewarding when racing against that competition as well."
Second overall for the weekend and moving up to second in the championship was Zac Christensen (Ray GR20) who was able to put pressure on Penrose in the last 12-lap feature race.
"Every meeting we go to I'm increasing my confidence in the car, always keep developing it, getting more speed from it," said Christensen. "It wasn't the best start (race 3) but I managed to stay on the inside on James tail and hold second place going into the first corner.
Third overall for the weekend and making his single seater debut was 15-year-old Jacob Douglas. It was a solid start for the
Christchurch high school student, stepping up from kartsport, and one that made an impression within the category, winning him the Driver-of-the-Weekend award.
"That was pretty good for my first race weekend," Douglas said. "I enjoyed it a lot. We ticked a lot of boxes – driving in the wet, safety cars, race starts and restarts and battling with other drivers."
While Penrose gapped the field in the first two races, the fight was on for podium places. A coming together in race one between Southland's Ethan Anderson (Van Diemen RF93) and Christensen saw both slip down the field while fighting for second place. This opened the door for Dunedin's Cameron Freeman (Van Diemen RF93) to take second from Douglas who placed third in his first single seater race.
In Sunday morning's second race, Christensen was able to secure second from Anderson with current South Island F1600 champion Jack Noble-Adams (Van Diemen Stealth) fourth ahead of Douglas.
It was a horror start to the round for Noble-Adams who had to replace his clutch on Friday and then found the engine down on power in
Saturday's first race after a poor qualifying performance. He managed to finish eighth and two fourths, savaging enough points to be third overall six-points behind Christensen.
The top-ten places in the second race were replicated in the third 12-lap feature race. But this time Christensen didn't let Penrose get away, keeping the pressure on throughout the race.
Within the category are three separate classes. Zac Christensen won Class 1 (post 2000) from Gary Love (Van Dieman RF 002) and Ryan Low (Van Diemen RF01).
Penrose won Class 2 (1990-1999) from Jacob Douglas and Cameron Freeman while Harry Wilson won the Historic Class 3 (pre 1989) from Graham Dickie (Lola 344E) and Dave MCKenzie (Begg FM3).
Drivers and teams now take a break over the Christmas/New Year period before heading back to Teretonga Park for the fourth round 16-17 January.
Christensen will be determined to beat Penrose and break his stranglehold on the category. "The goal for the next round is to get race wins," said Christensen. "We are not far away from that, just need some more development in the car and with the driver."
Meanwhile, Penrose will also look for more speed commenting, "Even after this weekend we will go away and review everything and look to find a little more pace."