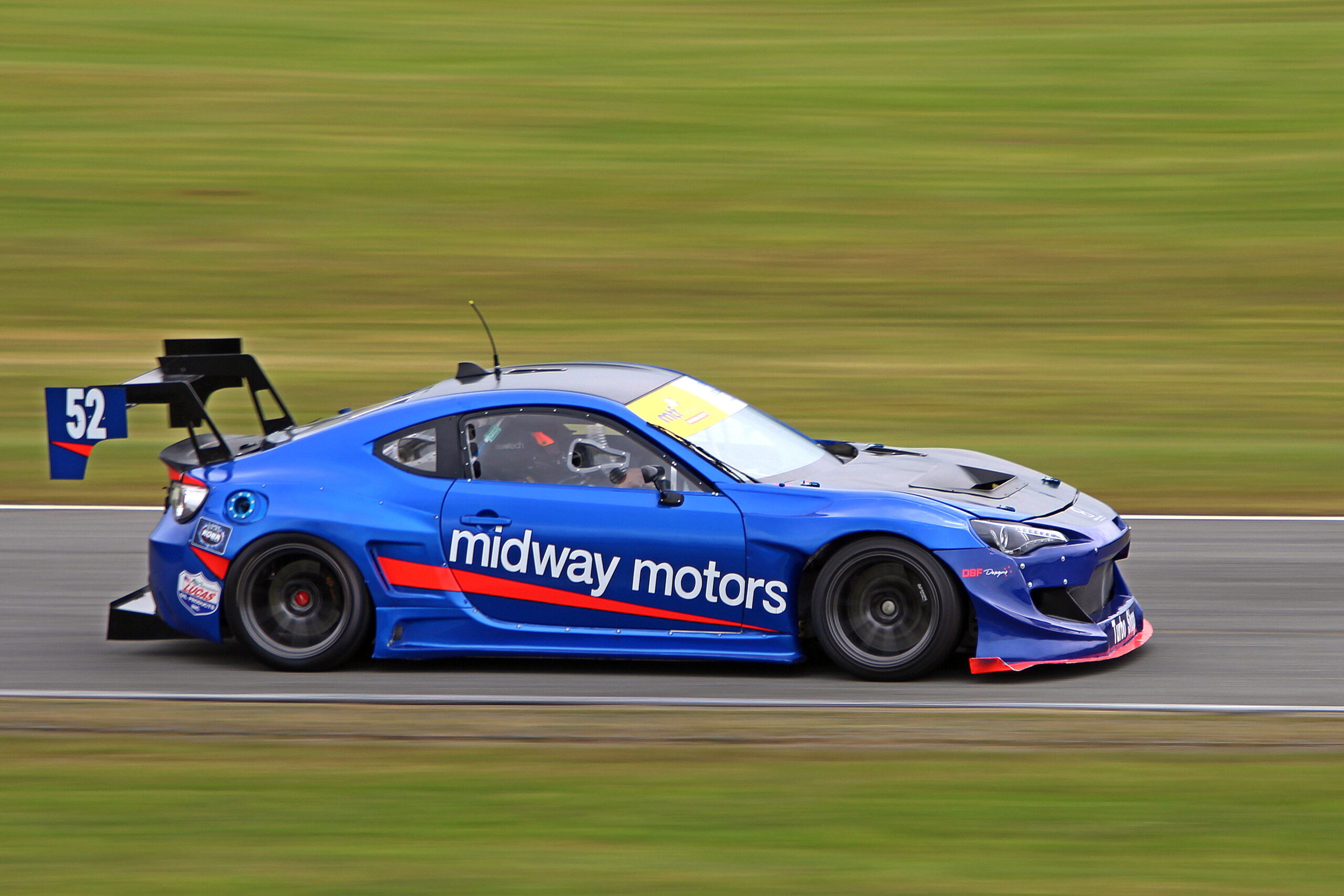 Action aplenty at Teretonga Park
Big fields and excellent racing – that was the mixture at Teretonga Park in Invercargill this weekend.
Chris Henderson of Dunedin in his LS-powered Toyota GT86 took the top step of the podium in the OSCA Super Saloons after taking two wins, a second plus a fifth in the four races for the class. Fellow Dunedin driver Steve Ross was second overall in his Jaguar XK, the highlight of his weekend being a win in the second contest, a race in which he lowered his own lap record set five years ago to the day, leaving the new mark at 59.257 seconds. Kris Brown of Timaru was third after winning the final race on Sunday afternoon. Invercargill driver Liam MacDonald finished second in the opening race on Saturday in his Falcon but took no further part in the weekend while Pierre Neame of Winton picked up a third-place on Sunday morning.
James Penrose of Rangiora maintained his unbeaten record for the season in the South Island Formula 1600 Series, winning all three races in his Van Diemen Stealth. Zac Christensen of Rolleston and Southlander Ethan Anderson were second and third respectively in all of Sunday's races but on Saturday they tangled, leaving Cameron Freeman of Dunedin second with 15-year-old Jacob Douglas of Christchurch third in his motor racing debut. Penrose was the Class 2 victor in all three races while Ryan Low and Christensen shared the Class 1 spoils. Rookie, Harry Wilson of Invercargill, won Class 3 in all three races while another Southland rookie Alex Crosbie also performed well in Class 2.
The Noel McIntyre Drainage Clubmans Saloon races featured plenty of excitement. Jordan Michels won the round overall in his Honda TCR from Arron Black of Dunedin in a BMW E46 with Kyle Dawson (Nissan Skyline) third. Dawson led Michels across the line in each of the Group A races and the 2001 cc & over race while Michels won the Flying Farewell. Liam MacDonald's Nissan NX caught fire on the final lap of Sunday morning's Group A race, the results declared as the placings stood a lap earlier allowing McDonald to salvage third in the race behind Dawson and Michels.
Group B had its share of excitement too, David Hendry of Invercargill rolling his Nissan Sentra at the loop on Saturday and Daniel McIntosh rolling his Mitsubishi Mirage after a touch with Russell Watt on Sunday morning. Watt of Alexandra in a Commodore and Rachael Beck of Invercargill (Fiat 850) won the Group races while Arron Black took Class 3 in the class race, Jeremy Dawson Class 2 and Todd Blackmun Class 1.
The Pre 65 Saloons saw Corey Ross of Christchurch (Ford Mustang), Piers Mingham of Ashburton (Ford Anglia) and Invercargill driver Wayne Tuffley in his Ford Mustang share the wins across the weekend while Justin Neill of Christchurch stood on the top step of the podium in Mini 7 South from Adam Box of Rolleston and Steve Scobie of Christchurch.
Cameron Davies of Waimate took a second, third and first to win the Pro7/8 round from Christchurch driver Kris Mackie and Andrew Brunton of Timaru.
Justin Ashwell of Christchurch took a clean sweep of the NZ Six Saloon races in his Ford Falcon to win the weekend from Steven Gordon of Alexandra in his Commodore and Cody Welch of Omakau (Falcon).
Andrew Gibson of Timaru in a Honda Civic was the winner across the weekend in the huge field of SS Cup cars, outscoring fellow Timaru drivers Jarrod Parmenter (Mazda RX8) and James Liemburg (Mazda MX5).
The next race meeting at Teretonga Park takes place over the weekend of 15-17 January when the OSCA Super Saloons and South Island Formula 1600 classes return along with others while Drift South bring their brand of excitement to the event.