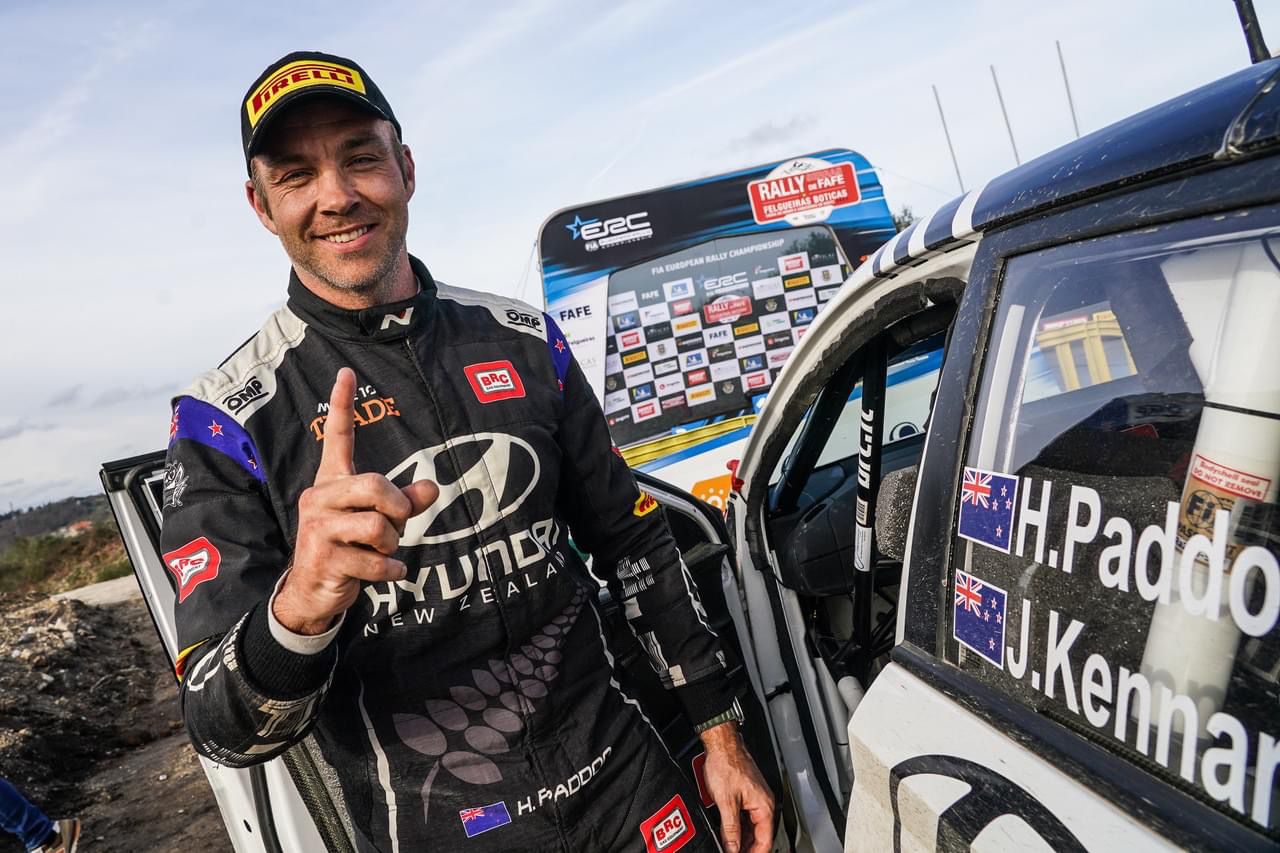 Paddon fights to win ERC Portugal
Kiwi rally driver Hayden Paddon and co-driver John Kennard delivered a considered and determined performance to win the opening round of the 2023 FIA European Rally Championship (ERC) in Portugal on 12 March (European time).
In wet, muddy and challenging conditions, the Kiwis say they weren't expecting the win but are very happy.
In their first ERC event with Italian team BRC, personnel from Paddon's Hyundai New Zealand Rally team worked alongside BRC to prepare and run the Hyundai i20 N Rally2 car.
The first action for ERC Rally Serras de Fafe e Felgueiras was a qualifying stage on Friday afternoon where Paddon and Kennard were eighth fastest, just outside the top runners who were able to select their road position for Saturday's schedule. Paddon described the conditions as being muddy and tricky and the competition intense with less than two seconds covering the top nine.
The rally officially got underway on Friday evening with a slippery, cobblestoned super special stage in the city of Fafe with Paddon saying he took no risks to set a fourth fastest time in their i20 N.
Running eighth on the road, Paddon went into Saturday's eight stages with a plan and pace he aimed to stick to. Only five of the stages were run with organisers cancelling SS5, 8 and 9 due to fog and deteriorating conditions, and SS7 was cut short after one competitor crashed.
Consistency was Paddon's watchword with a set of top three stage times, except in SS4 when heavy rain made the challenging conditions even more difficult. Nonetheless, he was happy with the car and to finish the day in third place overall, 17 seconds off the leader Finnish driver Mikko Heikkilä with Norwegian Mads Ostberg in second.
The top 20 were reversed for Sunday's running order, meaning Paddon ran 14th on the road. In drier conditions, ruts and stones – with a touch of fog – became the day's challenges with nearly 85km to complete. With some changes made to the car during the evening service, he was happy to take the stage win on Sunday's opening SS10. The improved feeling in the car helped Paddon stick with his plan and he whittled down the margin to the two competitors in front of him on the standings, finishing Sunday morning's four stages with just 4.6 seconds between himself, Ostberg second and Heikkilä in first place.
Paddon started Sunday afternoon with a relatively conservative, and still second-fastest run through SS14 saying it paid to be cautious with the rocks and potential for punctures. He pushed a bit harder in SS15 for another second-fastest time, taking second place in the overall standings from Ostberg and reducing the margin to Heikkilä down to three seconds. All the top runners pushed hard in SS16 where Paddon was two tenths of a second quicker than Heikkilä, moving into second place, just 2.8 seconds off the lead. It was all on for the final 14.90km of competition on SS17 and the power stage. While that stage was won by Irishman Craig Breen who'd had an up-and-down weekend, all eyes were on Paddon and Heikkilä. Paddon delivered a competitive time of 9m, 23.7s for the stage. Meanwhile Heikkilä punctured a tyre and dropped out of contention to give Paddon the win. He said: "Sorry for Heikkilä, we wanted to try and overcome those 2.8 seconds fair and square. But we're happy, very happy."
Paddon becomes the first Hyundai driver and first New Zealander to win a round of the ERC.
He says it was a really good weekend. "Certainly much more than we expected. Given the level of competition that was here this weekend, even a top five finish would initially have been a good goal but everything gelled really well with the team and the car.
"We were a little bit on the back foot at the start with not such a great qualifying result so that compromised our road position for day one, making it more about damage limitation.
"But today (Sunday), together with some changes for the car, everything felt really good. We were driving within ourselves throughout the rally so to come away with the win – and a final stage battle – was certainly very pleasing."
This is the best possible start to Paddon's first-ever European championship bid and he says there's still more to come. "More improvements to the car are possible and we can improve our driving so it all bodes well for the rest of the season."
On his first event with Italian team BRC, Paddon says everything went well. "The team did a really good job and we enjoyed working together. Conditions were super tricky yesterday and a lot more settled today. Overall, much nicer driving conditions, more consistent grip and road surface, although still some rough sections which you expect here. It's good to finally come through with a result in Portugal. We've often had good speed here in the past, but never been able to put together a result until now."
Paddon and Hyundai New Zealand Rally appreciate the support of Hyundai New Zealand, Mitre 10 Trade, Z Energy, Makita, Open Country, Bars Bugs, Pirelli, OMP/Racer Products, Winmax Brake Pads, South Canterbury Road Safety, Ben Nevis Station, Bailey Caravans, Repco NZ, Highlands Motorsport Park, MITO, ETCO, Jacanna Freight, Pak N' Save, Machinery House, Bartercard, Mike Greer Homes, Provident Insurance, Zealandia Systems, Carters Tyres and Signbiz.
Keep up with news on Hayden Paddon and the Hyundai New Zealand Rally team via the Facebook page https://www.facebook.com/paddonrallysport.