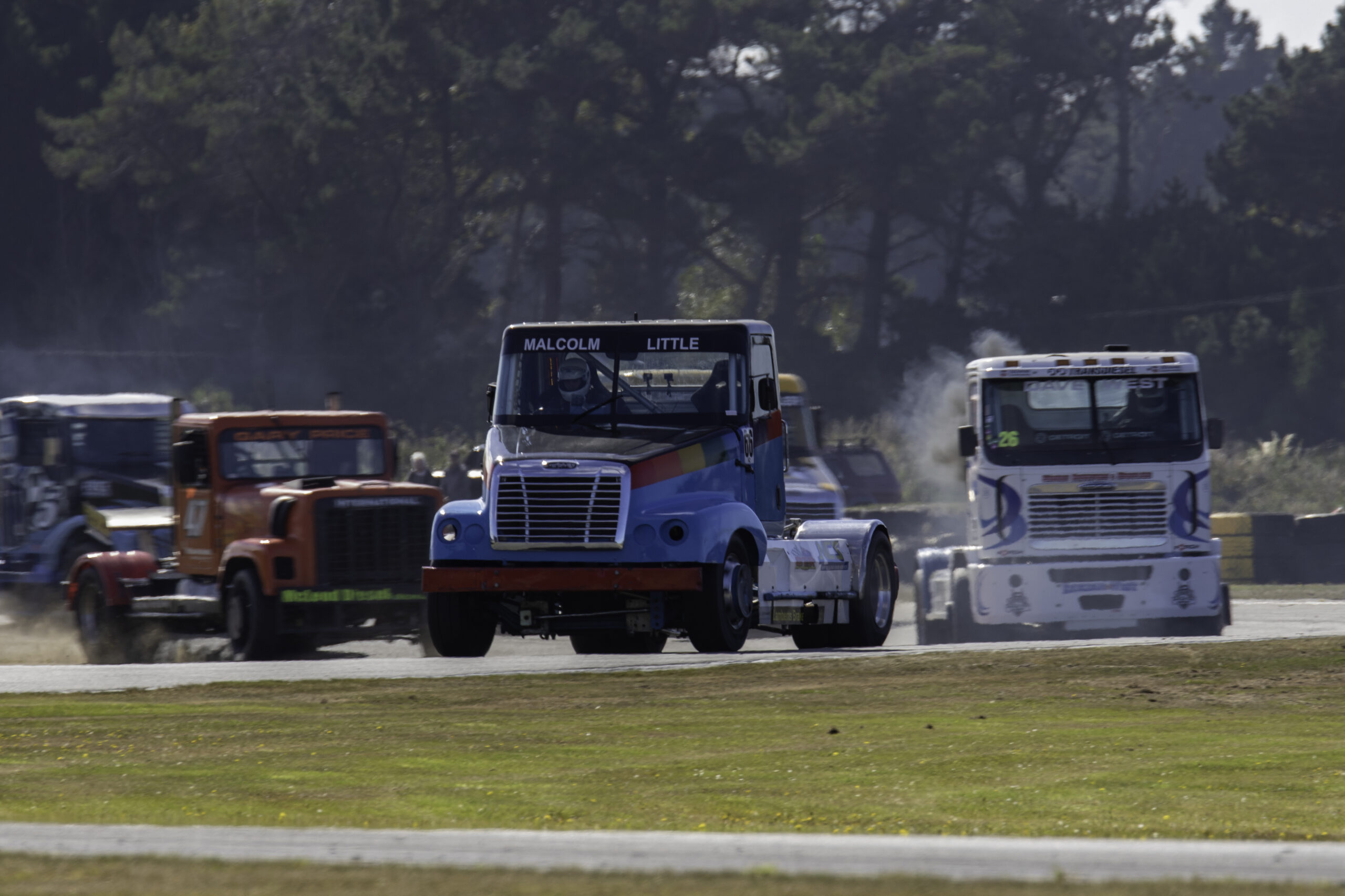 Big field of Trucks heading to Teretonga Park
A big field of NZ Super Trucks is part of the programme for the Southern Thunder race meeting at Teretonga Park in Invercargill over the weekend of 18/19 March.
The NAPA Auto Parts New Zealand Super Trucks will fight out Round 3 of their National Championship at the event with their outing supported locally by Kings House Removals as they contest the Mobil Delvac 1 Trophy.
Leading the way will be the current champion, Alex Little of Upper Hutt in his Freightliner 3 Series. Little became the youngest driver to ever win the Super Truck title last year and leads this year's standings after two of four rounds. Little also has a superb record at Teretonga Park, having taken round honours in his last four visits to the circuit.
However, the competition is always tough and last year Little and six-time National Champion, Troy Wheeler of Hicks Bay in his Freightliner Century Class, battled tooth and nail throughout the weekend. Lower Hutt driver Shane Gray in a Kenworth 404 is another who cannot be disregarded. Gray is the reigning Class A Champion. Timaru driver Brent 'Bones' Collins is quick in everything he drives and was actually the first ever Toyota Racing Series Champion back in 2005. Seven-time Australian and two-time New Zealand Champion Steven Zammit of New South Wales is also in the line-up. Zammit first raced at Teretonga Park in 2013, winning two of the three races on that occasion, taking the round and describing Teretonga as a fantastic circuit.
Add in veteran Ron Salter of Auckland in a Scania, reigning Class B Champion Troy Etting of Auckland in his Kenworth KW 294, his son Conner in a Volvo NH, David West of Pukekohe, third in last year's championship in his Freightliner, Marc King of Eketahuna in an International plus Tony Brand of Rangiora in his evergreen KM Bedford and you have quite a field and potentially some of the best Super Truck racing seen at Teretonga Park for many years.
The other feature class will be the Mobil 1 Mainland Muscle Cars where Timaru driver, John Hepburn in his Holden Monaro, leads the series after 3 of 4 rounds from fellow Timaru driver Rod Hayman (Pontiac Firebird) and Greg Donaldson of Ashburton in his Monaro GTS 350.
The programme will also feature the New Zealand Formula Ford Championship and the South Island F1600 Championship, both led by local driver Alex Crosbie, Pre 65 Saloons, NZ Six Saloons and the Noel McIntyre Drainage Club Saloons.
Pre-sale weekend passes costing just $35 (plus any applicable admin charges) are available from Auto Centre, Tweed Street, Invercargill, E Hayes & Sons, Dee Street, Invercargill, Harrisons Supplies, Mersey Street, Gore while weekend passes at the gate are $45 each while day passes are $25 per day. Children 14 & under accompanied by an adult free.