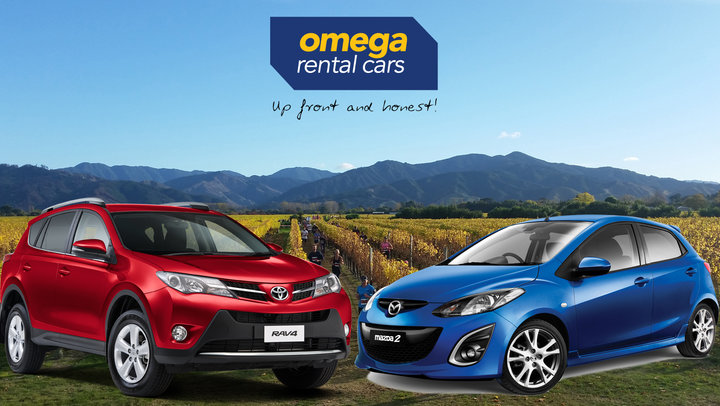 NZRC excited to announce partnership with Omega Rental Cars
Recognised as one of the largest and most trusted independent rental car companies in New Zealand, Omega Rental Cars has always had a connection to motorsport. Owners Andrew Brown & Simon Sceats first formed the company in 1993 after purchasing what was then a very small rental car business from Scott Dixon's father, who needed more time and money to dedicate to his son's burgeoning motor racing career. Sceats has earned a number of prestigious titles himself, including the NZ Production Car Championship in 2007/2008 and again in 2010/2011.
'We have always been interested in supporting the local motorsport community, and Rally New Zealand is a great partner for us, as the rally community travel all around the country and often need to pick up a rental car when they land in the North or South Island' says Sceats.
New Zealand Rally championship Coordinator Simon Bell says 'We are thrilled to have Omega Rental Cars onboard as a partner for the 2019 rally season. The support they provide us will ensure that we have vehicles for key volunteers and officials to get to, and around, events'.
Omega Rental Cars has branches across New Zealand, including Auckland, Wellington, Christchurch, Queenstown, Nelson, Picton and Blenheim. Offering an up front and honest reliable car rental service, affordable rental car rates and a modern fleet of vehicles, they are now one of the largest and most trusted independent rental car companies in New Zealand.
Omega Rental cars will be offering the rally community special rates for 2019, which is a great bonus for teams and volunteers. 'We see that there is a great tie in to the New Zealand Rally Championship rounds and the Omega branch locations – teams or officials can fly from one island to the other, pick up a car for a discounted rate in say Auckland or Christchurch and then drive on to the rounds' says Bell. 'The offer will be available not just on rally trips, but for holidays or business trips as well' Sceats adds.
The special offer is available now at https://www.omegarentalcars.com/rally-new-zealand (note: rentals are not available for use by teams for Recce) , and other opportunities will be explored throughout 2019.
To book a car with Omega Rental Cars with a 10% discount, go to https://www.omegarentalcars.com/rally-new-zealand