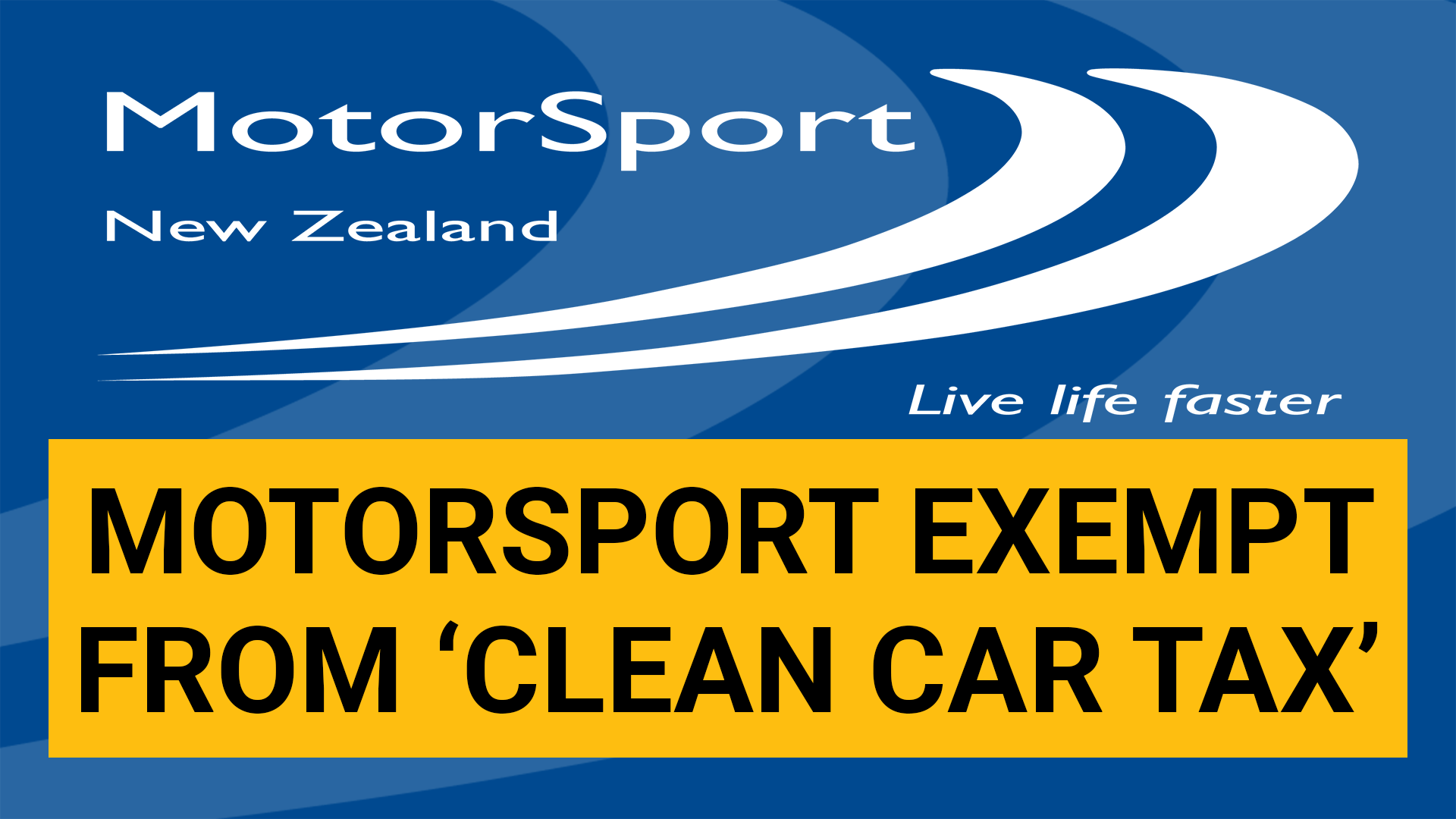 Motorsport vehicles exempt from 'Clean Car Tax'
The Low Volume Vehicle Technical Association (LVVTA) have been working closely with the New Zealand Transport Agency (NZTA) for the past eighteen months ensuring that special interest vehicle users in New Zealand are appropriately considered during the implementation of the new Clean Car Standards Policy. The Clean Car Standards review sought to eliminate or heavily penalise the importing of older motor vehicles that didn't meet strict environmental requirements.
Many motorsport vehicles would have been affected if the originally drafted legislation was passed into law. LVVTA acted on behalf of its Member Organisations, including MotorSport New Zealand, in lobbying NZTA and through a consultation process were able to negotiate acceptable exemptions for a range of special interest vehicles. This was a mammoth undertaking by LVVTA, and MotorSport New Zealand is hugely appreciative of the efforts and the outcome.
Incorporated within the new legislation is the 'excluded vehicle' groups (which will be exempt from paying any charge). These groups are as follows:
Vehicles that are at least 40 years old
Any vehicle which is 40 years old or older as of April 1 2022 (when the new legislation takes effect) is excluded from the requirements of the Clean Car Standard. This means, currently, all vehicles which were manufactured on or before 1982 do not attract a charge.
---
Scratch-built low volume vehicles:
All scratch-built low volume vehicles will be excluded, and this includes those vehicles constructed in New Zealand and overseas. A scratch-built vehicle is, in simplest terms, a vehicle which is manufactured, assembled, or scratch-built in quantities of 500 or less in any one year, and where the construction of the vehicle may directly or indirectly affect compliance of the vehicle with any of the vehicle standards prescribed by New Zealand law.
Essentially, scratch-built vehicles are all typical replica vehicles, and also vehicles which are modified so extensively that they could not be considered to still be the production vehicle from which they originated.
Detailed information about exactly what defines a scratch-built low volume vehicle is contained in LVVTA Information Sheet # 02-2018 'Modified Production' & 'Scratch-built' Low Volume Vehicle Definitions'.
---
Motorsport vehicles:
Motorsport vehicles (within this context) are those legitimate road-going motorsport vehicles that are used for competition purposes are excluded from paying charges.
The most common application for this would be rally cars, where the vehicle is required to be road registered in order to be driven on public roads between special stages. There will also be some club-sport cars which are used on-road and for weekend racing. In all cases, these vehicles will need to be owned by competition license-holders, used in competition activities, meet stringent safety requirements, and be issued with an LVV Authority Card.
---
Special Interest Vehicles:
Special Interest Vehicles are also excluded from paying any charges.
A Special Interest Vehicle (SIV) is a vehicle that is less than 20 years old, which doesn't meet the NZ Transport Agency's Frontal Impact standards or Vehicle Exhaust Emissions standards, and which has been issued with a Special Interest Vehicle permit by the NZ Transport Agency.
Note that this exclusion does not apply to typical modern left-hand drive vehicles such as Chevrolet Camaros and Corvettes, Ford Mustangs, and Dodge Challengers (which may be eligible for a Left-hand Drive Permit) unless these vehicles also meet the criteria to be defined as an SIV because they don't meet Frontal Impact or Exhaust Emissions standards.
It's important to note that all of the explanations above are very generalised, and someone considering building or importing a vehicle should do their homework to determine for sure whether the vehicle falls into an excluded vehicle group or not.